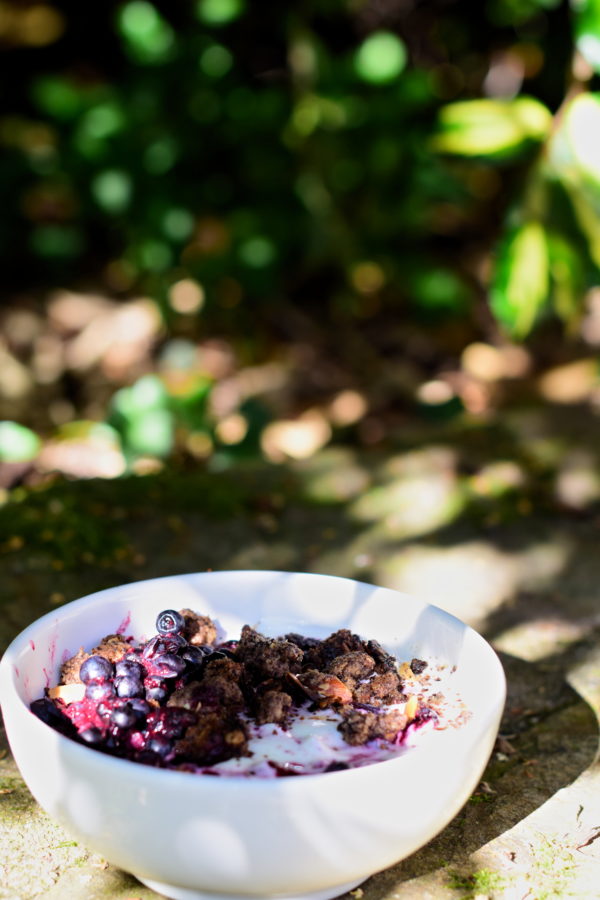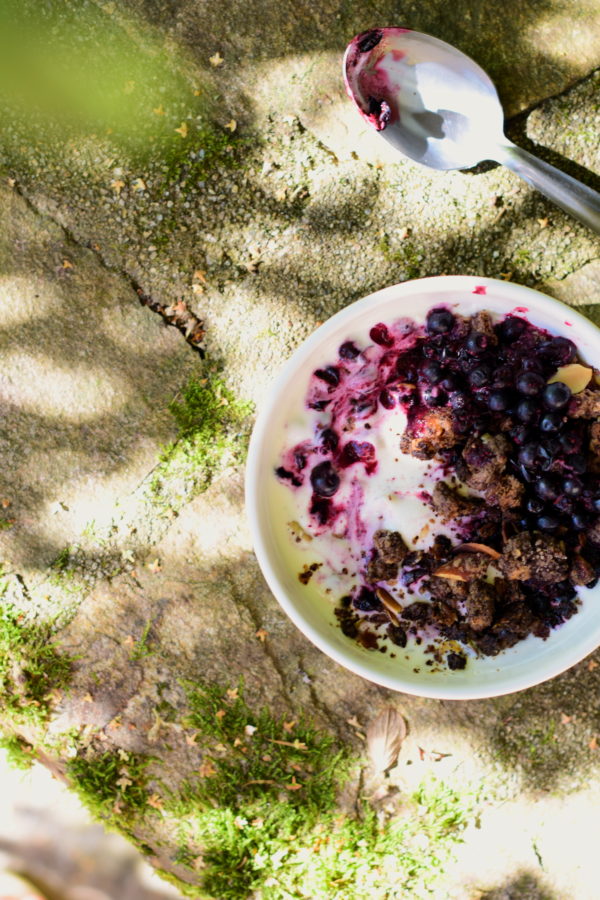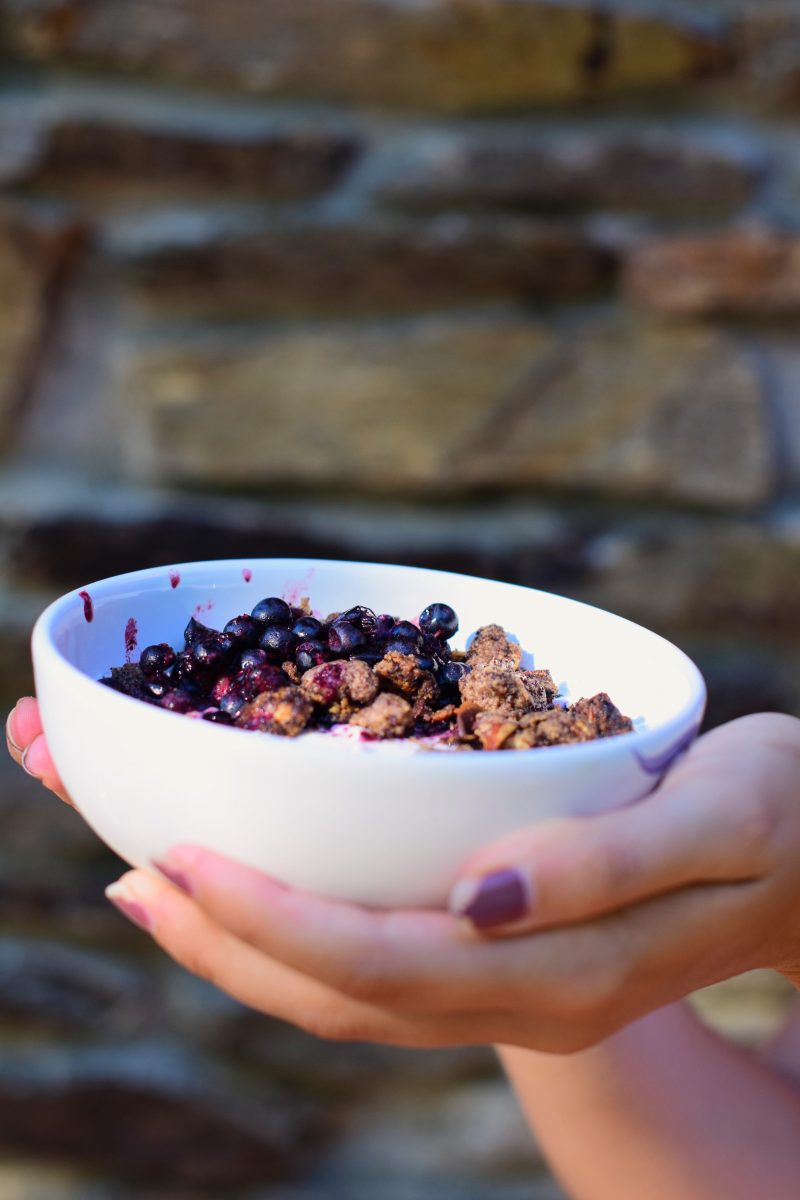 This idea of wild blueberries breakfast bowl & cacao crumble is probably the very last estival recipe of the year. Here, I've already started to unwrap again fresh figs, squashes & mushrooms, which you'll see soon back on the blog.
Creamy Greek yogurt and flavoured flower honey are coming with this bowl to make you start the day the right way. Eternal crumble addict, but more for the crunchy part than for what's inside, I pampered myself with this express cacao crumble, maybe not so healthy but which will replace your usual Granola with talent if you don't have so much stuff close to hand. The recipe quantities are quite subjective, as I measure more and more the ingredients just by looking. So yes, sometimes it's actually quite annoying when I want to transpose them to my recipes!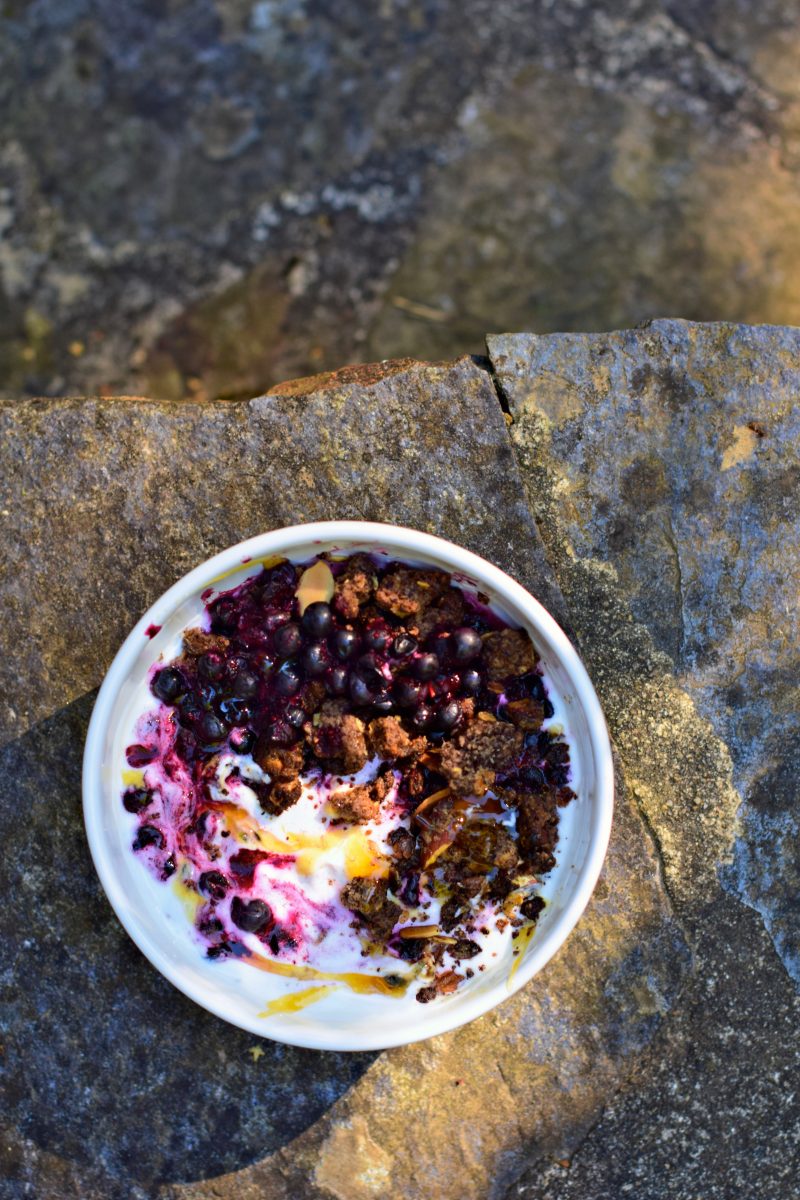 Wild blueberries breakfast bowl, cacao crumble
Ingredients
FOR THE BOWL

One handful of wild blueberries
One small handful of cacao crumble
1 Greek yogurt
1-2 tsp flower honey

FOR THE CACAO CRUMBLE (for more or less 2 to 3 portions)

70g flour
40g soft butter
2tbsp nutty muesli
2tbsp cacao powder (Banania for instance)
1tbsp chopped almonds
Instructions
1. Prepare the cacao crumble:

preheat the oven to 200C. In a bowl, mix together the flour, cacao powder, muesli, almond chunks and butter cut in pieces by using your fingers, until you get big crumbs of dough.

2.

On a baking tray covered with a baking foil, sprinkle the dough crumbs and put in the oven for about 15 minutes. Then take out from the oven and let cool down.

3. Prepare the bowl:

pour the Greek yogurt in a bowl. Wash the wild blueberries, then mash them approximately and add to the greek yogurt. Slightly stir together, then the yogurt will be flavoured with the fruits. Sprinkle with some cacao crumbs. Coat the greek yogurt bowl with one or two teaspoons of flower honey, then serve.
https://www.inthemoodforfood.fr/en/wild-blueberries-breakfast-bowl-cacao-crumble/
© 2019 Inthemoodforfood.fr, All rights reserved