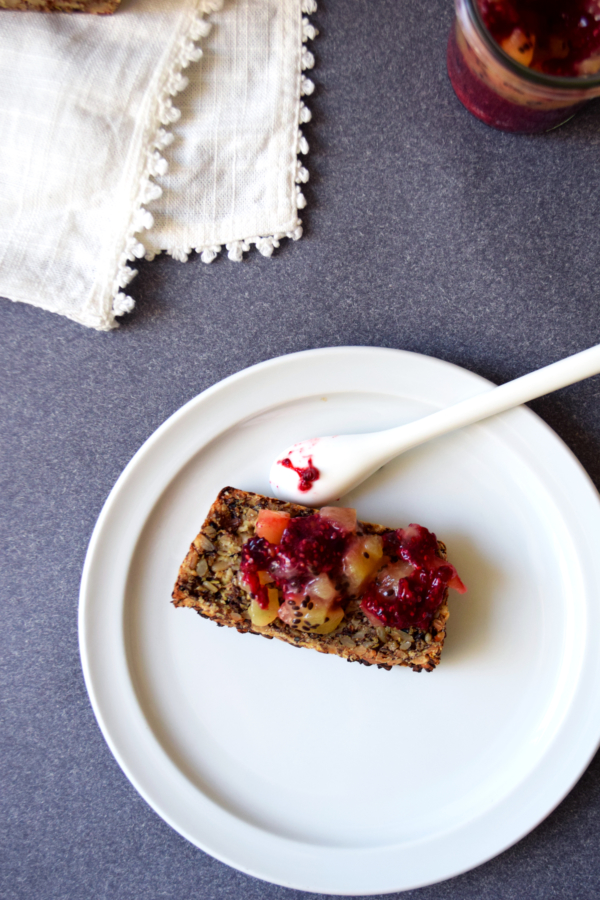 I peacefully pursue my 8 weeks program without sugar and I'm actually starting to see the end of it as there are only a few days left before to finish it. This sugar-free berry & kiwi chia seeds jam is one of the recipes that enabled me to pamper myself during those last weeks while minimizing my sugar intake, as it doesn't contain any added sugar but only a low rate of fructose, which is naturally present in berries and kiwi.
Only one hiccup, what means sugar absence also means considerably reduced conservation time. Thus, I recommend you to prepare only small quantities of this sugar-free jam that you have to eat within 3 or 4 days, in order to not waste anything.
Chia seeds, which are well-known for their nutritive virtues and unique texture , are ideal for this sugar-free recipe considering the firm texture that they give to the jam but also for the ease to spread it on bread slices.
The bread that I used on those pictures and to eat with my sugar-free jam is the seed & nut bread, aka "life-changing loaf of bread" that I talked about in my last post.
Sugar-free berry & kiwi chia jam
Ingredients
300g mixed berries (fresh or frozen)
1 kiwi
3 tbsp chia seeds
1 tbsp lemon juice
1/2 tsp vanilla seeds
Instructions
1.

Pour the berries, chia seeds, vanilla and lemon juice together in a blender bowl. Mix the whole until you get a homogeneous texture.

2.

Separately, peel the kiwi and cut it in pieces. Smash it well with a fork or mix it until you get a purée.

3.

In a small glass pot, pour half of the berry and chia seeds jam, then top with half of the kiwi purée. Pour the remaining jam on the top, then finish with a layer of kiwi purée again. Close the pot and let rest the jam in the fridge for at least 2 to 3h minimum before serving.

4.

Store in the fridge for 3 to 4 days maximum.
https://www.inthemoodforfood.fr/en/sugar-free-berry-kiwi-chia-jam/
© 2019 Inthemoodforfood.fr, All rights reserved