In parallel with this Spicy Brussels sprout, mushroom & peanut brown rice salad, the last days were basically made of: Christmas markets & cups of glühwein, new recipe testings, ramen & noodle bowls, eternal moody weather, open war with my insurance – because being freelancer in Germany is literally a pain in the ass, and way too much sugar (oopsie).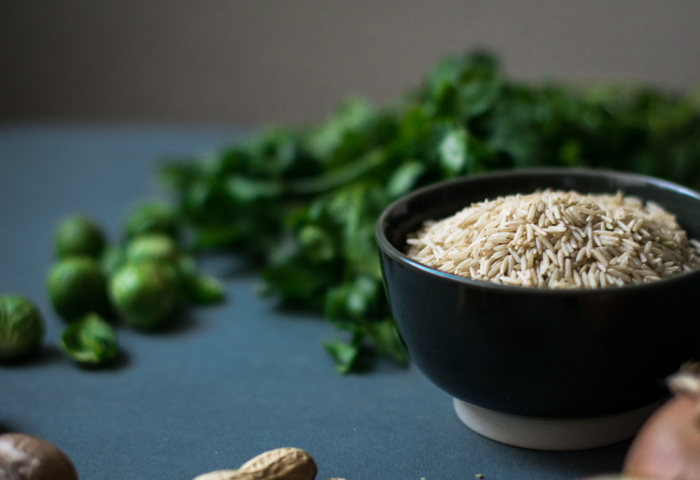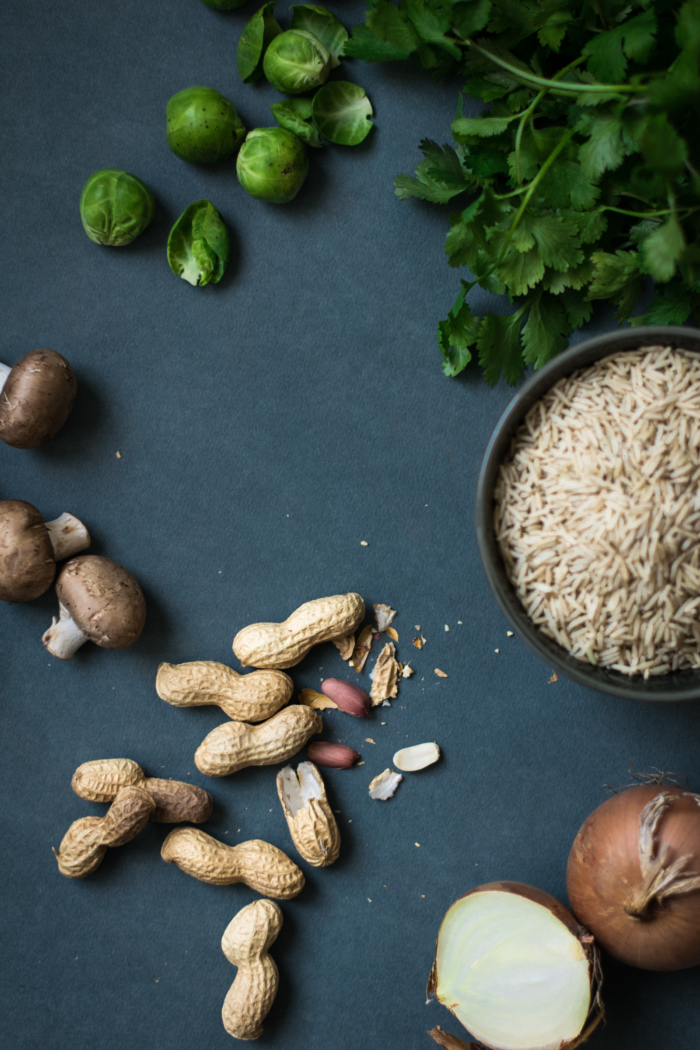 Related or not, I also have the feeling that I'm dragging myself along everywhere because of tiredness. Most of time my personality pushes me to always be on the run & see people in permanence. But those days I have to say that my motivation to leave my cavern is turning around 0. Berlin darkness & winter moody weather, as well as the sudden come-back of sugar in my diet are certainly not helping much.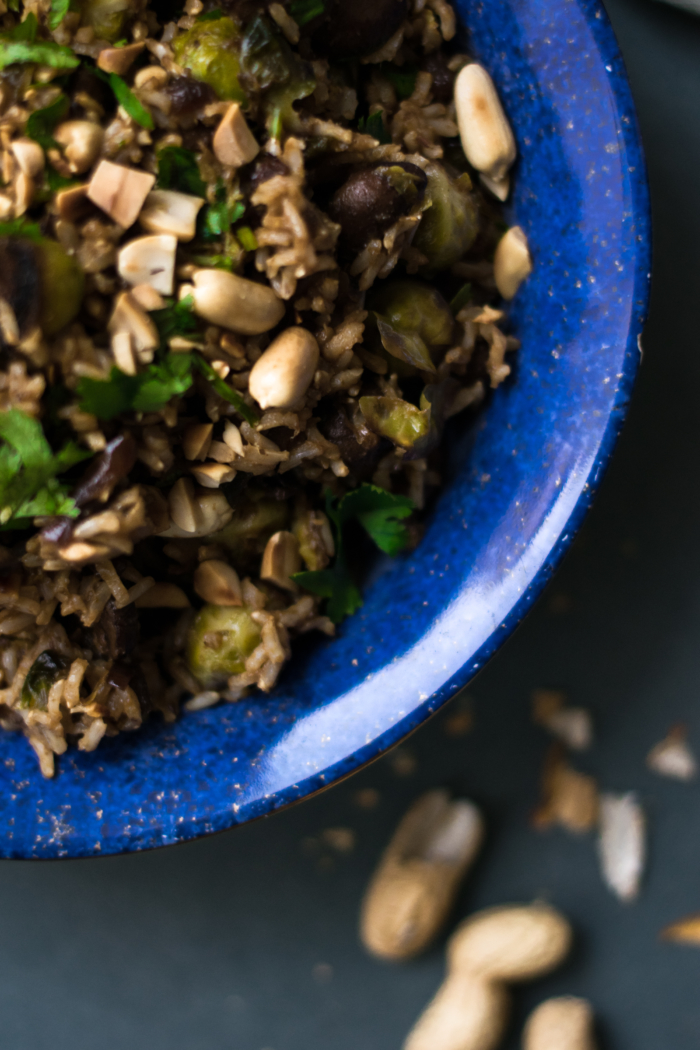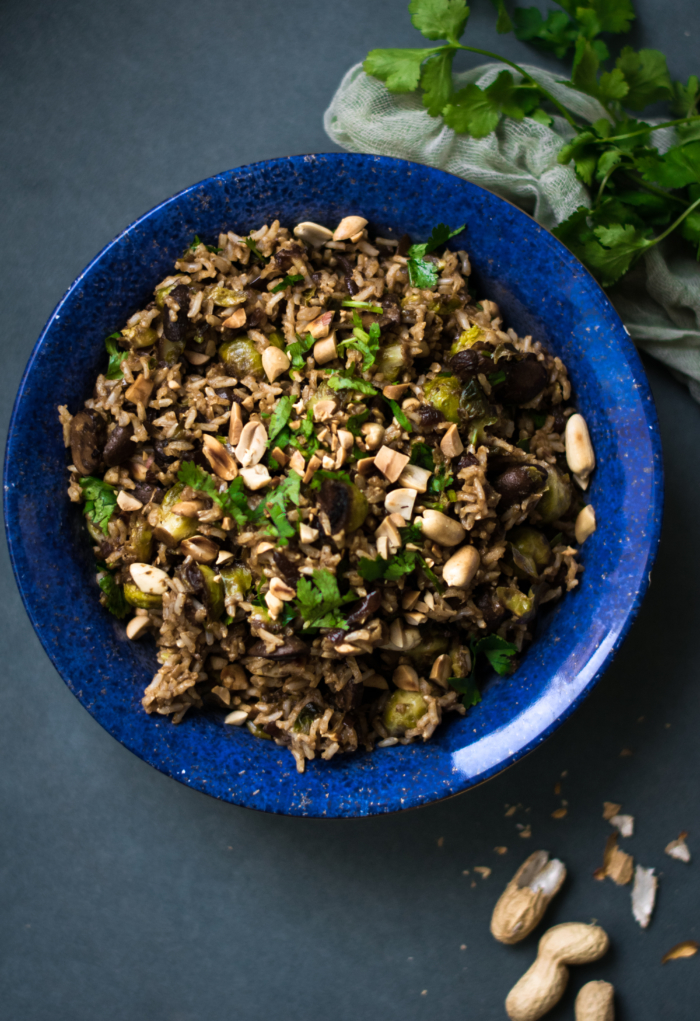 Since I'm trying to control my sugar intake, I've also taken the habit to replace as much as I can refined products & white flour food by non-refined products & whole cereals & : wholewheat flour, pastas & rice, bread,…
Beyond containing much more fibers & nutrients than refined products, whole foods are digested slower and won't cause glycemic spikes as high as those that are caused by fast sugars coming from refined foods.  Then post-meal exhaustion has less chances to happen.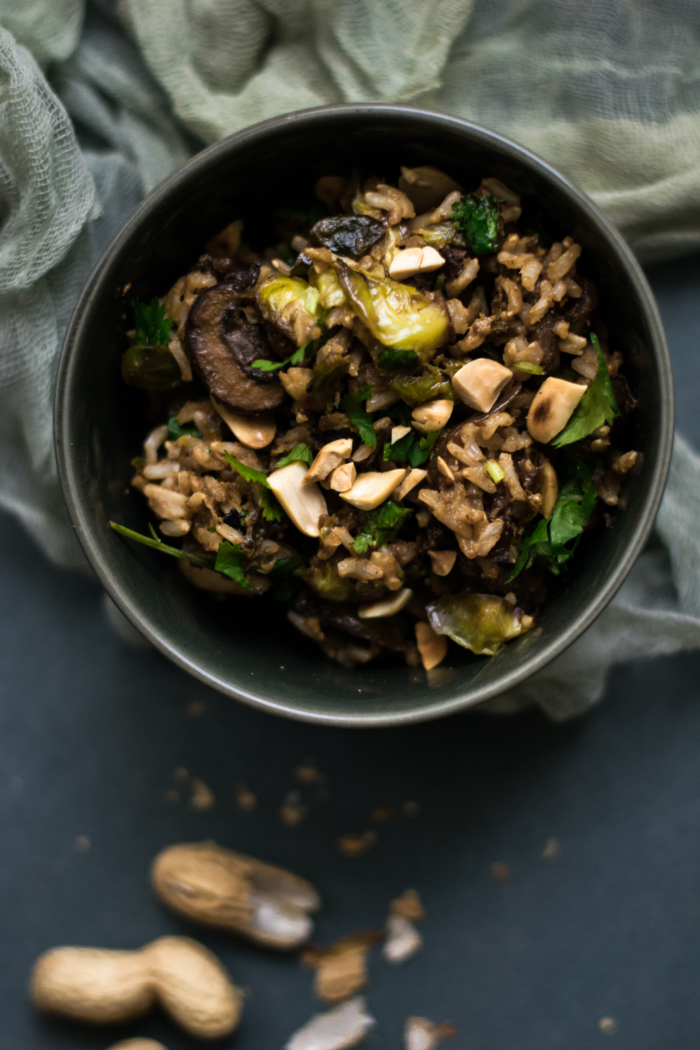 This spicy Brussels sprout, mushroom & peanut brown rice salad is perfect to fuel your energy stocks, and the peanut sauce adds a creamy touch that comes well along sautéed Brussels sprouts. I like spicy cuisine, but a too hot dish can quickly get the upper hand on tastebuds & screw all the rest. The chili quantity in my recipe is just enough to add the righ amount of spiciness without assaulting your tastebuds.
Spicy Brussels Sprout, Mushroom & Peanut Brown Rice Salad
Ingredients
200g Basmati brown rice
250g Brussels sprouts
150g brown mushrooms
1 onion
50g peanuts
4 tbsp soy sauce
2 tbsp coconut oil
1 tbsp peanut butter
1/2 to 1 tsp chili, as you prefer
A small bouquet of coriander
Pepper
Instructions
1.

In a pan, boil half a liter of salted water and add basmati brown rice. Let bake on medium heat for about 20 minutes, while stirring regularly.

2.

Wash and hull Brussels sprouts, then cut them in 2 pieces. Melt coconut oil in a frying pan on high heat. Add minced onion as well as Brussels sprouts and let fry for a few minutes. Wash mushrooms and cut them in 2 pieces, then add to sautéed Brussels sprouts and stir the whole.

3.

Reduce fire, add pepper and add half of soy sauce as well as chili. Stir, cover and let cook on medium heat for about 10 minutes. Add remaining soy sauce as ell as peanut butter, stir and cover again for 5 minutes. Season if necessary. Once cooked, add brown rice to the pan, and let cook a few minutes more while stirring. Rice will absorbs flavours.

4.

Shred peanuts and roast them in a pan. Wash coriander and mince it. Add both to the salad and stir well. You can also add some on top for decoration. Serve warm or cold.
Notes
The salad tastes still better while warm, as peanut sauce is much creamier.
https://www.inthemoodforfood.fr/en/spicy-brussels-sprout-mushroom-peanut-brown-rice-salad/
© 2019 Inthemoodforfood.fr, All rights reserved