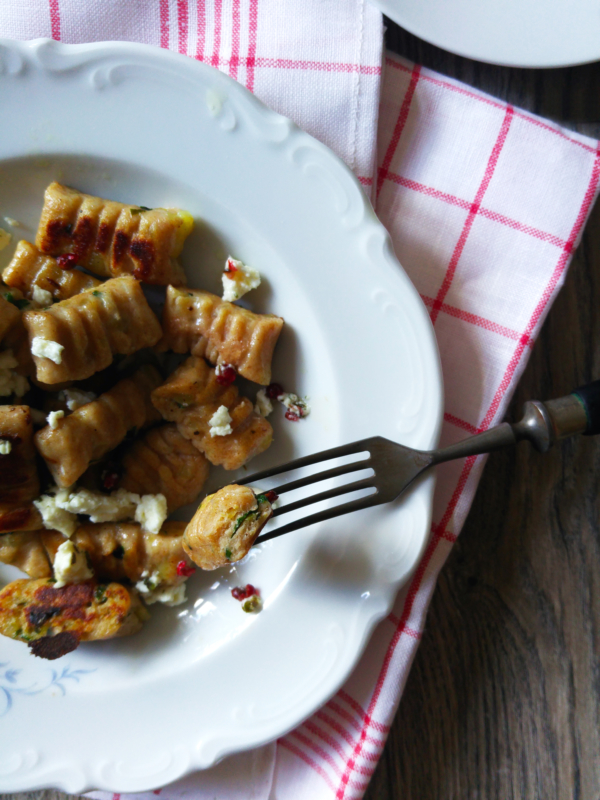 My last attempt to make gnocchis was already a long time ago, and not without any chores to obtain a nice dough texture. I haven't really had the patience to make another attempt since that one, and the fact that I'm not such a big fan of gnocchis probably explains it a lot as well. I recently found some wild garlic in a shop, known as "Bärlauch" over here and well-known for its flavors and rich quantity of Vitamins C. Its taste is definitely less strong than the classic garlic cloves, but tends to be a bit similar as leek or chives. The less attractive aspect of gnocchis to me is probably their texture, then I decided that time to fry them in order to get a slight buttery flavor and some crunchy texture. This recipe of Wild garlic gnocchis is also much more tasty than my old recipe of Sweet potato gnocchis (sorry this one is only in French) for instance – but the parmiggiano sauce as a side definitely worth a look, I would say ;) -, thanks to the taste given by the spelt flour, which make me realize in the same time that I almost don't buy white flour anymore since a while. As I add some extra marinated fresh cheese basically everywhere those days, I sprinkled some on my warm and just stir-friend gnocchis obviously. Because yeah, to stick a bit to clichés, as every French who has respect for itself, it's sometimes a bit hard for me to not add a cheesy touch to my warm dishs ;)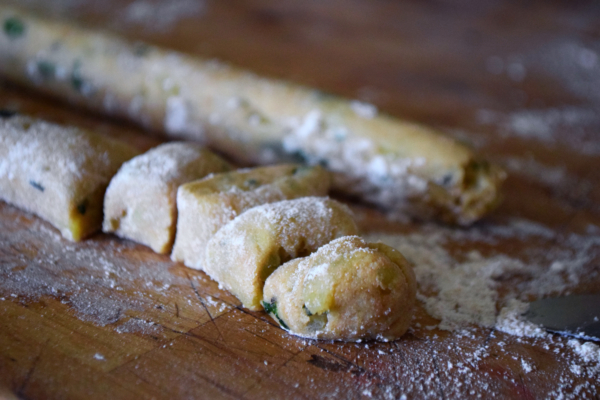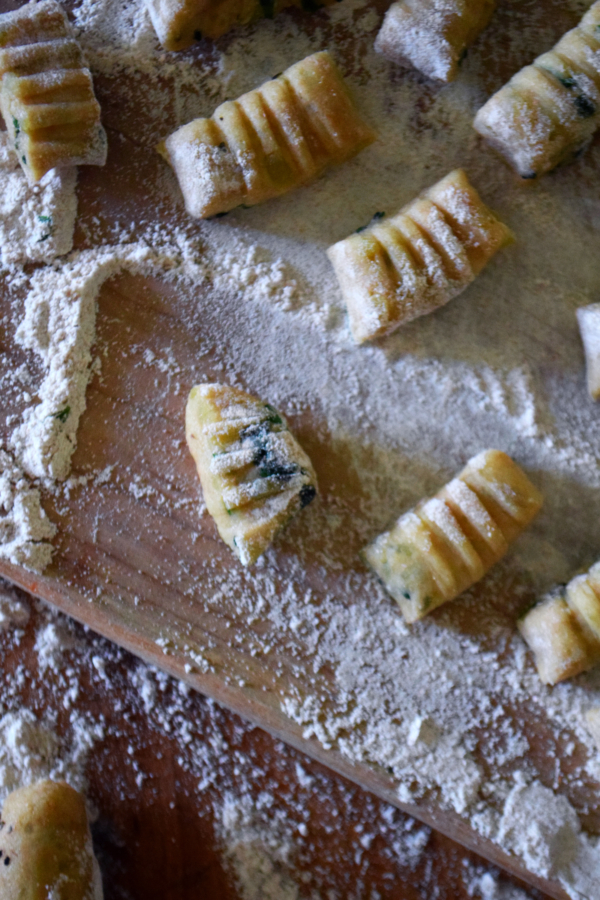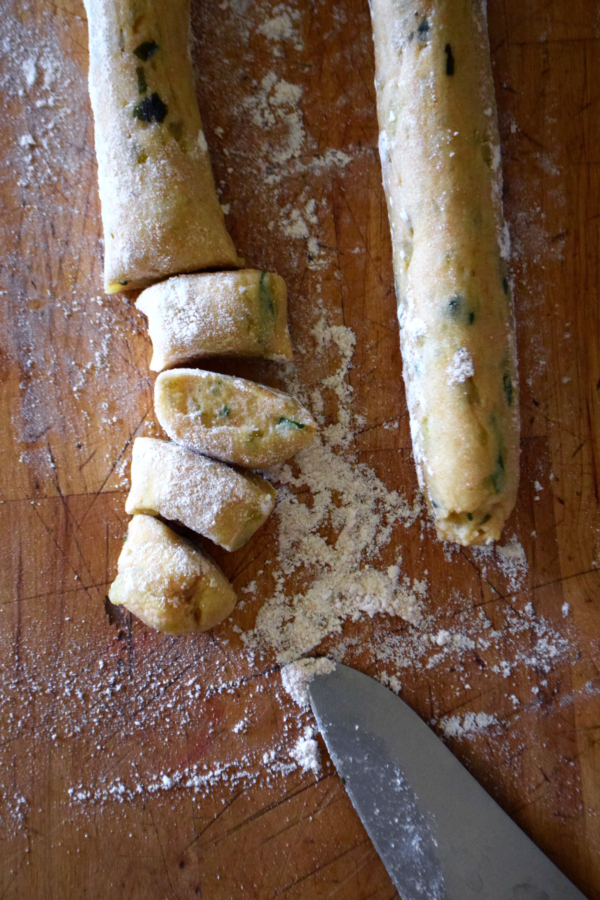 Spelt & wild garlic gnocchis
Ingredients
FOR THE SPELT GNOCCHIS

350g potatoes (the variety called Laura for me)
1 cup spelt flour(±140g)
1 egg
One handful of wild garlic leaves
One pinch of salt
One knob of butter

FOR THE TOPPING

50g marinated fresh cheese (Goat cheese or Feta cheese are the best)
Instructions
1.

In a pan, make boil some slightly salted water. Wash, peel and cut in pieces the potatoes, then add them to the boiling water. Let bake for about 10 minutes, until the potatoes get soft. Turn off the fire and dry the potatoes. Then put them in a bowl and smash them with a fork until you get a homogeneous purée. Let completely cool down before to prepare the gnocchi dough.

2.

Break the egg on the cold smashed potatoes and stir well. Add a knob of butter in a hot frying-pan. Mince the wild garlic and fry it slightly in the pan. Then, add it to the gnocchi doughI, with the spelt flour and a pinch of salt if needed.

3.

Stir well, then knead the dough for a few minutes until it gets soft and not sticky anymore. Let rest for about 30 minutes.

4.

Separate the gnocchi dough in 2 pieces, then roll them on a floured surface, in order to get 2 snakes of 1cm thickness. Cut each of them in pieces of 1cm of length, flatten them slightly with the fingers, then roll them briefly between 2 forks.

5.

In 2 or 3 times, add the spelt gnocchis to a pan of boiling water and let bake a few minutes. Take them off when they come to the surface.

6.

To obtain some stir fried gnocchis, add a knob of butter in a hot pan, then add the gnocchis. Let glaze for a few minutes, while flipping them regularly.

7.

Serve the stir fried gnocchis warm, with some crumbled marinated fresh cheese on them.
https://www.inthemoodforfood.fr/en/spelt-wild-garlic-gnocchis/
© 2019 Inthemoodforfood.fr, All rights reserved