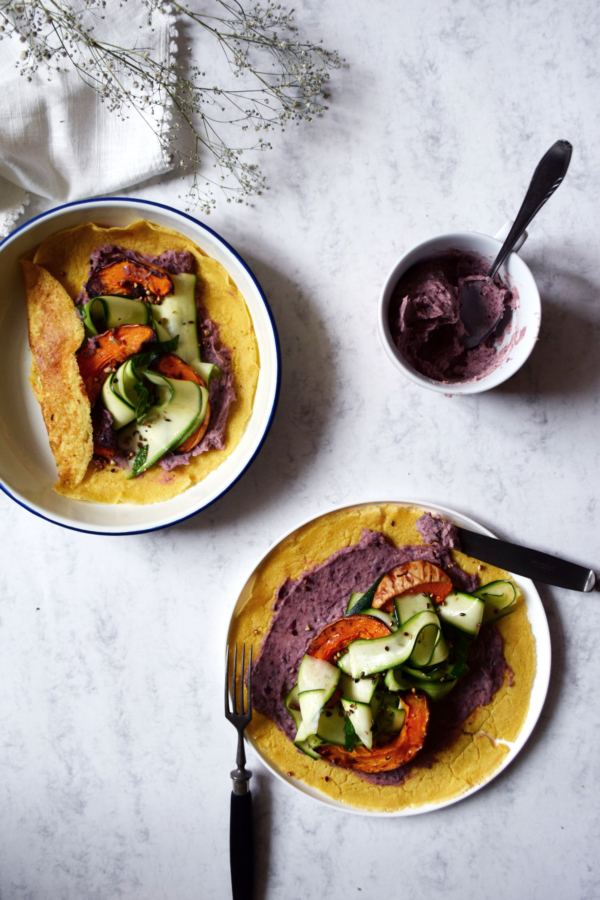 Since a while, I find chickpea recipes in almost all the cooking books and magazines that I'm used to browse. Full of benefits and most of all of proteins, this pea is quite popular among holistic nutrition adepts and people who don't eat animal proteins. I love it myself for its taste and its numerous use possibilities, but had never tried chickpea flour; perfect occasion then to try it in a socca recipe. Soccas are well-known to be chickpea pancakes originally coming from the Ligurian sea coast, which extends from Nice in France to Sicily.
Beyond to be tasty and rich in vegetal proteins, the chickpea flour is also suitable for gluten intolerant people. Slightly crunchy after their passage into the frying-pan, I dressed the soccas with a red bean, shallot and coconut cream – yes, since a while  I basically put coconut everywhere -, some marinated zucchinis and quarters of roasted butternut squash.
The socca recipe is very easy to realize, but take care to grease well the casted iron pan and flip the chickpea pancakes only when you're sure that the first side is well baked, otherwise you might easily break everything.
Soccas with red bean cream, marinated zucchinis & roasted butternut squash
Ingredients
FOR THE SOCCAS

90g chickpea flour
280ml warm water
3 tbsp olive oil
1/2 tsp Himalaya salt
A pinch of pepper

FOR THE RED BEAN CREAM

250g baked red beans
1 shallot
2 tbsp coconut oil
A drizzle of lemon juice

FOR THE MARINATED ZUCCHINIS

1 zucchini
2 tbsp olive oil
Half of a lemon juice
One handful of mint leaves

FOR THE ROASTED BUTTERNUT SQUASH

Half of a butternut squash
One pinch of cinnamon
One drizzle of olive oil
Instructions
1.

Wash the zucchini and peel it in thin slices (along the length) with a peeler. Mix the olive oil and lemon juice together. Mince thinly the mint and add it to the sauce. Add the zucchini slices, stir well in order to cover them well with the marinade. Cover the bowl with film and let rest in the fridge for at least 30 minutes.

2. Prepare the socca dough

: in a salad bowl, mix together the chickpea flour, the salt and the pepper. Add the warm water and the oil and stir well. Cover and let rest for about 30 minutes.

3.

Preheat the oven at 200C. Cut the butternut squash in quarters and put them on a baking tray covered with a baking sheet. Add a drizzle of olive oil on them and add a pinch of cinnamon. Put in the oven for 20 to 30 minutes, until the butternut squash quarters turn golden.

4. Prepare the red bean cream

: put the baked red beans in a blender bowl. Cut the shallot in tiny pieces and add it to the bowl with the lemon juice. Incorporate the coconut oil at the last moment in order to keep it liquid, then mix until you get a homogeneous paste.

5.

Preheat a casted iron pan. Once very hot, add some fat (I used coconut oil as well) and pour one quarter of the socca dough into the pan. Let bake for about 5-6 minutes then flip it with caution. Let bake the second side for a few minutes, then keep it warm in the oven while you're making the other soccas.

6.

Dispose the soccas on plates. Spread on each of them some red bean cream, then add some slices of marinated zucchini and a few roasted butternut squash quarters. You can finalize to dress with some fresh mint leaves, a few roasted grains (squash, flax, buckwheat for instance) and a drizzle of olive oil on the soccas. Serve tepid.
https://www.inthemoodforfood.fr/en/soccas-with-red-bean-cream-marinated-zucchinis-roasted-butternut-squash/
© 2019 Inthemoodforfood.fr, All rights reserved