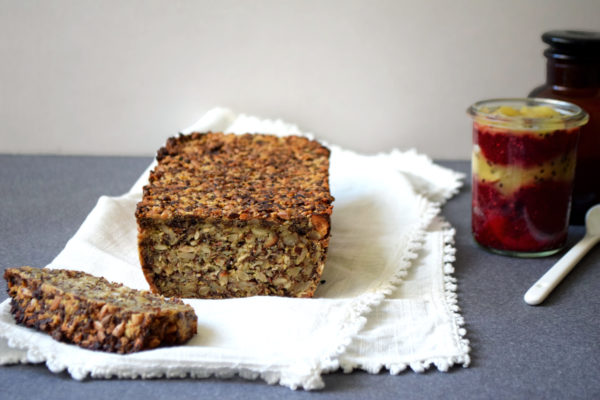 Even thought I'm French, I've never really been a big fan of Baguette. Okay, I never say no when a baguette tartine is turning around me, but I rather have a soft spot for seed bread, or any other kind of breads without white flour: wholewheat bread, rye bread, chestnut flour bread, with walnuts, and I won't quote them all. Even if I have difficulties to be credible  when I say that to non-french people -thank you stereotypes…-, this makes me the happiest person when I'm going to buy bread, here in Berlin, or even when I was in Finland and didn't have any other option than black bread.
Anyway, in spite of my passion for always trying new breads, their excessive consumption is rather not recommended if you want to stay fit, but apparently the life-changing load of bread decided differently. It's on Mynewroots, one of my favorite blogs and cooking books, that I discovered a few months ago this recipe.  This healthy bread recipe without gluten is not only full of seedss and nuts of every kind, but is also devoid of flour. Light, rich in fibers and nutritive benefits thanks to its ingredients, this bread will become your best friend. And also the best friend of your wallet: pampering yourself has a cost, and buying the seeds and nuts that you want to add to the recipe will obviously cost a little bit more expensive than a basic bread – preferably, choose some organic seeds and nuts to fully enjoy their benefits without the bad sides of chemical treatments -.
The key ingredient in this bread that replaces flour might sound unknown in your hears: this healthy bread recipe needs some psyllium, a grain that you usually can find in organic shops or drug stores, which is well-known for its virtues for intestinal regulation. The psyllium will enable in that case to absorb humidity in the bread and make stick together the different ingredients.
To eat them in a total healthy way, I spread on my life-changing loaf of bread slices some sugar-free berry & kiwi chia jam, delicious for breakfast!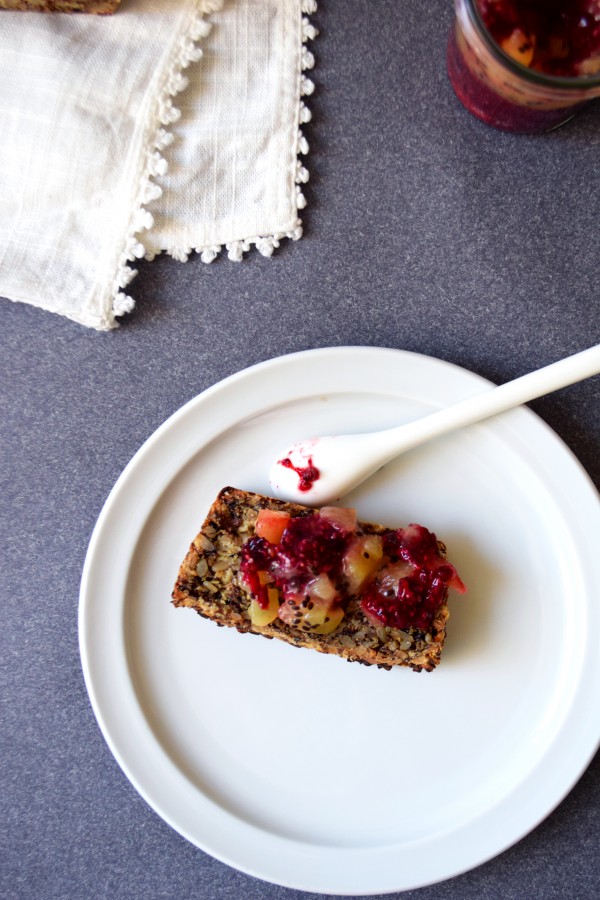 Seed & nut loaf, aka "Life-changing loaf of bread"
Ingredients
150g gluten-free rolled oats
140g sunflower seeds
340ml water
90g flax seeds
40g roasted hazelnuts
40g roasted almonds
40g pumpkin seeds
4 tbsp Psyllium seed husks
3 tbsp olive oil
2 tbsp chia seeds
2 tbsp Nigella seeds
1 tsp Himalaya salt
Instructions
1.

Incorpore in one time all the dry ingredients (the rolled oats, the sunflower, flax, pumpkin, chia and nigella seeds, the hazelnuts and almonds, the psyllium and the salt) in a cake mould and mix well.

2.

In another container, mix together the oil and water, then incorpore to the dry mix. Stir well until to get a homogeneous dough. Smooth the top of the mixture with a spoon, cover with a towel and let rest for at least 3h.

3.

Preheat the oven at 180C. Put the bread in the oven for 20 minutes, then take it out from the oven and turn it out delicately from the mould. Put it in the oven again for about 30 minutes, while keeping down the top of the bread.

4.

Let cool down the seed and nut loaf of bread before to slice it. You can store it for about 5-6 days, preferably in the fridge.
https://www.inthemoodforfood.fr/en/seed-nut-loaf-life-changing-loaf-of-bread/
© 2019 Inthemoodforfood.fr, All rights reserved