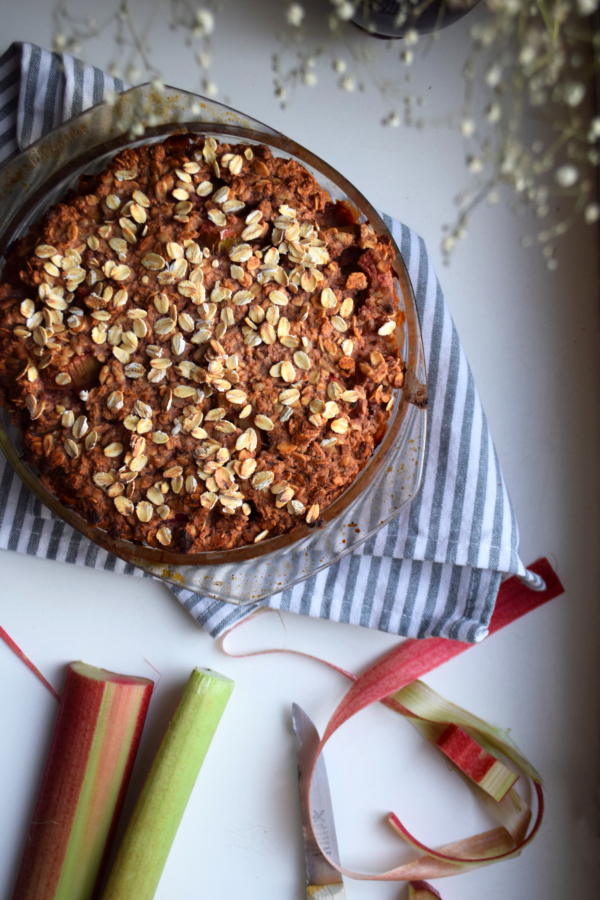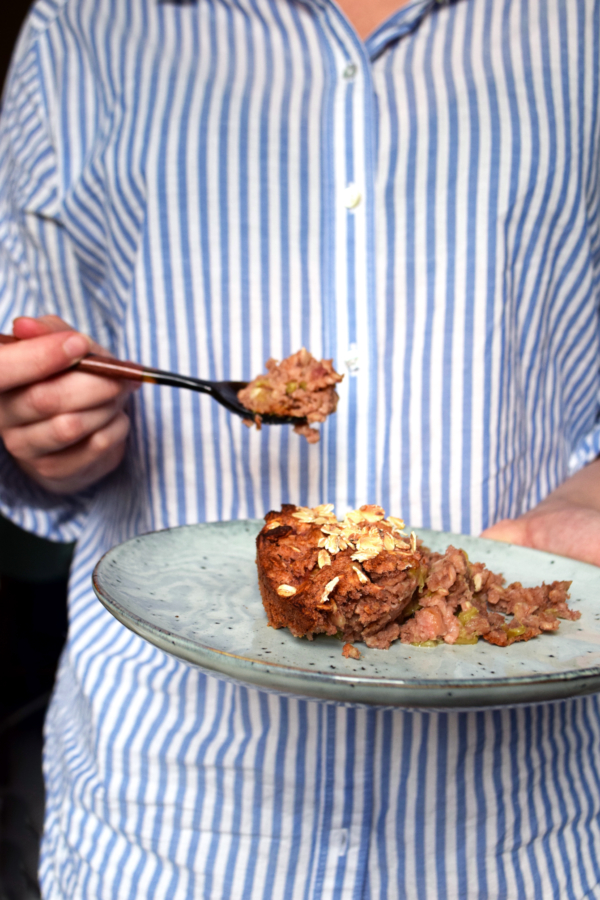 Sunny weather is finally back, bringing with it some rhubarb and a ton of new ideas to cook it. I went a bit far from the beaten tracks with my previous rhubarb recipes as the meringue pie with rhubarb purée & caramelized mango or the rhubarb & apricot crumble – only in French for this one -, but I come back to basics by mixing it with strawberry in this dessert. I know and eat rhubarb since kid but I've always been quite sensitive to its persistent acidity, even when adding 3 kilos of sugar to bring some sweetness. No way then to imagine a sugar-free recipe , or without any sweet fruit that could balance its taste – the use of caramelized mango or apricot in my first rhubarb recipes makes sense to you now -. My rhubarb & strawberry oatcake recipe is yet sugar-free and not as acid as I feared. I added banana in the dough to limit the oatcake sourness, as well as oats to give some consistence without the need to use eggs. The association of rhubarb and banana is really tasty provided to not add too much banana, which could get the upper hand on all the other ingredients of this sugar-free dessert. I still added 3 tablespoons of maple syrup to emphasize the sweet touch in the oatcake.
Rhubarb & strawberry oatcake
Ingredients
250g oats
200g strawberries
2 sticks of rhubarb
1/2 ripe banana
200ml oat milk
100g sunflower seeds
3cs maple syrup
2cc cardamom
1,5cc baking soda
1cc cinnamon
One knob of coconut fat
One pinch of salt
Instructions
1.

Put 150g of oats in a blender bowl and mix until it turns into a flour. In a big bowl, mix this flour with the oats, sunflower seeds, cardamom, baking soda, cinnamon and the pinch of salt together.

2.

Wash the rhubarb, peel it if needed (if it's too stringy for instance) and cut it in small pieces. Wash, hull and cut the strawberries.

3.

Add the strawberries in the blender bowl, as well as the oat milk and the ripe half banana, cut in pieces. Mix the whole in order to obtain a purée and add it with the rhubarb pieces to the dry mix. Stir well until you get a homogeneous texture.

4.

Preheat the oven at 200C. Grease a cake mould with the coconut oil (or some muffin moulds if you want individual servings), then pour the dough into it. Dust the whole with some oats if you want to add a crunchy touch to the oatcake.

5.

Put in the oven for about 25 minutes, it must be golden and slightly wet inside after baking. Serve tepid or cold, with a scoop of ice-cream for the most hungry.
https://www.inthemoodforfood.fr/en/rhubarb-strawberry-oatcake/
© 2019 Inthemoodforfood.fr, All rights reserved