The idea of this red lentil soup was sticking to my mind since at least 2 months, after I tried one of the same kind in this Israeli restaurant I was talking about in my Odessa food guide. Mine is made with sheep yogurt, which has a taste much more interesting than some classic yogurt in my opinion, a generous amount of fresh mint, a drizzle of roasted sesame oil and a pinch of red pepper to enhance the whole.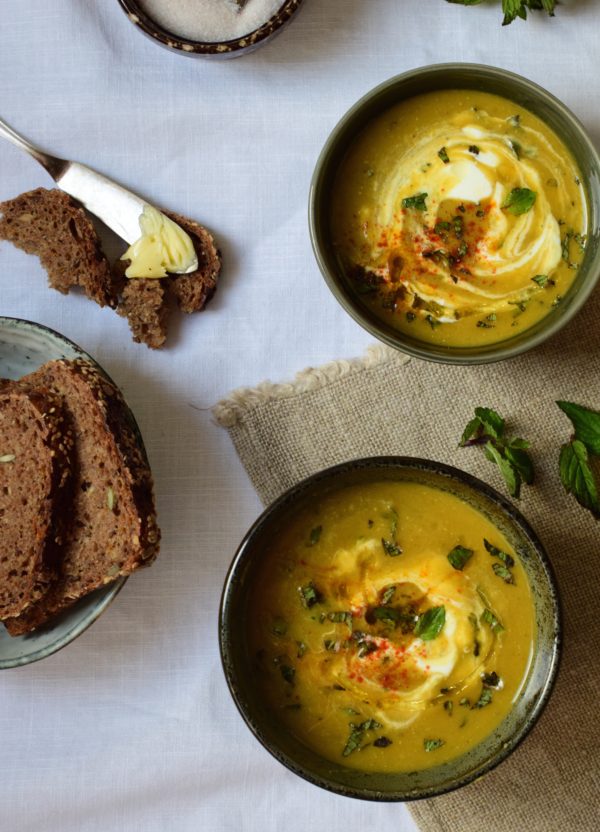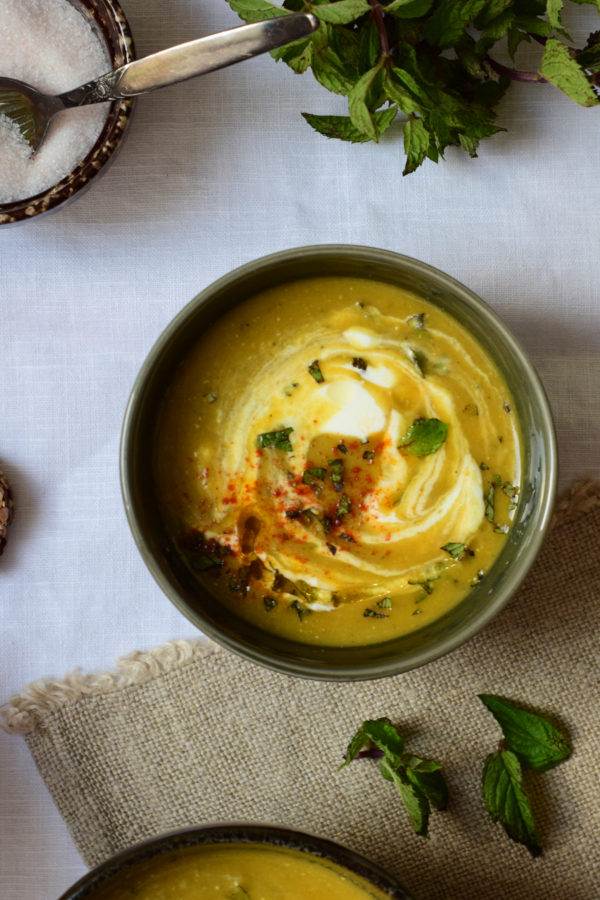 Even though lentil soup is delicious while warm, mine has to be drank cold in order to keep its refreshing side, brought by the association between red lentils, mint and sheep yogurt. I used some peppermint, which is caracterized by softer leaves and a taste way much more intense than the classic mint. This red lentil soup has somehow the same style than my previous red lentil recipe, then if you loved the flavours of my hummus, you might also love this one!
Red lentil soup with mint & sheep yogurt
Ingredients
FOR THE RED LENTIL SOUP

250g red lentils
1L water
2tsp curry
3tsp cumin powder
1tsp Himalayan salt
1 handful of peppermint leaves

FOR THE TOPPING

A few peppermint leaves
1tbsp sheep yogurt / bowl
1tsp roasted sesame oil / bowl
Paprika powder
Instructions
1.

Rinse the red lentils, then put them in a pan. Add 1L of boiling water, the Himalayan salt, the cumin powder and the curry. Cover the pan and let bake on a low fire for about 20 minutes.

2.

Once the red lentils are baked, pour the whole in a blender bowl and mix in order to obtain a homogeneous soup. Let cool down, then incorporate the minced peppermint and stir well.

3.

Store the soup in the fridge until to eat it. Before serving, pour the red lentil and mint soup in bowls, then add one tablespoon of sheep yogurt to each of them. Sprinkle with some minced peppermint leaves, a drizzle of roasted sesame oil, and a pinch of paprika powder for the ones who wish to eat it slightly spicy.
https://www.inthemoodforfood.fr/en/red-lentil-soup-mint-sheep-yogurt/
© 2019 Inthemoodforfood.fr, All rights reserved