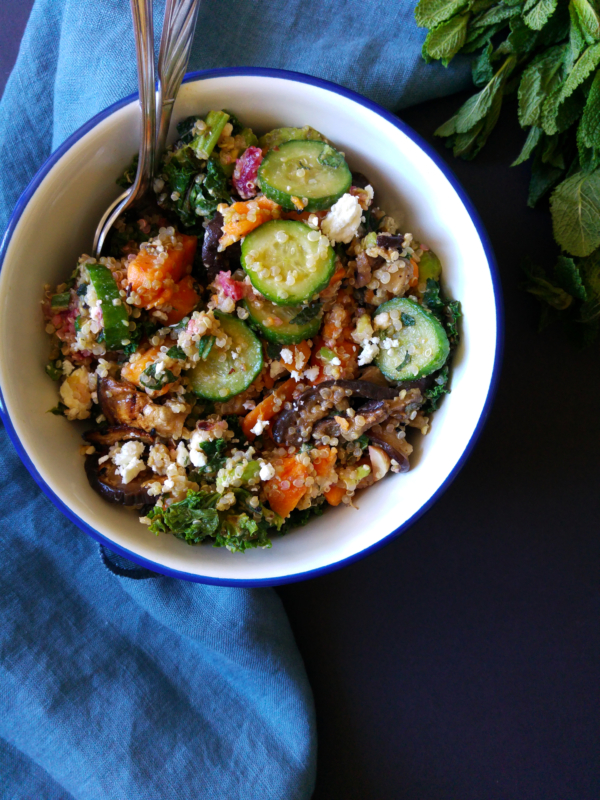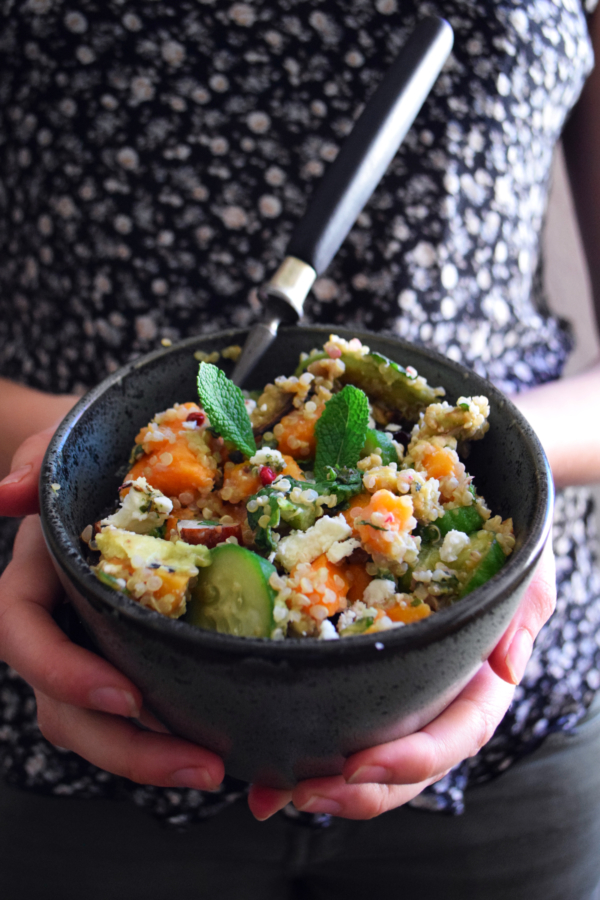 Not any cool story behind this quinoa salad, only a fresh dish to prepare in advance with a few survivors from the fridge, to eat on the go or at work – or also on a lazy day when you're still looking for one -. The colorful and tasteful salads of Green Kitchen stories are also a good source of inspiration and longing for me, even though my creativity – and my photographic skills – are not yet on a par with theirs.
To stay in a healthy and fresh ton, greens are dominant in this salad and a generous handful of minced fresh mint brings freshness to it. The baby cucumber I bought a few days ago – hi, I'm a marketing victim – fits also perfect in it, which gives me a good excuse to buy some again as its size and flavor -a bit more pronounced than the basic cucumber- are ideal for salads. For the cheese unconditional people or rebels to "eat green": a small touch of marinated fresh cheese on the top and that's all there is to it ;)
Quinoa & greens spring salad
Ingredients
100g quinoa
4 Kale branches
1 sweet potato
1 eggplant
1 mini cucumber
1 ripe avocado
4 strawberries
A small bunch of minced fresh mint
A small handful of Brazil nuts
100g marinated fresh cheese
1 tbsp Nigella seeds
1 tbsp coconut oil
2 tbsp olive oil
One lemon juice
Instructions
1.

Make boil 300ml of slightly salted water and add the quinoa. Cover the pan and let bake for about 20 minutes until the quinoa gets tender. Dry and let cool down.

2.

Preheat the oven at 200C. Wash and cut the eggplant in slices, then arrange them on a tray covered with baking paper. Add a drizzle of olive oil on them and a pinch of Nigella seeds, then cover with an aluminium foil. Put in the oven for about 20 minutes, then let cool down when ready.

3.

Make boil again a pan of water, then wash, peel and cut in pieces the sweet potato. Add it to the pan and let bake for about 15 minutes, until the sweet potato gets tender. Dry and let cool down.

4.

In a bowl, add the quinoa, the sweet potato pieces and the candied aubergine slices. Cut the strawberry in small cubes and crumble the marinated fresh cheese. Add the whole to the quinoa salad.

5.

Heat the coconut oil in a frying pan. Wash and mince grossly the kale, then make it fry quickly in the pan. Mince the fresh mint, cut the avocado and the baby cucumber in slices. Add the greens and the minced fresh mint to the salad bowl.

6.

Shred the Brazil nuts and roast them quickly in the frying pan. Add them to the spring salad with half of a lemon juice, then stir well the whole. Serve very fresh.
https://www.inthemoodforfood.fr/en/quinoa-greens-spring-salad/
© 2019 Inthemoodforfood.fr, All rights reserved