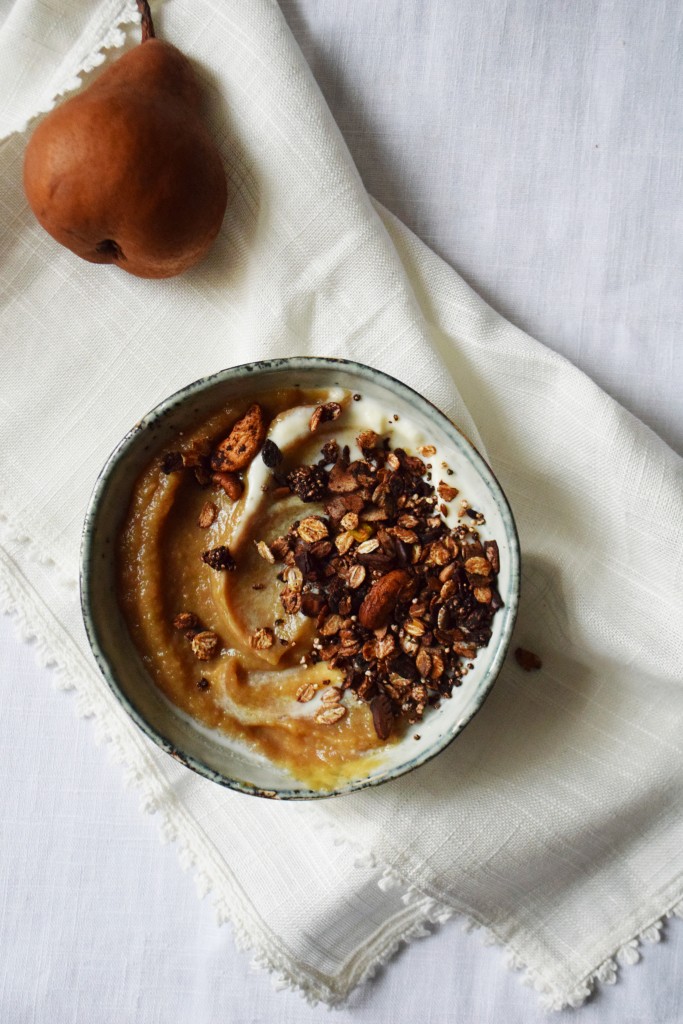 This pear compote recipe with cardamom is again a low sugar recipe, which fits perfect with the nutty amaranth & chocolate granola that I recently published. I still don't use that frequently cardamom, but since my few months in Finland I discovered that this plant was fitting perfect for desserts and pastries – their cardamom Pullas are amazing, and their taste is way more pronounced than the most common pullas that are made with cinnamon -. I opted for some cardamom powder here, which is strong in flavor and more convenient to integrate in the pear compote recipe.
Pear compote with cardamom
Ingredients
4 ripe pears
10cl water
2 tbsp maple syrup
2 tsp cardamom powder
1 to 2 tbsp soy almond yogurt (optional)
Instructions
1.

Peel and remove the seeds from the pears, then cut them in pieces. Warm the water in a small pan, then incorporate the pears, the cardamom powder and the maple syrup.

2.

Cover and let bake on a low heat for about 15 minutes, while stirring regularly. When the pears seem tender, turn off the fire.

3.

Mix the compote with a mixer until you get a pear compote very smooth and creamy. If you want a texture less rough, don't hesitate to add one or two tablespoons of soy almond yogurt (unsweetened as mine, or low in sugar). Correct the seasoning if needed.

4.

Put in the fridge until serving. The pear compote is perfect on morning with some yoghurt and crunchy granola. If you don't like the fact that it's low in sugar, then don't hesitate to top your bowl with a drizzle of maple syrup or honey.
https://www.inthemoodforfood.fr/en/pear-cardamom-compote/
© 2019 Inthemoodforfood.fr, All rights reserved