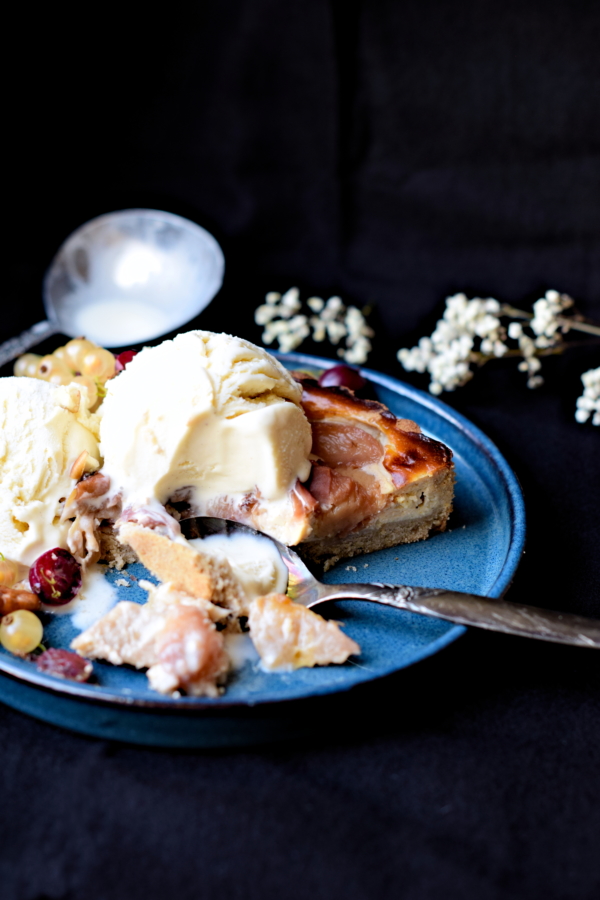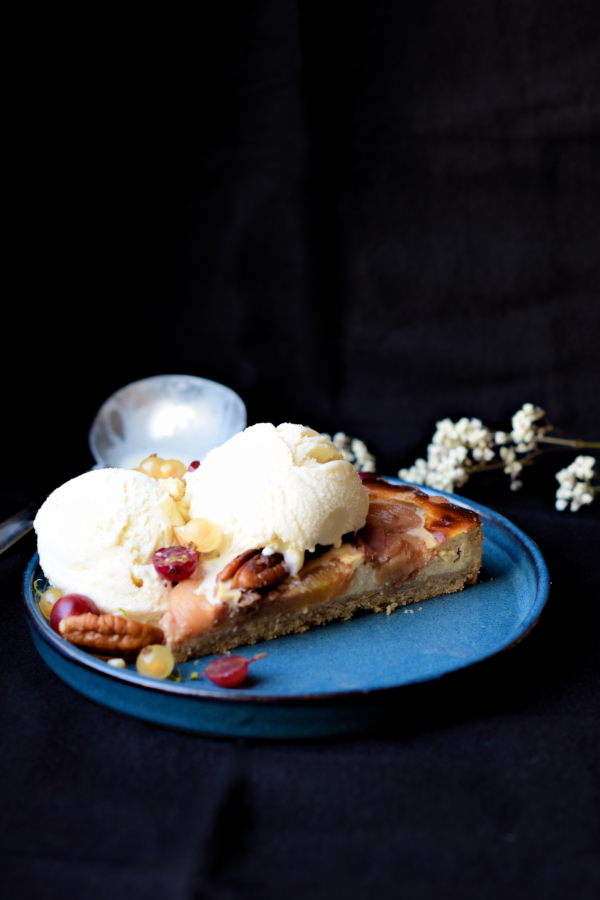 Peach pie recipes start slowly to weave their web on the blog as I make some almost every single summer. This one is gonna be a peach, orange blossom & pecan nuts rustic pie, the whole on a buckwheat crust. Even though the Berliner summer is quite moody – way too much in my opinion, at least -, I'm still trying to forget this detail by balancing with some tasty, sun-blessed fruits, which is actually not always the case either. Then as every summer, I just patiently wait my lightning come-back  in the Cévennes, "at home", in order to "hit two birds with one stone" as we keep saying in French, which means getting my annual shot of sun – aka roasting like a lizard under the sun for one week – as well as my portion of tasty fruits. This isn't without a tiny pride that I post this recipe today, as it's actually the very first "almost perfect" cake mould lining I've ever done so far, in spite of practicing regularly. Don't ask me how because I don't have any clue. Probably thanks to my new pie mould or maybe some help from the holy spirit. For my assiduous readers, Labneh cheese and orange blossom water are still here, and for the ones who don't know what I'm talking about, then it's time to take a look on my last pancakes recipe. And you can still pretend that you tried wonderful ones, they will never be as fluffy those ones! For the other ones, check my good old peach pie recipes, or Sarahmenesafraise's one, another food blogger from whom I really like to read the posts. For her recipe she found her inspiration from the movie "Last days of summer"! ;)
Peach, orange blossom & pecan nuts rustic pie
Ingredients
FOR THE BUCKWHEAT DOUGH

200g buckwheat flour
125g soft butter
70g rapadura sugar
1 egg
1 pinch of salt

FOR THE PEACH FILLING

9 flat peaches
150g Labneh
1 egg
20g rapadura sugar
3tbsp orange blossom water
1tsp vanilla
1 handful of pecan nuts
Instructions
1.

Prepare the buckwheat dough: in a salad bowl, mix the buckwheat flour, the sugar and salt together. Add the egg and the soft butter cut in pieces and knead with your hands for a few minutes. Once the texture is homogeneous, shape a ball of dough, cover with a plastic foil and put in the fridge for 1h at least.

2.

Wash and cut the flat peaches in quarters. Put them into a pan, then add the orange blossom water, cover and let bake for about 20 minutes on a low heat. Once the peaches are tender and soft, turn off the fire.

3.

Take off the buckwheat dough from the fridge. On a slightly floured work surface, spread it with a rolling pin until you get a 5mm thick dough. Line a tart mould with it and jab the dog with a fork.

4.

Preheat the oven to 200C. In a bowl, whisk the Labneh, the egg, the sugar and the vanilla together. Once you obtained a homogeneous and creamy texture, coat the lined buckwheat dough with it, then add the peaches baked in the orange blossom water on it. Arrange the pecan nuts on the whole, then put in the oven for about 25 minutes at 200C.

5.

Once baked, let the peach, orange blossom & pecan nuts rustic pie cool down. Eat warm or cold with a scoop of ice-cream.
https://www.inthemoodforfood.fr/en/peach-orange-blossom-pecan-nuts-rustic-pie/
© 2019 Inthemoodforfood.fr, All rights reserved