Is there seriously anything better than orange blossom sourdough waffles to smoothly start the new year? These are perfect to put your sourdough starter discards to good use, and the recipe is pretty simple to make! Good occasions to indulge on sweet stuff are definitely not missing, between King's galette for Epiphany, crêpes for Candlemas and beignets for Shrove Tuesday, but hey, if winter isn't the right time to stuff yourself with waffles, then I don't know when…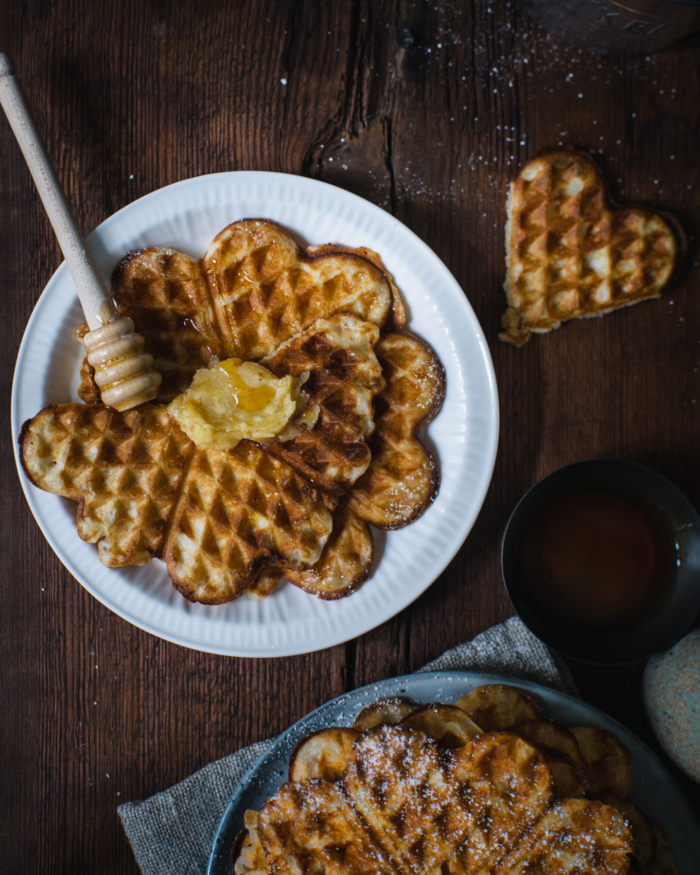 Orange blossom water flavour will be more or less intense depending how mature is your sourdough discard. If fermentation developed a stronger sourdough taste, feel free to increase accordingly the amount of orange blossom water. Sourdough strong taste and tanginess is also the reason why I add it in the last step just before baking!
I also made a few other batches of these orange blossom sourdough waffles since their development. I genuinely think they have the perfect texture: crunchy outside, soft and gooey inside, with a slight  tangy touch brought by sourdough, that you can also taste when making waffles using beer and saindoux – btw, who has never tried this grandma version? That's the best!! -. Practicity-wise, we are good: the quantities I wrote in the recipe make about 20 waffles, so definitely enough to freeze a few for later. Then you only need to toast the waffle for 2 minutes when you want a quick snack, the original crunchiness will all come back!
More waffle recipes:
Gaufres de pommes de terre aux oignons nouveaux
Orange Blossom Sourdough Waffles
Ingredients
100g active starter
350g milk
100g butter
2tbsp sugar
250g flour (type 550)
2 eggs
1tsp salt
1/2tsp baking soda
1 to 2tbsp orange blossom water

FOR THE CINNAMON HONEY BUTTER

4tbsp soft butter
1tbsp honey
1 pinch of cinnamon
Instructions
1.

Mix sourdough starter, milk, melted butter and sugar together in a salad bowl. Add flour, stir more, cover and let rest for 6h minimum, ideally overnight.

2.

The next day, preheat your waffle iron. The waffle dough should have doubled in size. Separate egg whites from egg yolks. Sprinkle homogeneously salt and baking soda on the batter and stir delicately. Add egg yolks as well as orange blossom water to the batter. In another bowl, beat egg whites until they turn very firm, then add them cautiously to the batter with the help of a spatula. You should obtain a very airy batter.

3. Prepare the cinnamon honey butter:

beat together soft butter, honey and cinnamon. Once homogeneous, put in fridge. Bring it back to room temperature 10 minutes before to serve.

4.

Pour one small ladle of batter in the waffle iron and cook for a few minutes, until the waffle is golden. Cool down on a grid and repeat. The orange blossom sourdough waffles should be crunchy on the outside and soft in the inside. Serve them with a bit of cinnamon honey butter on the top. You can freeze them and put them back for 2 minutes into the waffle iron to unfreeze them.
https://www.inthemoodforfood.fr/en/orange-blossom-sourdough-waffles/
© 2019 Inthemoodforfood.fr, All rights reserved