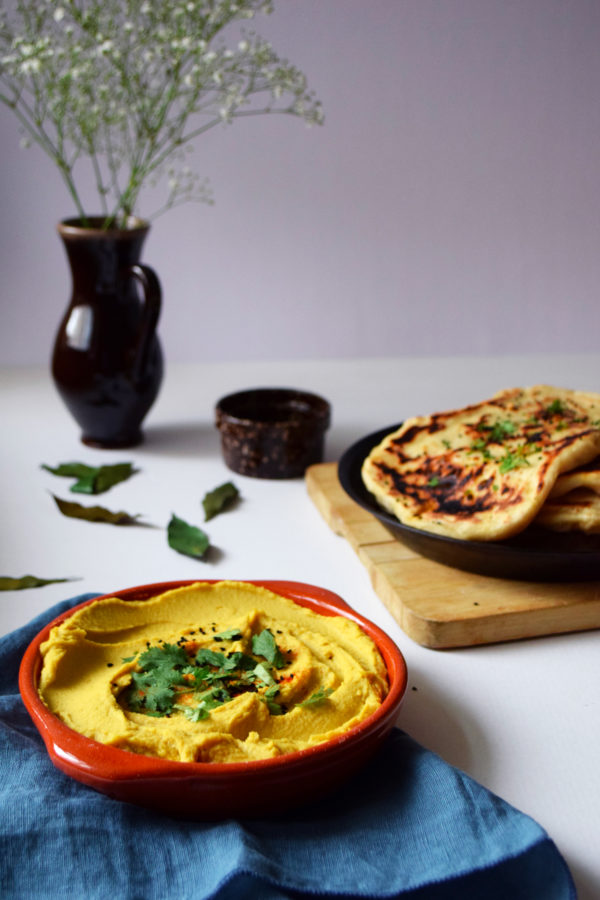 Flavors don't fail in this post with a mix between Indian recipe and Lebanese recipe. Even thought I love hummus pre-made that we can find in shops, nothing is worth a tasty homemade hummus. This healthy recipe of red lentils hummus with coconut and curry doesn't contain the usual ingredients of the basics one: yep, it's a hummus without tahini and without any chickpea, but it won't fail to bring even more exotic flavors in your plate!
The spread is usually eaten with some Pita bread, but a bread product in the same style but with more flavors is even better.  Then you can also find below a naan bread recipe, easy and quite quick to make. The nigella seeds and the coriander on the naans is the perfect extra touch to balance the flavors of this homemade hummus recipe. Otherwise, if this red lentils hummus with coconut and curry doesn't appeal that much, you can still fall back on my red pepper hummus recipe!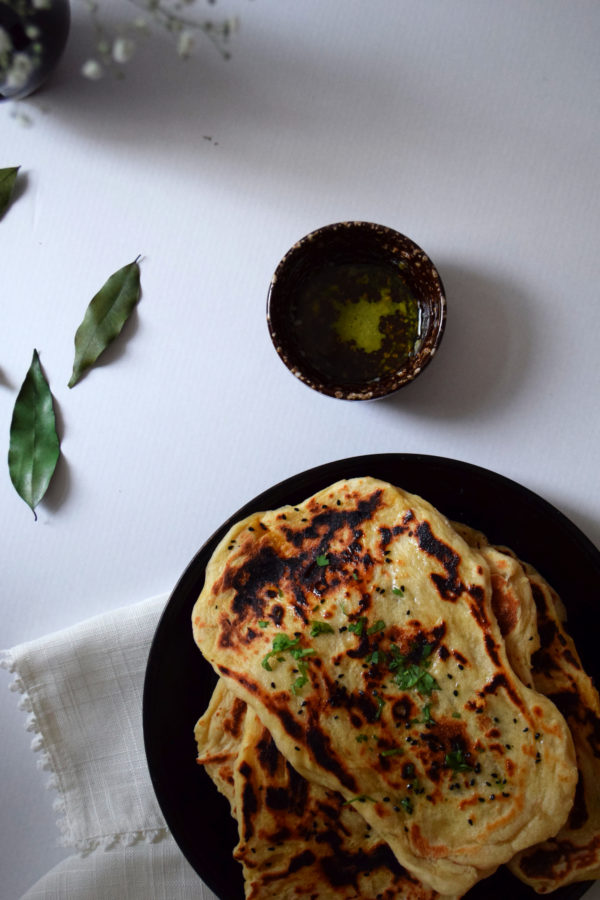 Naans & red lentils hummus with coconut & curry
Ingredients
FOR THE HUMMUS

250g red lentils
50g coconut milk
2 tbsp coconut oil
1 tbsp curry
1 garlic clove
1/2 lemon juice
A few coriander leaves for decoration
A pinch of salt

FOR THE NAANS

450g flour
4 tbsp yoghurt
25cl tepid milk
2 tbsp rapeseed oil (or any other neutral oil)
1 sachet of yeast
1 tsp baking powder
1 1/2 tsp salt
Nigella seeds
Ghee or butter
A few leaves of coriander
Instructions
Prepare the hummus

1.

Wash the red lentils. In a small covered pan, make them baking in twice their volume of water, for about 15 minutes.

2.

When the lentils are baked and tender, add them in a blender bowl, then add the coconut milk, curry, chopped garlic, lemon juice and salt. If solid, melt the coconut oil, then add it to the blender at the last minute.

3.

Mix the whole until you get a creamy and homogeneous texture.

Prepare the Naans

1.

Dissolve the yeast into tepid milk for about 10 minutes. During this time, stir in a bowl the flour, salt, baking powder, oil and yoghurt with your fingers, until you get almost a crumble texture. Add the yeast with the milk.

2.

Knead the dough for a few minutes, add some flour if it's too sticky. When it's soft and doesn't stick anymore, make a ball, spread some oil on it and let rise in a covered salad bowl for about 1h (until size doubles).

3.

Once the dough doubled of size, punch it to release the air into it. Knead again briefly. Preheat a iron cast frying-pan (iron cast heats better). Divide the dough in about 10 pieces, then shape little balls. Flatten each ball with your fingers and hand palms, until you get some tear shapes (slightly oval and shapeless.

4.

When the iron cast frying-pan is very hot, bake the naans: about one minute for the first side until some air bubbles appear, then flip and bake the second side for about 40 seconds. Be careful, it's very easy to make them burn!

5.

Eat the naans tepid, slightly smeared with Ghee or melted butter, nigella seeds and sliced. coriander.
Notes
Don't hesitate to add a bit of coconut oil in case if the hummus is too dry
https://www.inthemoodforfood.fr/en/naans-red-lentils-hummus-with-coconut-curry/
© 2019 Inthemoodforfood.fr, All rights reserved