To follow-up to my previous post, in which I was talking about my first marathon & my training, here is a second part focused on my alimentation on the days before the marathon, as well as during and after the race. As for every race, but even more for this one, lots of runners are wondering what to eat before a marathon.
I'm quite far from being a control freak regarding my alimentation for my usual trainings – well, my lifestyle would rather tend to be the « opposite » of the ideal « assiduous runner » lifestyle, to be totally honest -, but I usually try to care about it before races. Maybe in the hope of creating some physiological miracles. Or to grow some wings in my back thanks to this irreproachable alimentation I adopte every 32nd of the month – big up to all the döners, hamburgers, currywursts, pints of beer & kartoffeln I  gobbled for my first year in Berlin… -.
Just in case…in spite of all the affection I have for all those foods, I'm not totally sure concerning the cleverness of  getting a currywurst before running a marathon. But if you're looking for some thrills, I would be curious to hear about its effects on your performance though :)
So here is a recap about how I ate to run the marathon and finish it on my 2 legs. You can also find one recipe I made a few days before the race, for those who would like to innovate concerning their usual plate of pastas.
The week before
 First of all, I stopped to drink alcohol 2 weeks before the race. I still had one ultimate glass of wine – you're French or you're not… – during this period, but nothing more.  I know it was pretty early to start to eat carbs, and it's usually not necessary to start before the 3-4 days, but I decided to start my carbs loading from Monday. One of the basic rules to know before a race is to avoid as much as possible the modification of your eating habits, mainly to minimise the risks of bad digestion and stomach pains, which are even more common on long distances. I wanted to play the safety card, and give to my body a longer period to get used to this carbs invasion.
I usually don't eat lots of white flour pastas, bread, … but rather whole flour or cereal food, which is not advised before a race, due to the high rate of fibers. Same for meat – did I ever mention that my main source of  red meat was coming from burgers? -, I usually considerably increase my meat intake when a race is coming closer. Even though I like meat, it's not such a rare fact that I almost don't buy any for weeks.
My week was mainly pastas for every meal – exciting, isn't it? -, lean meat as turkey or chicken once a day, some bread on the mornings, and sometimes some taboulé or carb salads to vary a bit from pastas. If you scroll down, you'll find my recipe of creamy macaronis with turkey, oyster mushrooms & thyme that I made 4 days before the marathon. It'll load you with carbs, proteins & fats!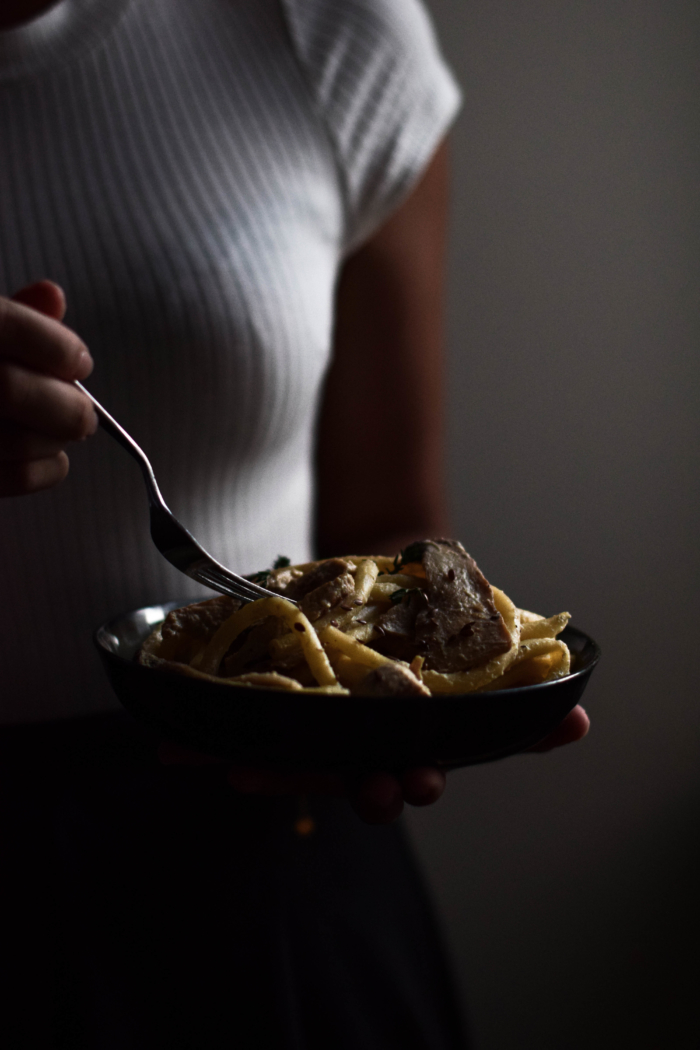 2 days before
The pasta stuffing continues. I avoided to eat too fat food, and I tried to drink much more water than usual, in particular on Saturday, to reduce the risks to get cramps during the marathon. I'm not the kind of persons who always think about drinking 2L water/day, so I usually try to balance with a lot of tea or infusions. For my snacks & breakfasts, it was bread, oatmeal or nice-cream bowls – even though I'm aware that eating a ton of bananas 1 or 2 days before is somehow useless for the race itself, at least I got a good excuse to stuff myself without guilt -.
Before the race
One of the mistakes I'm always doing before races is eating too much. Even though I'm always taking my breakfast a few hours before the start – my dad was always telling me to eat at least 3 hours before the race -, it's not rare that I'm still feeling full when I start to run. I guess the psychological factors like stress are not helping neither…
This time I tried to foresee and not do the same mistake as usual, even if it meant taking an extra banana before the marathon start.
06h15: I took 2 slices of bread with peanut butter for breakfast – some people don't digest so well nut butter before races, but I never got any issue with it -, as well as one banana, a few dates and one cup of green tea. I usually try to not drink too much before a race, just to not have to go to the toilets every 5 minutes – you know, this irrepressible need to piss just before to start a race…-.
08h45: I ate a few pieces of a Clif cereal bar, to not starve in the middle of the marathon. Even though I didn't eat so much for breakfast, I was still feeling nauseous before to start.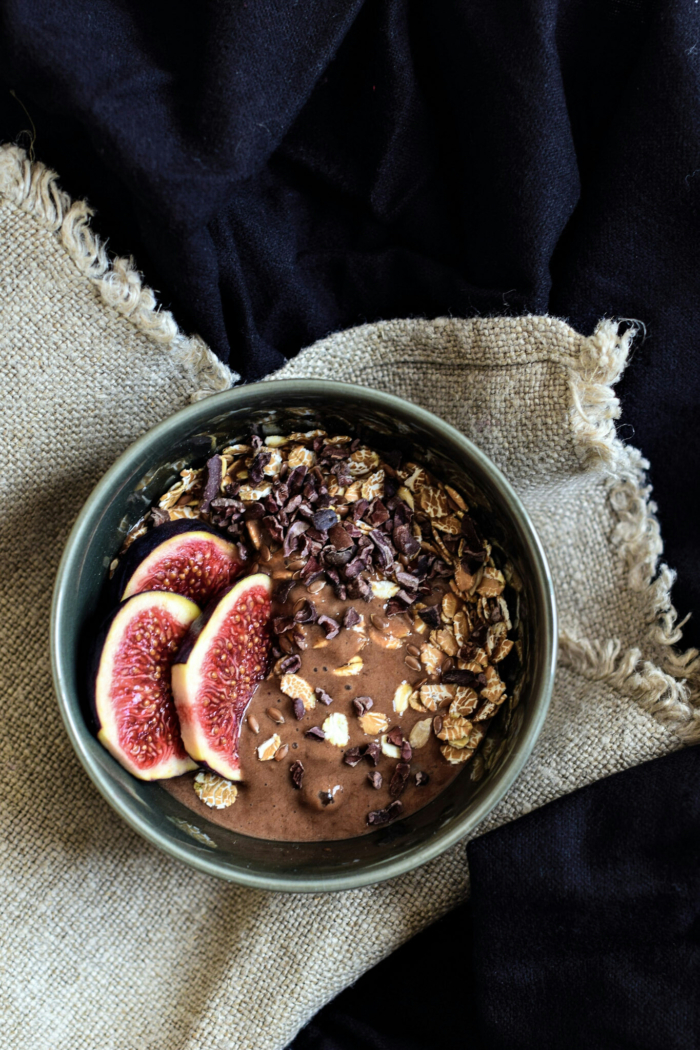 During the race
One of the things I noticed during my long trainings was the fact that it's pretty annoying to change my pace or path once I crossed the 30k barrier. The body starts to be painful because of the repeated shocks, in particular the back and legs. Those pains get even worse after the pace changes, which make the basic pace resumption even harder. The option of running with a bottle of water was definitely not my favorite, but I still chose this solution in order to avoid the big mess caused by the refreshment points.
As I got used to take a little bottle during my last trainings, it wasn't such a constraint to run with during the race. Investing in a bag could have been an option, but I didn't want to run with something I wasn't used to carry. Beyond being super chemical, I've always found the  energetic drinks & gels totally disgusting. That's why I followed the advices of a runner of my team and made my own drink.  For 33cl, I mixed 2 dates, one drizzle of lemon juice, one dose of coconut water, one dose of water and a pinch of salt together. The salt balances the loss of sodium created by perspiration but also enables the carb & drink intake to be faster absorbed by the body. And I promise, this is not disgusting.
As for isotonic drinks, I find main of the snacks for runners nauseating: as well the texture as the taste, they are as bad as each other. Thus, I opted for the simple, efficient and natural solution: small marzipan bars. They are tasty, energy packed and don't take so much space.
After the race
I took the habit to make protein shakes after my long trainings or intensive workouts. As for isotonic products, I've never been keen to screw my body with chemical products and tons of -ine sounding components. Then I usually use an alternative for vegans, which is a bit more expensive, but has the merit of being transparent, natural and made from rice proteins.
Contrary to what people might think, protein shakes are not only aiming to increase the muscle mass of gym addicts – yes I know, what a cliché -, but also to ease-up the recovery and repair the muscle damages after an intensive effort. The protein intake after too loaded or frequent trainings also helps to reduce the risks to get sick by reinforcing the immun system. Then it's pretty important to take a protein-packed snack within the 30 minutes following the physical effort.
Once I finished the marathon, I took a protein shake that I prepared in advance (shake well ± 30cl milk + 1 tbsp rice protein powder), as well as a protein-packed chocolate & peanut bar from Eat natural. The cereal bar wasn't necessary in addition to the protein shake, but I was starving.
I won't lie about the rest, the first thing I did on the evening was to jump on a huge burger with truffle & cheese fries on the sofa. Definitely not any nutritive benefit after 42,195km, but at least 0 guilt :)
Recipe
Creamy macaronis with oyster mushrooms, turkey & thyme
Ingredients
200g macaronis
3 big oyster mushrooms
1 turkey escalope
1 clove of garlic
1 knot of butter
3 tbsp cream (I can also choose skimmed cream if you want to make lighter version)
2 tbsp cumin
Thyme
Flax seeds
Instructions
1.

Boil some salted water in a pan, then add the macaronis.

2.

Wash and cut the oyster mushrooms in thin slices. Mince the garlic and cut the turkey escalope in slices. Melt the knot of butter in a frying-pan, then add the minced garlic. Add the oyster mushrooms, salt, pepper & let cook on medium heat for a few minutes.

3.

Add the slices of turkey escalope and cook until almost ready. Add the cream, the cumin powder and the thyme. Stir well and cook for a few more minutes.

4.

Once they are Al Dente, dry the macaronis and add them to the frying pan. Bake for some last minutes, while stirring constantly. Arrange the pastas in 2 plates, then sprinkle with flaxseeds & fresh thyme.
https://www.inthemoodforfood.fr/en/my-first-marathon-alimentation-nutrition/
© 2019 Inthemoodforfood.fr, All rights reserved