Since I came back from Japan, I tried to explore japanese cuisine more deeply thanks to all the culinary discoveries I made there. I had in mind this recipe of matcha dorayakis for a while. I intentionally chose to not sweeten mine too much, as I find the usual dorayakis quite sweet, sometimes too much to my taste, but it's a matter of personal taste.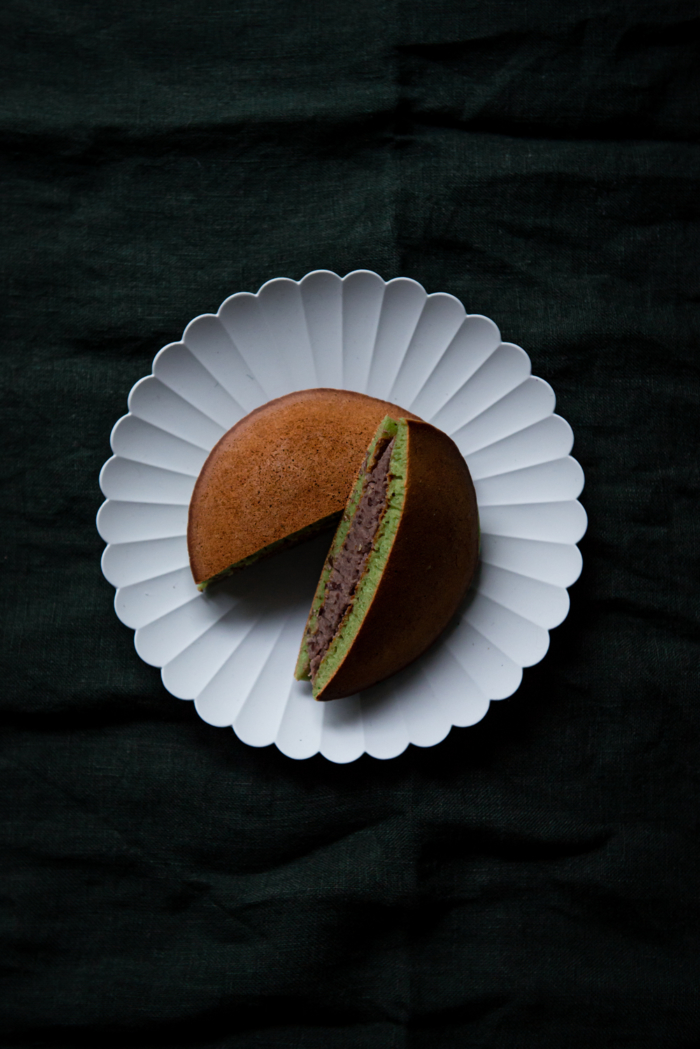 Dorayakis are some kind of sweet japanese sandwiches, consisting of 2 small pancakes – usually plain –  stuffed with anko paste, aka. sweet azuki bean paste. Dorayakis can be enjoyed with tea for instance, and one piece is usually enough to satisfy your cravings because of their very sweet taste.  I made my dorayakis with matcha tea to give them a slightly more complex taste, but you can also skip the matcha step if you just want to make normal ones. Ready-to-eat Anko paste can also be found in most of asian shops and supermarkets. I recommend to eat your dorayakis on the same day, or alternatively wrap them tightly in a plastic wrap or hermetic container as the pancakes and anko paste are drying quite quickly.
Ingredients
FOR THE ANKO PASTE:

170g Azuki beans
600ml water
30g sugar

FOR THE DORAYAKIS:

170g wheat flour (t550)
1-2tsp matcha tea, depending its intensity
1tsp baking powder
2 eggs
80g sugar
1tbsp honey
175ml milk
1tbsp neutral oil
Instructions
1.Prepare the anko paste:

the evening before, soak your Azuki beans in water and leave it overnight. On the next day, rince them and cook them over low heat in 600ml water for about 30 minutes, or until water is mostly absorbed and beans are easily smashable. Add sugar and keep cooking over low heat for 5 minutes. Put everything in a blender bowl and blend well until you get a homogeneous paste. Put in a bowl, cover with a wet towel and set aside.

2.

In a salad bowl, mix flour, matcha and baking powder together. In another bowl, whisk the eggs with sugar, add honey, milk and mix well. Add the dry mix progressively and keep mixing, until you get a smooth pancake dough.

3.

Heat a frying-pan over low heat and grease it with neutral oil. Pour about 1/2 ladle into the frying-pan to get a 10cm diameter pancake, then let cook for 2 minutes, until bubbles appear on the surface and edges start to bake.

4.

Flip the pancake and cook the other side for about 1 minute. Set aside in a plate covered with a damp towel. Repeat until you run out of dough.

5. Assemble the matcha dorayakis:

take one pancake, then add one tablespoon of anko paste in the center, then top with a second pancake, like a sandwich. Press firmly both pancakes between your hand palms, so that the anko paste can be homogeneously spread. Pinch the edges all around the pancakes so that the dorayaki holds properly together. Alternatively, you can wrap your dorayaki very tightly in plastic film to make the "sealing" step easier, it will also help to keep your dorayaki fresh for a few days.

6.

You can freeze a few matcha dorayakis, folded in plastic film, or eat them fast before they get too dry.
https://www.inthemoodforfood.fr/en/matcha-dorayakis/
© 2019 Inthemoodforfood.fr, All rights reserved