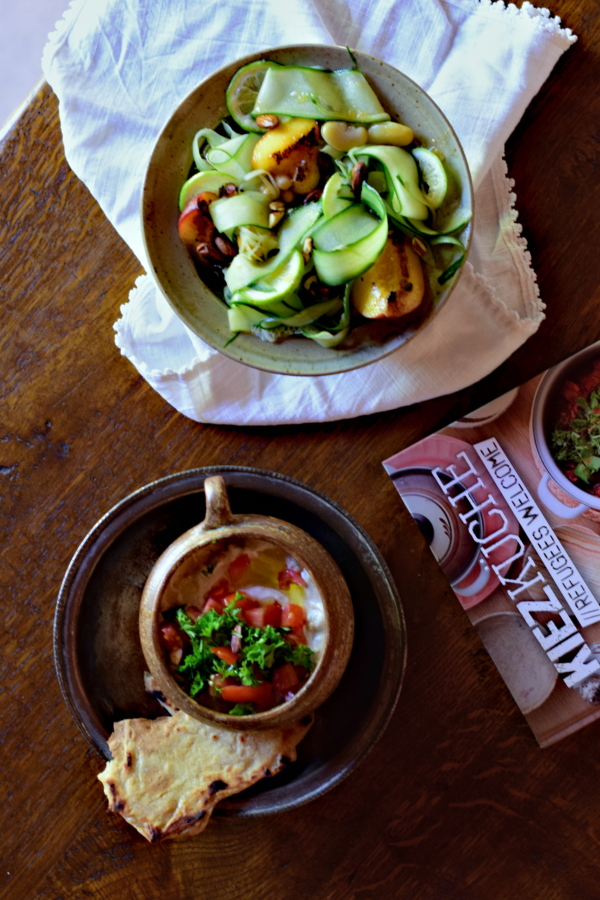 Very often, I cook recipes following my current inspiration, without really having in mind a specific origin to highlight through them. Even though I love Oriental or Asian flavors,  I don't cook them so often for the same eternal reason: I buy a ton of specific spices that I will use once or twice, before letting them passing in a corner – and I know that we are many like this, right? .
It's not like it's every day, but the recipes I'm sharing with you today are not mine but both coming from the Kiezküche cookbook « Kiezküche // Refugees welcome ». One of them is a Syrian recipe, meanwhile the other one is quite common in many oriental countries. Beyond the recipes, this book highlights meaningful initiatives and implicated people who help refugees in Germany. Then the purpose of the book doesn't rest only on cooking, but also on values as helping each other and sense of sharing: get people together around a passion and a cause, cooking and eating for more peace. Considering cooking and gastronomy as the best social experiences and ways to share, I immediately liked this project. You can also find 2 other books that I will probably talk later about: « St Pauli » for Hamburg, and « Kreuzberg & Neukölln » for Berlin, which mix recipes, portraits and immersions into the « behind the scenes » of the Kieze.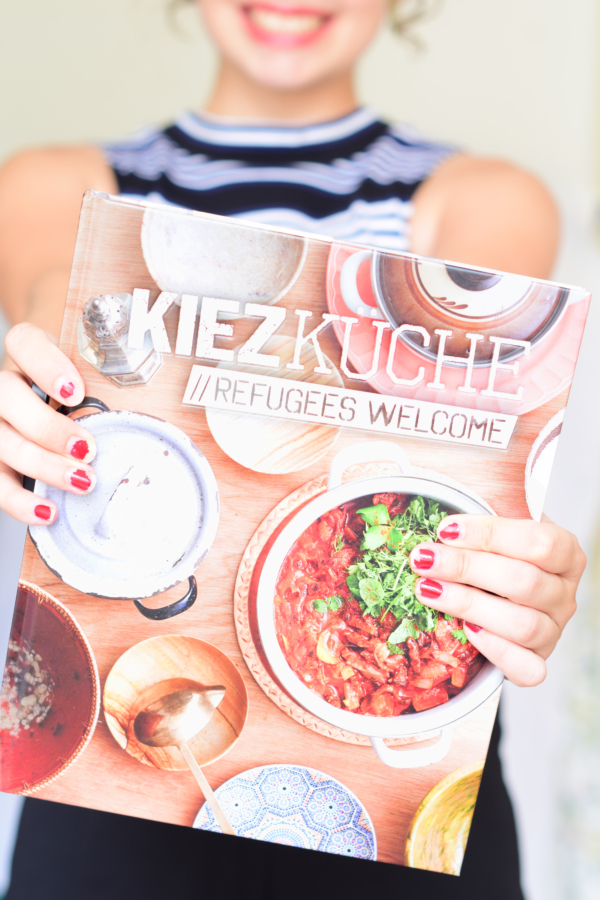 The Kiezküche books are only available in German for now, then it was a good excuse for me to work on my german, which is still quite terrible. To be totally honest I had even some fear concerning the final taste of the recipes, fortunately the german vocabulary I'm mastering the most for now is actually – surpriiiise – food of every kind and ingredients. Come on, it's part of vital needs somehow, right? ;) The recipes that I chose are both very simple to realize and don't need you to empty your local spice seller or to look for mysterious ingredients forever. The first one is a Syrian recipe called Ful Mudammas, which is made of broad beans and chickpeas  and usually eaten with some local bread for breakfast. Which bring us to the second one: Kitcha breads, those perfect flat breads to dip into Ful Mudammas.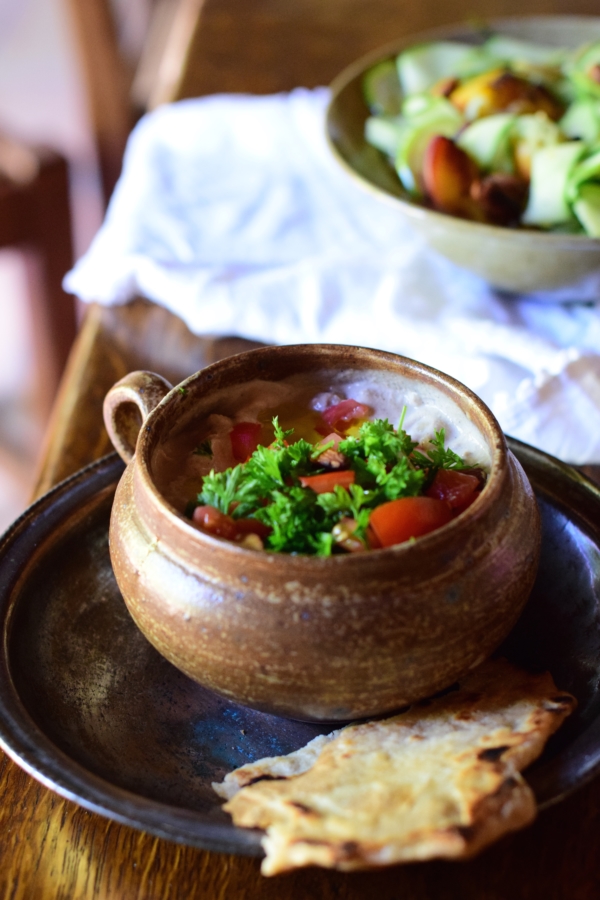 To stay loyal to good roots, I still wanted to add a homemade touch to come along with those 2 recipes, then I made a cucumber salad with roasted peaches, honey & marinated lemon. The recipe is refreshing and light enough to fit with the Ful without adding too many carbs more, a good deal for summer weather then. I'll post the salad recipe separately in a few days, but you can still drool on the pictures while waiting for it!
The benefits from the book « Kiezküche // Refugees welcome » are also refunded to help and refugees projects, then I couldn't encourage you more to buy the book now!
Kiezküche: Ful Mudammas & Kitcha bread
Ingredients
FOR THE FUL MUDAMMAS

1 portion of chickpeas
1 portion of broad beans
200g yogurt
3 garlic cloves
2 tomatoes
4tbsp Tahini
1 organic lemon
A few parsley leaves
One pinch of salt
A drizzle of olive oil
1tbsp roasted sesam seeds

FOR THE KITCHA BREADS

2 cups flour
1 cup water
One pinch of salt
A knob of Ghee
Instructions
1. Prepare the Ful Mudammas:

soak the broad beans and chickpeas for 12h if they are not pre-cooked yet. Once the soaking is finished, warm them briefly in water for a few minutes.

2.

Peel the garlic cloves and chop them. In a bowl, stir the tahini with a fork to relax it, then add the lemon juice with some lemon zests. Add the yogurt as well as the chopped garlic, the salt and 8 tablespoons of the cooking water that you used to warm the broad beans and chickpeas. Stir well the whole.

3.

Incorporate the dried broad beans and the chickpeas to the cream. Cut the tomatoes in little squares and mince the parsley. Top the Ful Mudammas with it. Sprinkle a few lemon zests on it, as well as some roasted sesam seeds and a drizzle of olive oil.

4: Prepare the Kitcha breads:

stir the flour and salt together, then add progressively the water. Knead well the dough until it gets elastic.

5.

Separate the dough in 4 portions, then flatten each piece of dough in order to get circles of dough with about 5mm thickness maximum.

6.

Heat a frying pan and add a knob of ghee or butter. Then let bake each Kitcha bread for a few minutes, one by one, until they get golden and crunchy. Serve preferably warm, dipped into the Ful.
https://www.inthemoodforfood.fr/en/kiezkuche-ful-mudammas-kitcha-bread/
© 2019 Inthemoodforfood.fr, All rights reserved