Right in the season of Kale cabbage – aka leaf cabbage for the conservative ones – is the best moment to share with you a new healthy recipe with the green superfood star. Full of vitamins C, calcium & antioxydants, the Kale is eaten almost raw in this Kale, roasted chickpeas & yellow beetroots recipe, in order to keep all its nutritional properties. It's the first time I try it that way, which I finally prefer to the cooked form. Also because beyond having a weirdo taste once its baked, it also stinks in the whole kitchen… You can either very briefly stir-fry the kale with some olive oil, or massage it under the water, until it gets tender and supple. Being usually not a beetroot fan, I still wanted to incorporate some raw beetroot, which was actually much more interesting for in the texture than the baked one.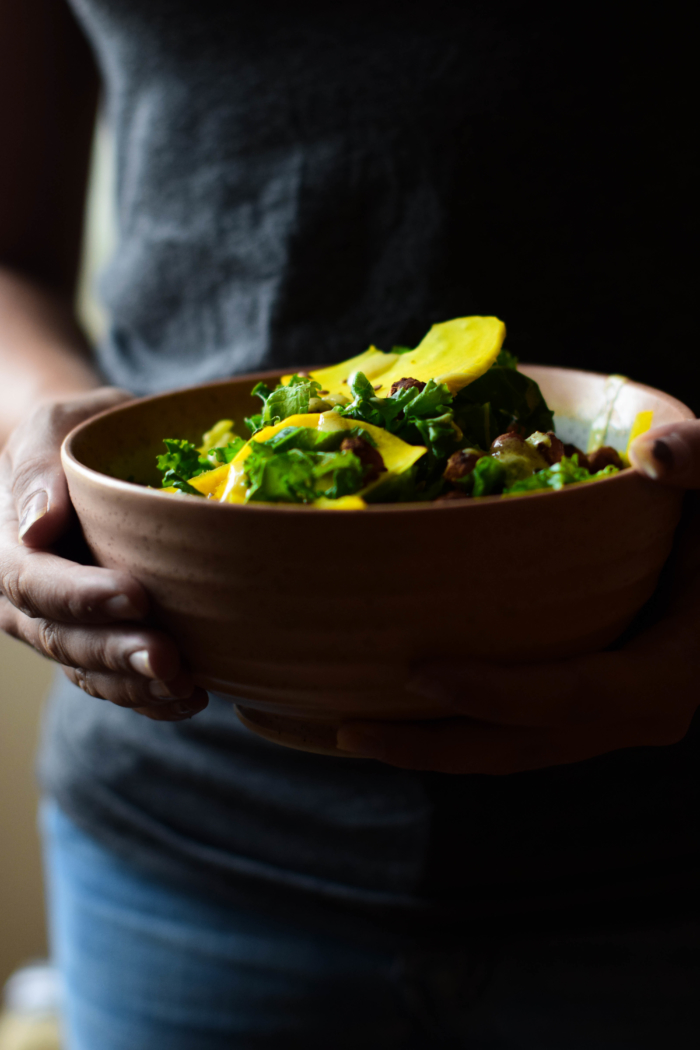 This Kale cabbage salad is very fast to realise, the longest part is actually the one with the roasted chickpeas. But you can also just add a part of them into the salad and keep the other half for eating later, which is quite practical. And they are perfect for a healthy & spicy snack ;)
Kale, roasted chickpeas & yellow raw beetroot
Ingredients
1 can of chickpeas
1 yellow beetroot
3 Kale branches
2 + 1 tbsp olive oil
1 tbsp mild chili
2 tsp cumin
1 tsp cinnamon
1 tsp paprika
Flaxseeds
Salt & pepper

FOR THE SAUCE

2 tsp mustard
2 tsp roasted sesame oil
1 tsp yogurt
Salt & pepper
Instructions
1. Prepare the roasted & spicy chickpeas:

preheat the oven to 200C. In a salad bowl, mix the drained chickpeas with 2 tablespoons of olive oil, the mild chili, cumin, cinnamon & paprika. Salt & pepper as you wish and stir well the whole, until everything is coated. Put on a baking tray covered with baking paper, and put in the oven for 20 minutes at 200C.

2.

Meanwhile, wash and cut in slices the kale. As explained before, you can either briefly fry it or massage it under the water until it gets tender.

3.

Add the kale in a salad bowl. Wash, peel & thinly cut the yellow beetroot in slices, then add to the salad bowl. Add the chickpeas once they are baked and crunchy.

4. Prepare the sesame dressing

: in a bowl, emulsify the mustard with the sesame oil, the yogurt, salt and pepper. Once the sauce is homogeneous, coat the salad with it and stir well. Sprinkle some sesame seeds on it and serve!
https://www.inthemoodforfood.fr/en/kale-cabbage-roasted-chickpeas-beetroot/
© 2019 Inthemoodforfood.fr, All rights reserved