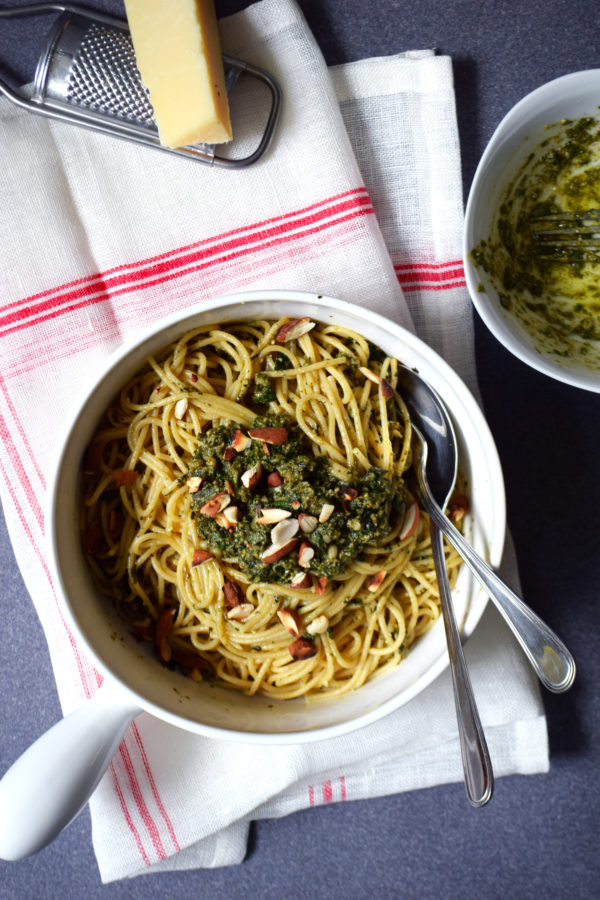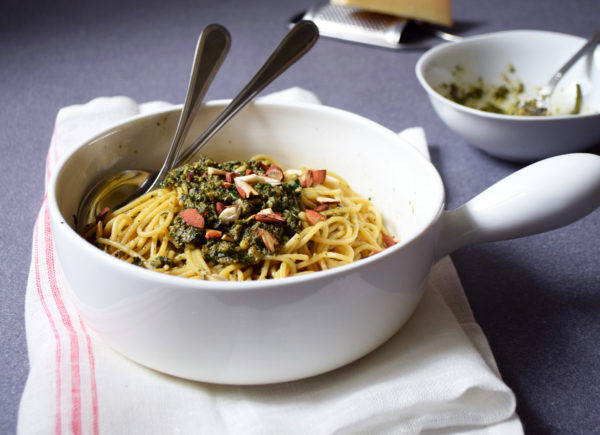 If there is one thing I'm dreaming about right now, – excepting the desire to jump under a freezing shower – it's eating something fresh enough to forget the 30 degrees temperature over here. And also about a high-carb dish that will give me enough energy to run properly my next race tomorrow, which is sensibly different than basic pastas/butter or pastas/green veggies -peeled, seeded, and non spiced to be perfectly digested, just that please…-. Okay you get a point, another pasta recipe is not really the most original idea to diversify those habits, but you know I needed to place my fresh mint pesto somewhere. Anyway, you probably got it, eating always the same kind of dishes before a race isn't the most exciting thing at all, even less when you need to repeat it a few times a month during the most intensive periods – yeah, seems I'm already complaining even thought I still haven't started the Berlin marathon preparation…oopsie -.
As I had a huge bunch of fresh mint close to hand, it was the right occasion to give a try to those fresh mint pesto Spaghetti indeed, and at the same time to realize that this one wasn't so common among the pesto family.
Just to add a few more interesting nutrients to our fresh mint pesto Spaghetti, you can add some shredded almonds and white fish filet to the pastas.
Fresh mint pesto spaghettis
Ingredients
One bunch of mint
5cl olive oil
50g pine nuts
2 tbsp grated parmesan cheese
One drizzle of lemon juice
One small handful of almonds
130g Spaghetti
Instructions
1.

Make boil 1L of slightly salted water. Mince the fresh mint and add it to a blender bowl.

2.

Add the pine nuts, the shredded parmesan cheese, the olive oil and a drizzle of lemon juice. Blend the whole until to get a homogeneous texture.

3.

Cook the pastas Al Dente, then dry them in a colander. Pour some mint pesto on the top. Shred approximately the almonds and add them to the dish. Serve the fresh mint pesto Spaghetti while warm and well-mixed.
https://www.inthemoodforfood.fr/en/fresh-mint-pesto-spaghettis/
© 2019 Inthemoodforfood.fr, All rights reserved