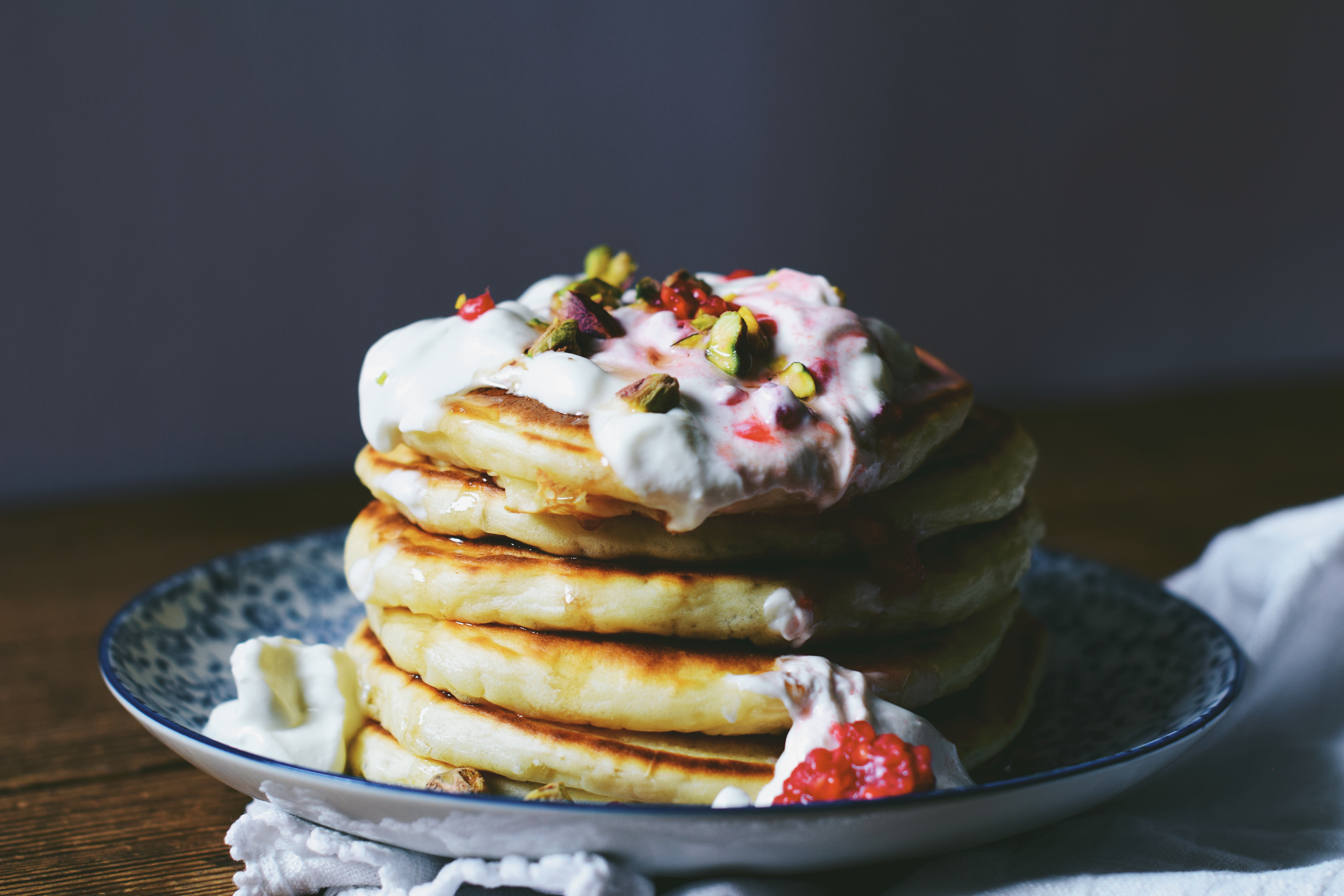 I've tried many pancakes recipes so far, but I've always had the feeling that looking for the holy fluffy pancakes recipe was a never-ending quest: spelt pancakes, banana protein pancakes or egg whites pancakes, "american" pancakes,… in spite of my attempts the result wasn't often as good as my expectations, nor fitting with the time I wanted to dedicate to their making. Nonetheless, I never tried to make any buttermilk pancakes recipe before, which is actually one of the biggest basics among all the pancakes recipes. Buttermilk isn't as easy to find in French supermarkets as in Germany though, then I had almost a good excuse for waiting so long to try my  new holy buttermilk pancakes recipe.
As I couldn't obviously be satisfied with a random recipe, and as I've always love orange blossom water, I decided to add some into the mixture, which was also a good way to balance the low amount of sugar in the preparation. The rare times when I use sugar in my recipes, I usually go for some unrefined sugar, mainly for nutritive and environmental matters. Just to stay in the oriental touch, I topped my spelt buttermilk pancakes with some Labneh, which is a thick and unstrained yogurt usually coming from Lebanon.
Fluffy orange blossom & buttermilk pancakes
Ingredients
FOR THOSE FLUFFY PANCAKES

1 cup spelt flour
1 cup buttermilk
1 egg
3 tbsp olive oil
3 tbsp orange blossom water
1 tbsp rapadura sugar
1/2 bag of baking powder
1 pinch of salt
Instructions
1.

In a salad bowl, mix the spelt flour, the rapadura sugar, the baking powder and salt together.

2.

Take another bowl and beat the egg with the buttermilk, the olive oil and the orange blossom water until you get a homogeneous texture.

3.

Incorpore progressively the liquid mix into the dry one while constantly stirring. The final texture might be very creamy.

4.

Preheat a frying-pan, slightly greased. Once the pan is hot, pour 2 tablespoons of pancakes dough and let bake the first side for a few minutes. Many holes should appear on the pancake.

5.

Flip it and let bake the second side for about 2 minutes. Once baked, the pancake should be very fluffy and aerated. Repeat for the next ones and serve warm.
Notes
On the picture, I topped the pancakes with some Labneh, raspberry purée, shredded pistachios & a drizzle of maple syrup
https://www.inthemoodforfood.fr/en/fluffy-orange-blossom-buttermilk-pancakes/
© 2019 Inthemoodforfood.fr, All rights reserved