Once the fall is here, I love to cook with hokkaido squash, chestnuts and everything that could be associated with comforting recipes. This recipe of fall granola with sweet potato & spices was basically supposed to be tested with hokkaido squash, then I decided to rentabilise the sweet potato that was wandering in a corner of my shelf.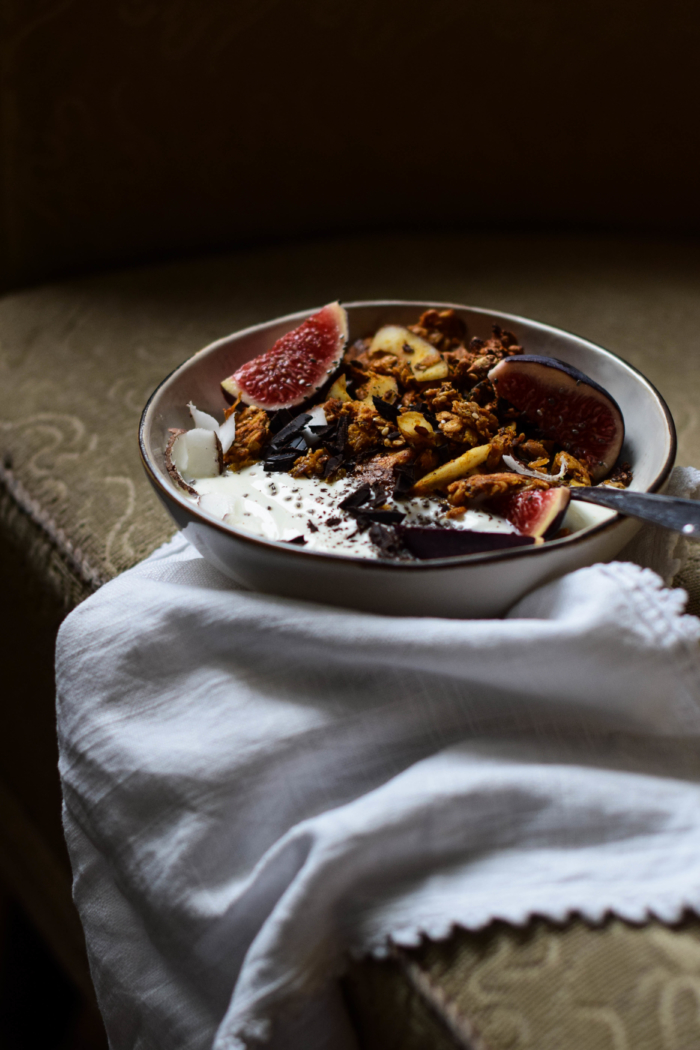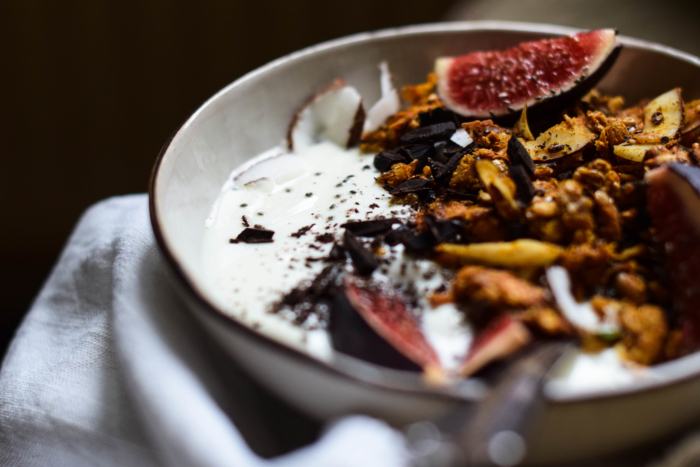 After making a few times my pumpkin bundt cake with sweet potato instead, I took the habit to put some a bit everywhere – it gives a perfect texture to cakes! -. Fruit compote is also an ideal base to make "sugar-free" granola, as it's the case in my monkey granola with banana, sesame & chocolate. The banana purée makes it all. As sweet potato is perfect for cakes, there was not any reason for it to not rock in a fall granola recipe.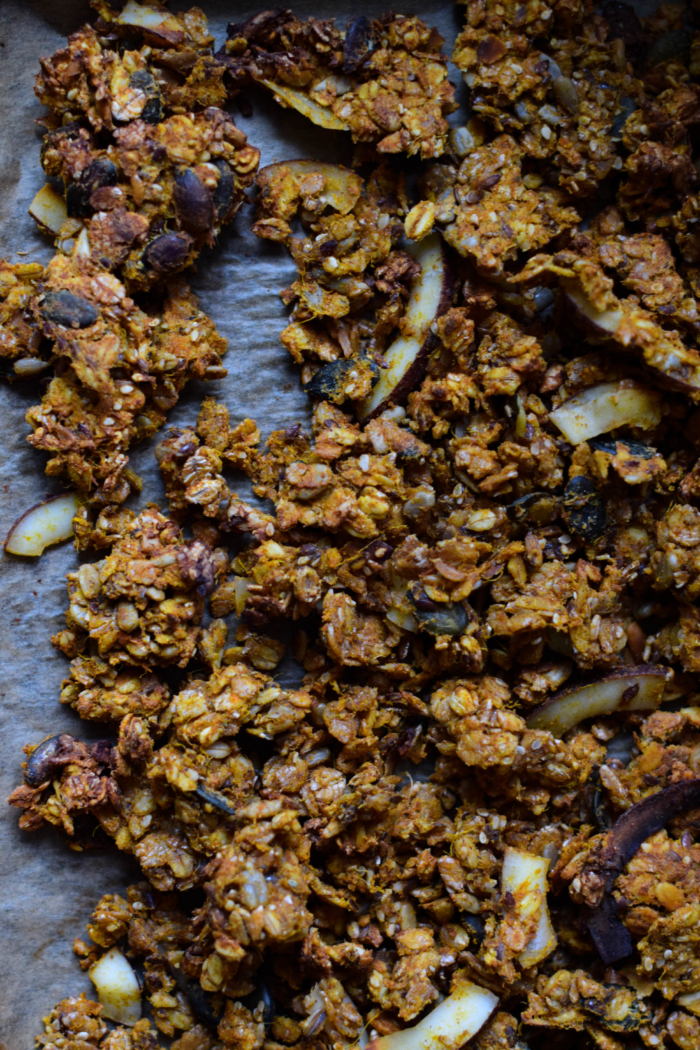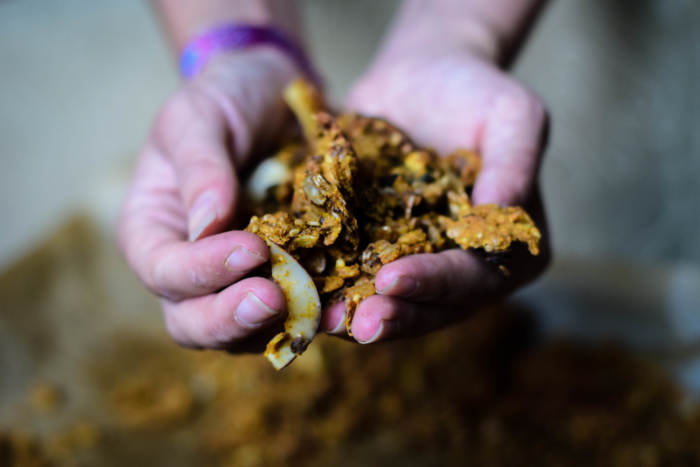 To fit perfectly with the season, I added my favorite spices as cinnamon, vanilla, cardamom & some nutmeg. I usually use lots of spices when I'm making sugar-free recipes, to avoid any insipidity. There is also some peanut butter, indeed, as well as sunflower seeds, squash seeds and pine nuts! I also wanted to add some gomasio (a mix of salt & sesame), just to see how it would taste in a "sweet" recipe. The amount of salt wasn't too big, the mix is perfect with some big chunks of dark chocolate. Sweet & sour amateurs, take notes!
As long as it's not burning, feel free to let bake the fall granola a bit longer than I advised. The sweet potato purée makes the whole being a bit moist, which makes it harder to get some crust. As my oven burns everything I let for too long inside, I didn't want to bake it more, but my granola wasn't so crunchy anymore after a few hours.
You can find a third sugar-free granola recipe here!
Fall granola with sweet potato & spices
Ingredients
250g oats
1 sweet potato
70ml coconut oil
3 tbsp peanut butter
2 tbsp gomasio
1 tbsp cinnamon
1 tbsp vanilla
1 tsp cardamom
1 tsp nutmeg
1/2 cup of sunflower seeds, squash seeds & pine nuts
A few flakes of fresh coconut (optional)
Instructions
1. Prepare the sweet potato purée:

peel the sweet potato and cut it in pieces. Bake it in a steam batch for about 20 minutes, until it gets tender. Dry when ready, then mash it with a fork.

2.

Preheat the oven to 200C. In a salad bowl, stir well the dry ingredients: oats, gomasio, cinnamon, vanilla, cardamom and nutmeg, as well as the seed & pine nuts.

3.

Melt the coconut oil in a small pan. then add the peanut butter & the mashed sweet potato. Stir until you get a liquid & homogeneous mixture.

4.

Add to the dry mixture and stir well to coat all the ingredients. Spread on a baking foil, then put in the oven for about 25 minutes. Stir regularly in order to not burn the granola.

5.

Once it's ready, let cool down the sugar-free granola. You can store it in a hermetic box for a few days.
Notes
Suggestion: the granola is perfect with yogurt and some dark chocolate (low in sugar, >80%) & fig slices.
https://www.inthemoodforfood.fr/en/fall-granola-sweet-potatoes-spices/
© 2019 Inthemoodforfood.fr, All rights reserved