Believing the blog trends, but also Instagram & Pinterest, it seems that Polenta is trendy in the kitchen those days. But creamy Polenta please, or nothing. I've always had difficulties with Polenta, probably because of those ideas that got into my head when I was child, like "Polenta tastes like vomit anyway". About the good news, the trend pushed me to tempt the experience again, and finally make up with Polenta again.
I recently discovered a new épicerie for which I had a crush, not very far from my place. The crush is not only due to the fact that the place is packed with Franzosen, but also because you can find there: 1. Burrata, 2. Smoked Burrata. So while longing to go back to Mozzato during my next stay in Lyon, I'm staying patient by stuffing myself with smoked Burrata. Fair enough.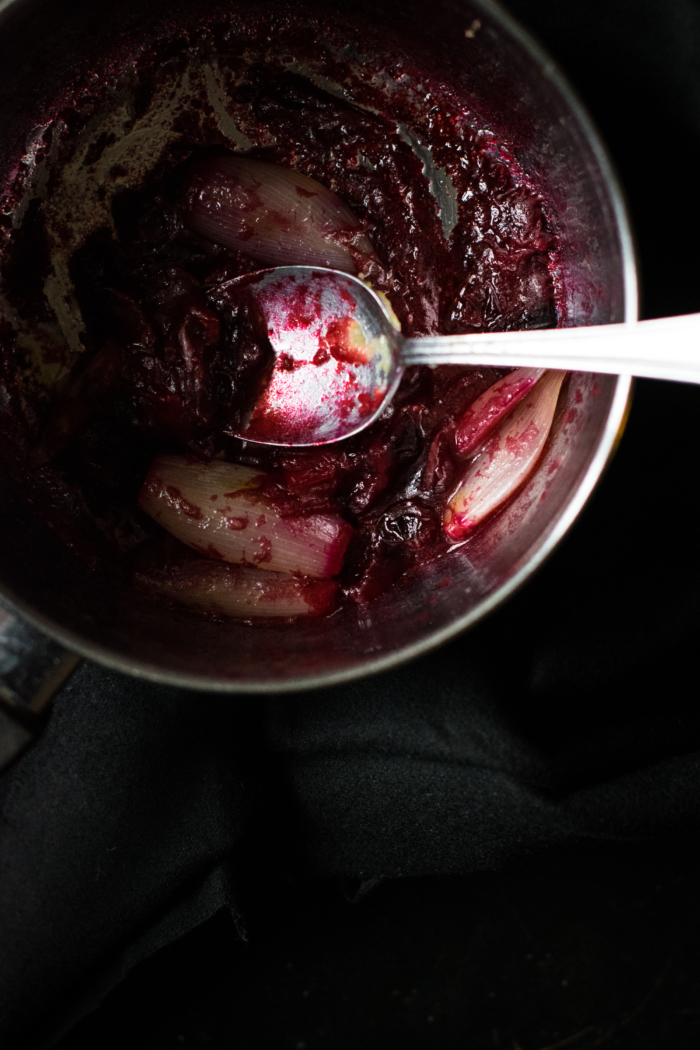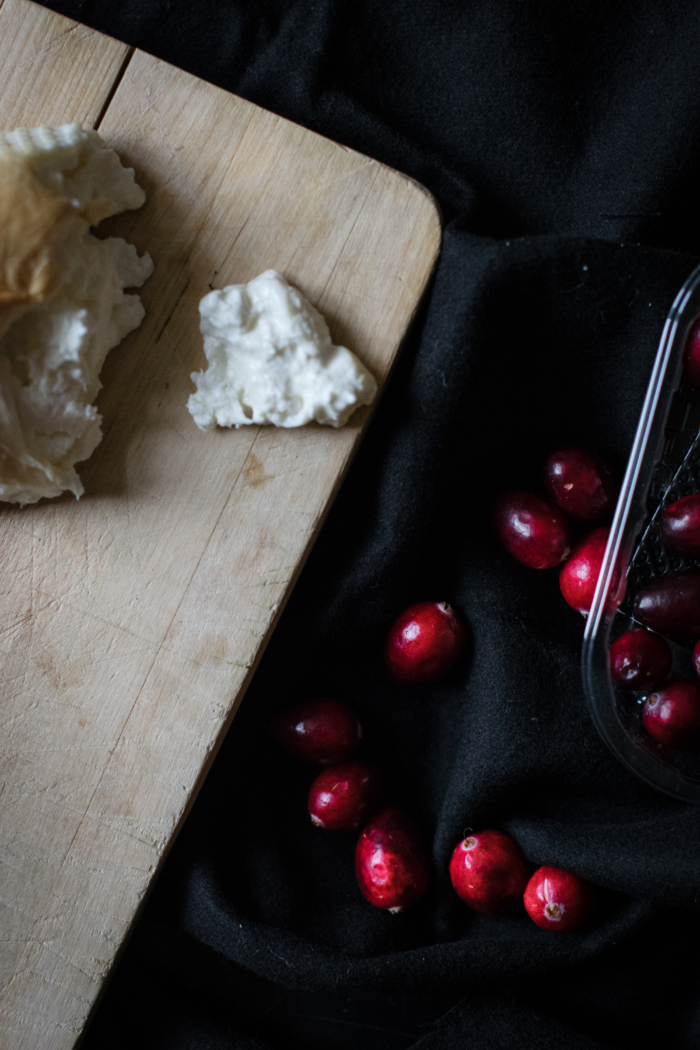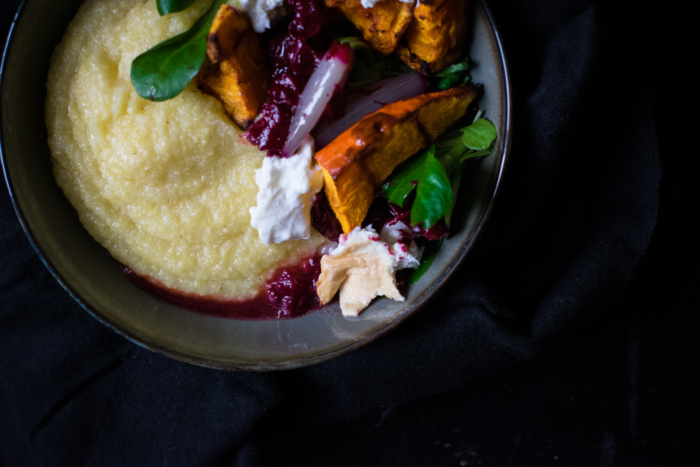 It's usually pretty hard to find smoked Burrata in shops, so you can still replace it by some classic Burrata or a creamy & tasty Mozzarella di Buffala. But this won't give the same result than with smoked Burrata, which come perfectly along with Polenta & add a sparkling touch to my recipe of Creamy Polenta with smoked Burrata, roasted pumpkin & cranberry-shallot sauce.
Creamy polenta, smoked Burrata & cranberry-shallot sauce
Ingredients
100g Hokkaido pumpkin
60g polenta
250ml water
1/2 smoked Burrata
One handful of cranberries
2 shallots
2 tbsp grated Parmesan
1 tbsp olive oil
1 knob butter
A few leaves of lamb's lettuce
Instructions
1. Prepare the roasted Hokkaido pumpkin:

preheat the oven to 200C. Take 100g of Hokkaido pumpkin and cut it in slices or pieces. With a cooking brush, coat them with olive oil. Arrange the pumpkin slices on a baking tray and put in the oven for about 20 minutes.

2. Prepare the cranberry & shallot sauce:

wash the cranberries & peel the shallots. Separate the different parts of the shallots. In a small pan, melt a knob of butter & add the shallots to make them fry for a few minutes. Turn the fire on low heat and add the cranberries. Season, cover & let cook for a few minutes. Add some water if necessary. The cranberry & shallot sauce will be ready when they are melty.

3. Prepare the creamy polenta:

in a small pan, add the polenta with 250ml salted water & cook on low heat. Stir regularly. The water will be absorbed after about 15 minutes & the polenta will be creamy. Take off from the fire & add some grated parmesan cheese. Stir well.

4.

Pour the creamy polenta in a plate. Add a few leaves of lamb's lettuce, then cut the smoked Burrata in big pieces. Top them on the creamy polenta with the roasted Hokkaido pumpkin slices. Pour the cranberry & shallot sauce, adjust the seasoning as you wish. Serve warm.
https://www.inthemoodforfood.fr/en/creamy-polenta-smoked-burrata-cranberry-sauce/
© 2019 Inthemoodforfood.fr, All rights reserved