This coconut curried noodle soup with kale & peanuts came on the top of my long winter recipe list, all shot on-the-go between 2 appointments, while running everywhere to succeed to grab the last "sun"beams of the day before Berlin winter imposes once again its unbearable darkness at 4pm.
As options for eating an asian soup in Berlin are not missing, and also because I've always been a bibimbab, bulgogi & other sweet & sour dish addict, ramen and noodle bowls came back quite drastically in my diet since a couple of months. Berliners are the best to know that, the Bulgogi from Yam-Yam, the Chashu ramen from Marubi or the Toku Shoyu ramen from Makoto – thin pork belly slices swimming in a fat & tasty broth, nothing better to cure a cold or a hangover – are my favorites of the moment. But a bowl of homemade noodles doesn't ask so much time of money to make.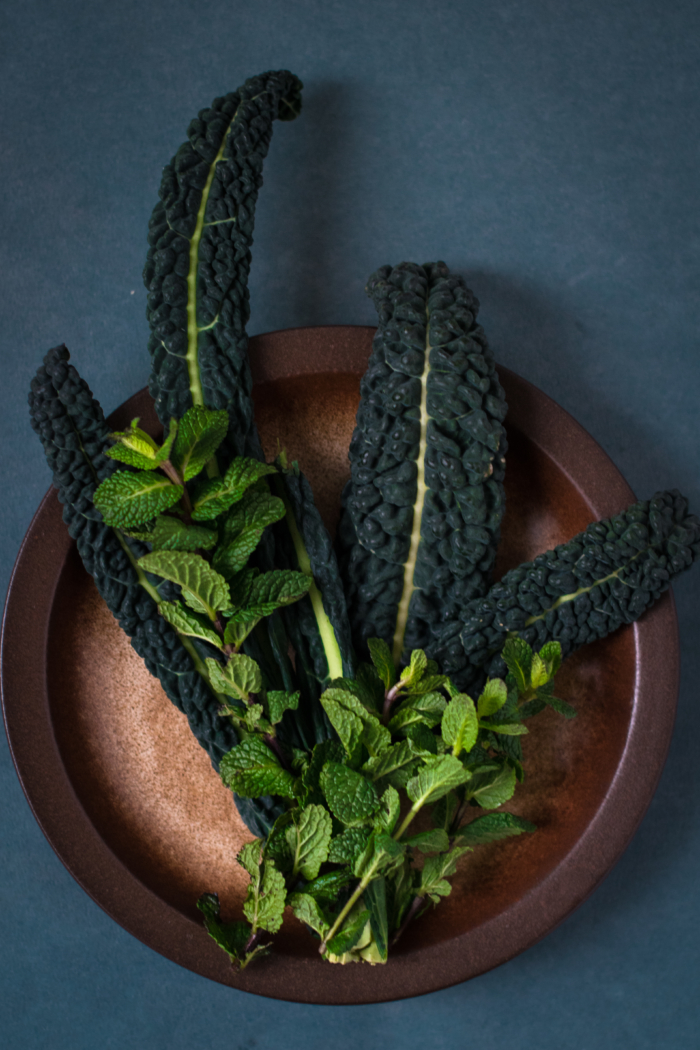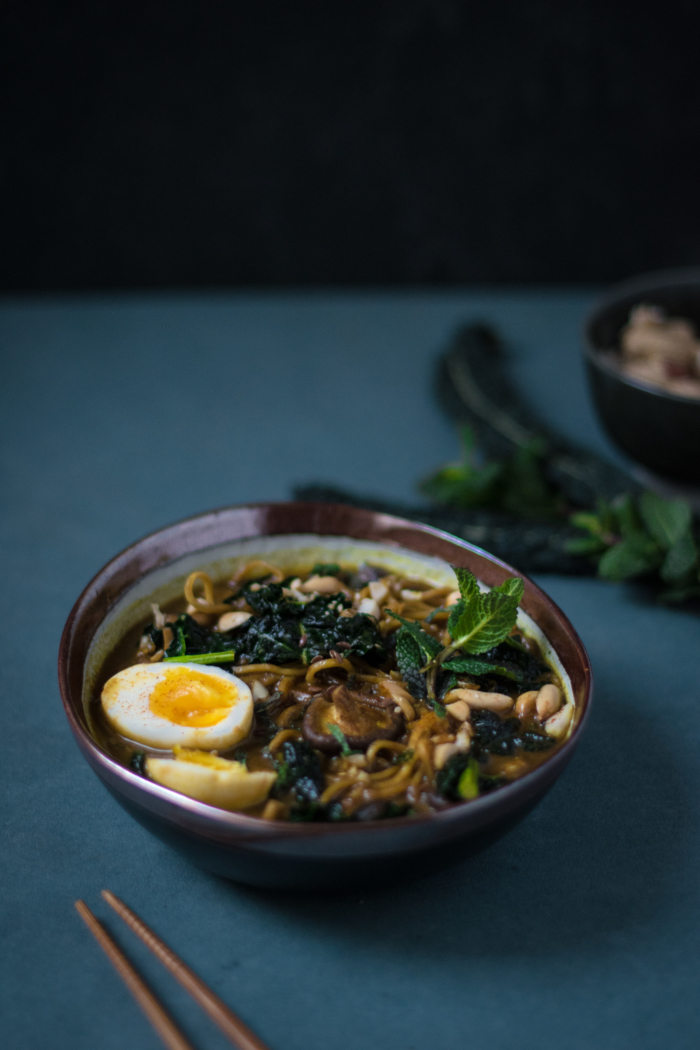 Even though I'm used to cook, I'm among those persons for whom it will always take 2 hours to cook the easiest dish. If at the beginning I was rather thinking it was because of my lack of practice mixed to my pretty slow reactivity, I finally came to the conclusion it's probably because I simply hate to rush while cooking – until now the only thing for which I'm able to keep patience for hours without turning into a shrew -.
But as my current agenda decided differently, the couple of times I cooked and developed my kale noodle soup were not the best moments to take my time. Rather the kind of moments I had to devour my noodle bowl in 3 minutes chrono, then run away again while letting a chaos in the kitchen and some curry sauce stains on my face – I still succeeded to save my dignity until now, while noticing before someone else does it first -.
As we are talking about tight schedule, I keep managing to write a post per week even though it's sometimes really complicated. I don't feel the obligation to do it, and in spite of the hell of time it's asking I still have a lot of pleasure while doing it. But my recurrent exhaustion, obligations and need to disconnect of the last weeks push me sometimes to postpone my blog work to the next day, and put my blog, social channels and inspiration in the background.
The fact to work most of my time in social media since the last months made me fear to reach quickly the bursting point, but it surprisingly pushed me to digitally disconnect, personally speaking – blog non-included, indeed -. I'm about to change once again my working schedule very soon – let's stay optimistic -, to go back to stable hours and less stressful life as I was used to know before, and I'm curious to see how it goes with the blog. I'm at least expecting to have a few more minutes to eat my kale noodle soup.
You can also find another asian soup recipe I made last year: Thaï soup with prawns, coconut & curry!
Coconut Curried Noodle Soup with Kale & Peanuts
Ingredients
60g noodles
300mL water
100mL coconut milk
1 egg
2-3 Kale stalks
A small handful of Shiitake mushrooms
A small handful of peanuts
A small handful of fresh mint
3tbsp soy sauce
1tbsp curry
1tbsp coconut oil
1 garlic clove
1cm fresh ginger
1 pinch of chili
Instructions
1. Prepare the broth:

in a pan on low heat, melt coconut oil and add mashed garlic and ginger. Let fry for a few minutes, then add spices, soy sauce and coconut milk. Turn fire on medium heat, stir, then add water, previously boiled. Stir and let cook for a few minutes.

2.

In another pan, warm some water and add egg. Let slowly boil for 6 to 7 minutes, until soft-boiled. In the meantime, wash and cut Kale leaves in pieces, wash shiitake mushrooms, mince mint and shred peanuts.

3.

Add dry noodles to broth, as well as kale and mushrooms. Stir and let cook until noodles are ready. When egg is ready, take it off from pan and put it under cold water.

4.

Pour the noodle soup in a big bowl. Shell egg, cut it gently in 2, and top noodles with. Sprinkle with fresh mint and peanuts. Serve warm
https://www.inthemoodforfood.fr/en/coconut-curried-noodle-soup-with-kale-peanuts/
© 2019 Inthemoodforfood.fr, All rights reserved