Here we go, the season of fat loads & Christmas cookies is officially launched. That's at least what those Christmas spice, hazelnut & chocolate cookies prove, as well as the thumbprint cookies I made a few days ago. Once this recipe made, I went to one of my favorite Christmas markets in Berlin: Lucia Weihnachtsmarkt, the Scandinavian one.  The food there reminds me the months spent in Finland & the general atmosphere is so cozy – good luck if you decide to head there on a week-end though, the place is always pretty much packed -.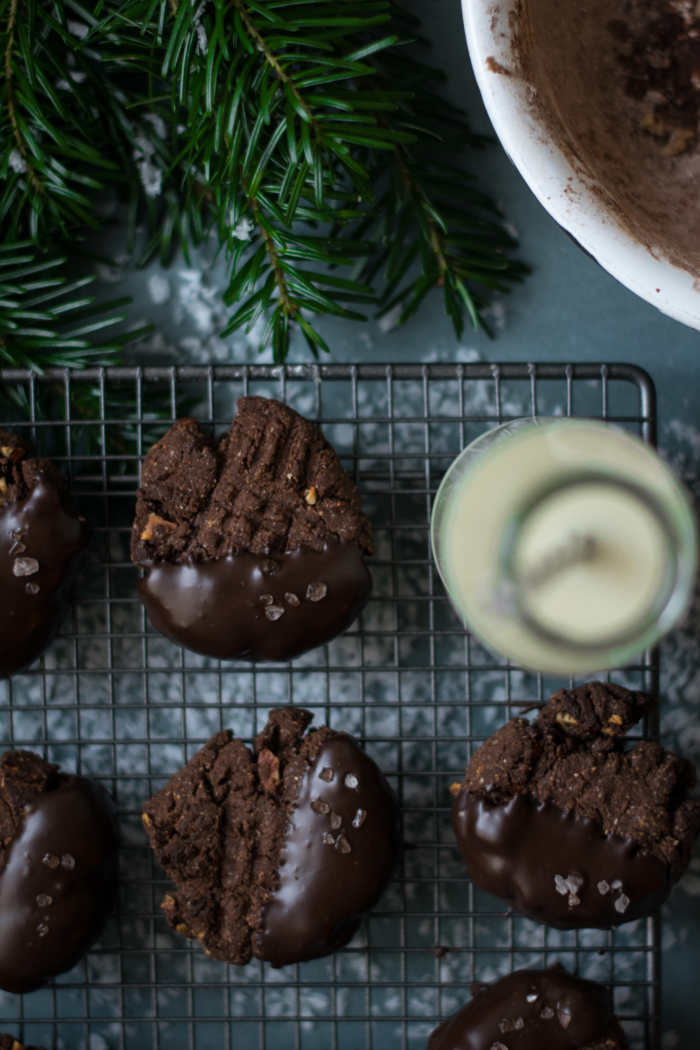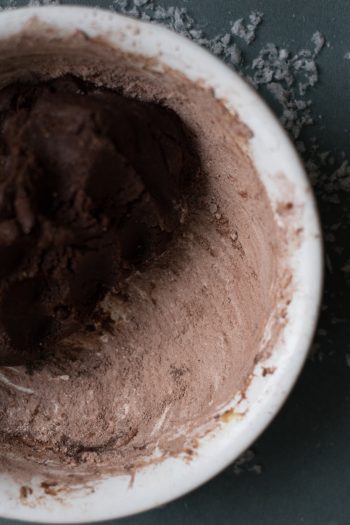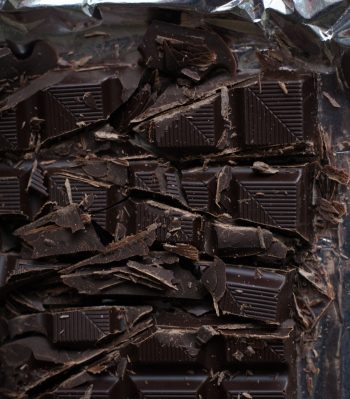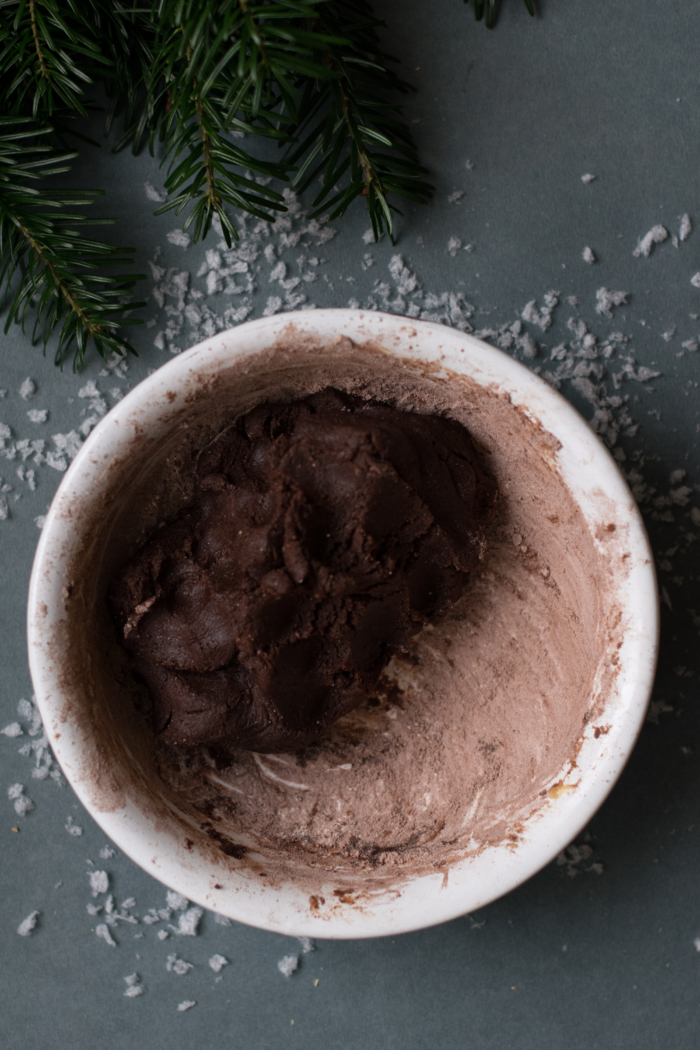 The Christmas culture as well as the advent atmosphere are pretty pronounced in Germany, definitely not comparable to the one you can find in France. Even though Christmas markets here are still inciting for overconsumption, they are first of all meant for sharing, drinking, eating & meeting your friends. People are not going there for shopping as a first goal, but rather to enjoy some quality time around a glass of Glühwein – well, just one is actually pretty occasional -.
This warm atmosphere that you can feel all over the city makes me somehow love Christmas again, which is to my eyes the most paradoxal celebration of the year. According to our society, and while properly celebrated, Christmas is above all this moment when families are enjoying delicious food all together, before offering to each other a ton of gifts – seriously, who hate that?
The other aspect of Christmas that escapes many people's mind is how all those clichés and traditions can affect people who don't have "the chance" to celebrate it, because they don't have money, family, home, or simply because they don't feel like celebrating it. All of the above are the reasons why I think this celebration can be as much the best as the worst, for all those people who assist to this wave of happiness and festivities, without being able to feel it or take part into it.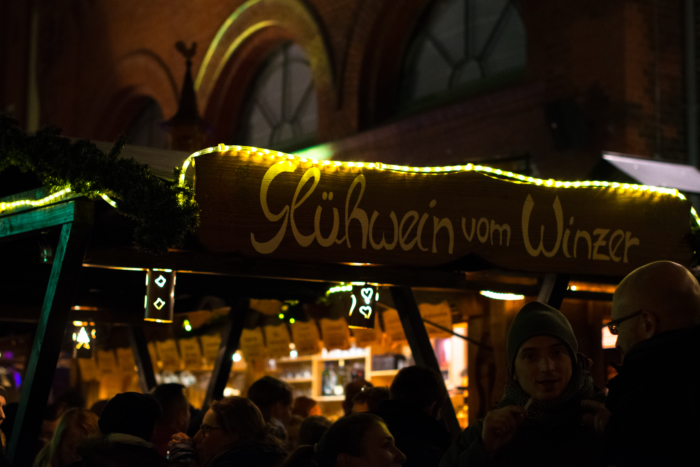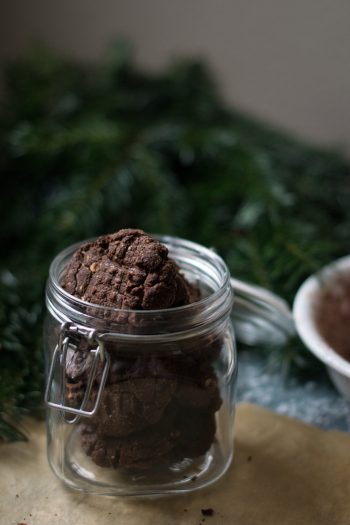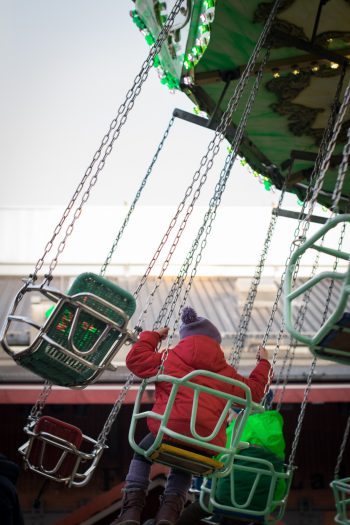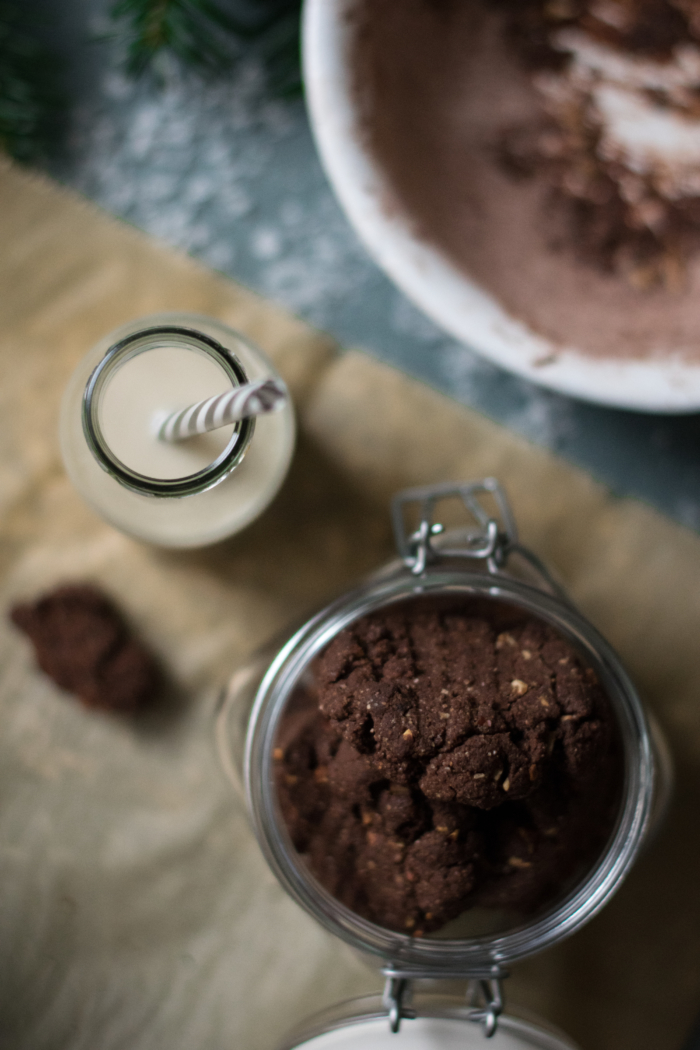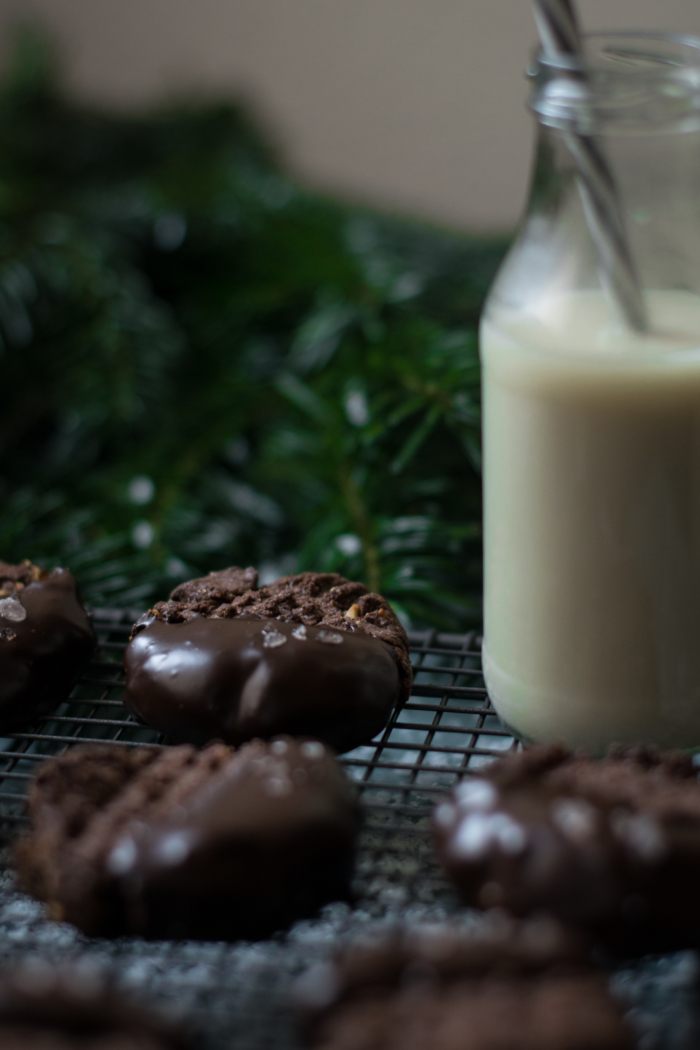 Christmas has been during a long time synonym of happiness for me. Until becoming synonym of nostalgia, bringing back its bunch of painful memories happening at the wrong time of year, the loss of a parent, or reminding how much all those moments spent with a big family are missing. Every year, Christmas is coming back with its lots of warmth, happiness and kilos of chocolate, while reminding in the same time that we were used to better.
But as I mentioned at the beginning of this post, Christmas is also the right occasion to stimulate my creativity, taking back my Christmas recipes, fatten even more my dear flatmate, and having a perfect excuse to drink Glühwein and stuffing my face with a ton of food while being surrounded by friends. This recipe of Christmas spice, hazelnut & chocolate cookies is the second I created for the occasion. Chubby cookies and thick chocolate ganache with some Fleur de Sel , to properly stuff your belly and brace wintery temperatures! The sugar rate in this recipe is still deliberately low – okay, last time was cheating, there was a ton of chocolate caramel involved…-, but won't annoy you, even for the biggest sweet tooth, I swear!
Also, you can find all my wintery and Christmas recipes here!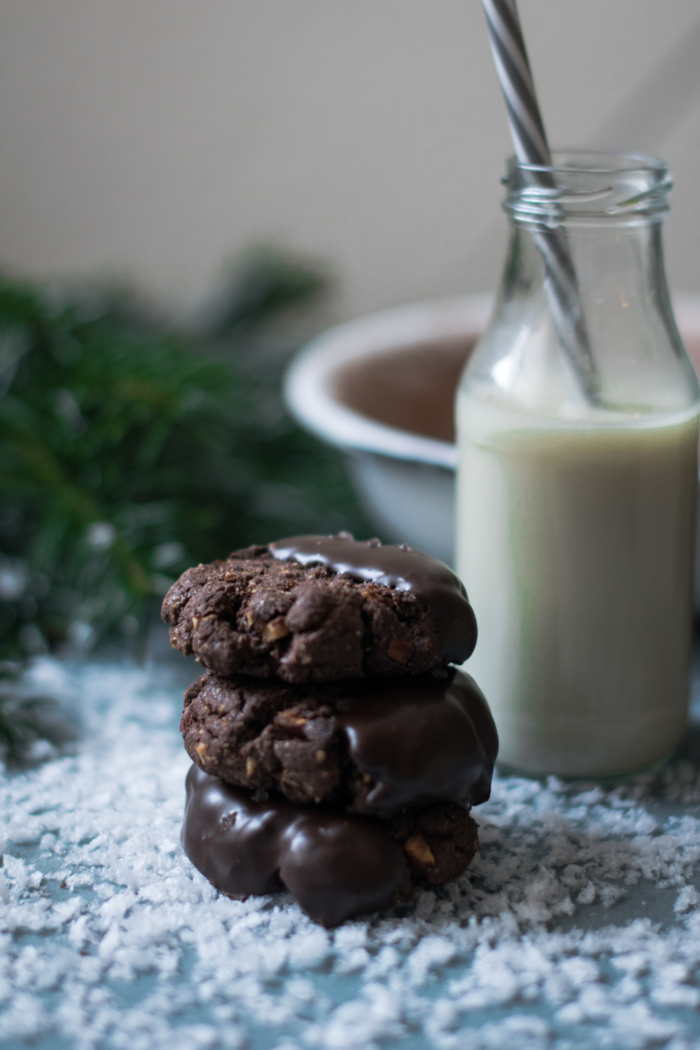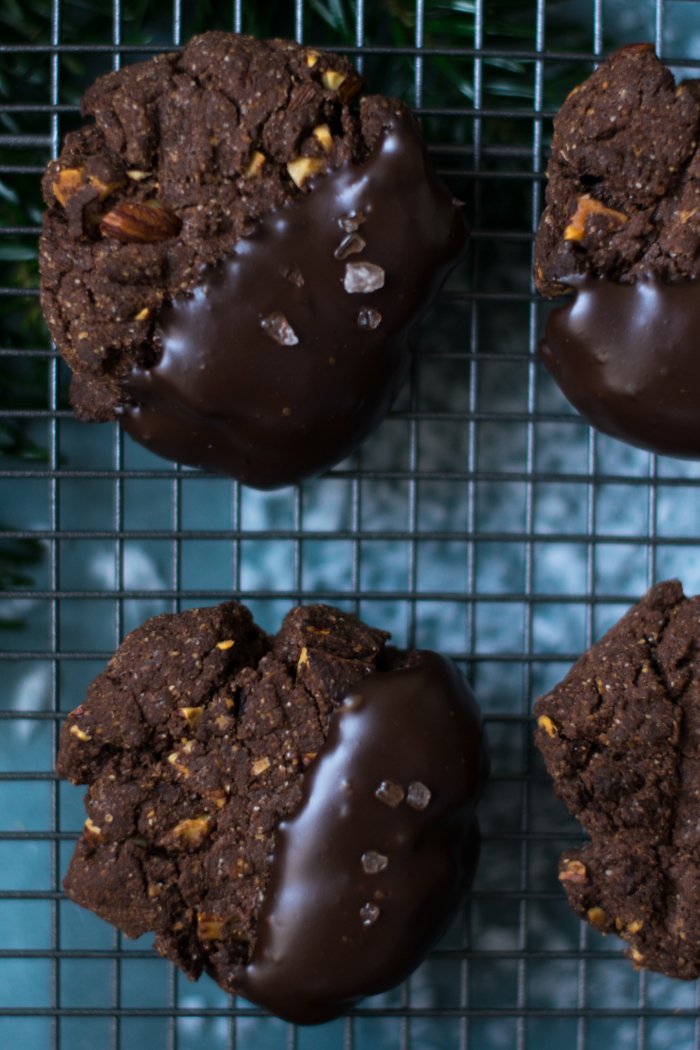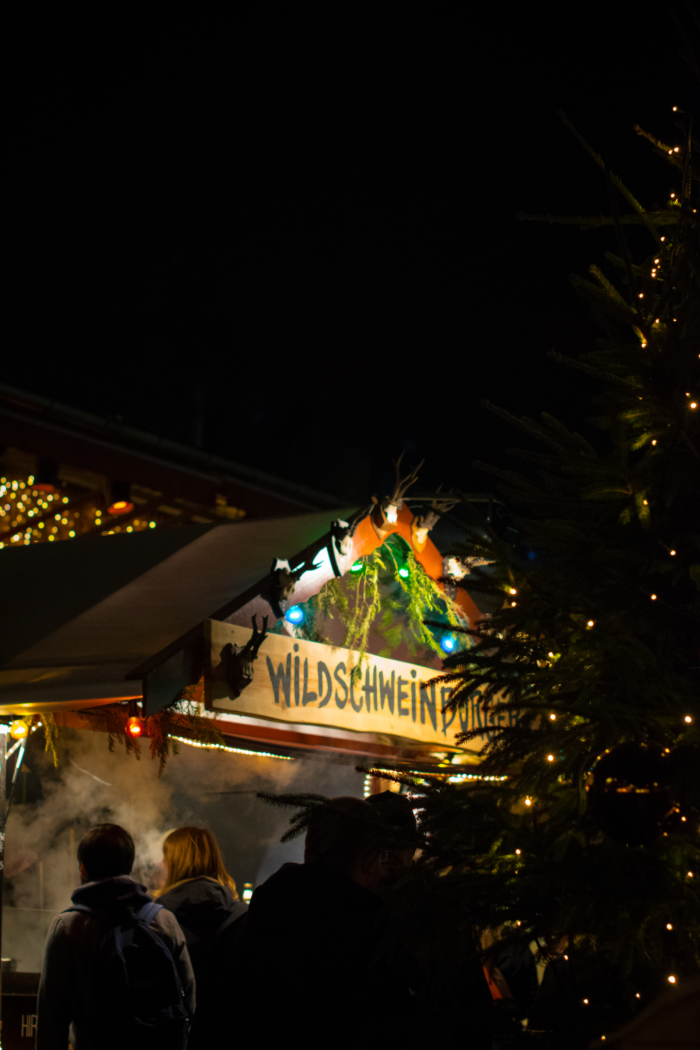 Christmas Spice, Hazelnut & Cacao Cookies
Ingredients
FOR THE CHRISTMAS SPICE COOKIES

100g flour
35g coconut flour
75g soft butter
75g peanut butter
60g brown sugar
40g cacao
1 egg
1 small handful of hazelnuts
1/2 tsp vanilla
1/3 tsp cinnamon
1/3 tsp anise powder
1 pinch of nutmeg
1 pinch of salt

FOR THE GANACHE

100g dark chocolate
10cl single cream
Fleur de sel
Instructions
1. Prepare the cookie dough:

in a salad bowl, stir flours, cacao, spices, shredded hazelnuts and salt together. In another bowl, mix butter and sugar with a fork, then add egg and peanut butter. Stir until homogeneous.

2.

Progressively add the dry mix, and knead until you get a homogeneous ball of dough. Let rest for at least 1h.

3.

Preheat oven to 180C. Take balls of dough with a tablespoon, then roll each ball between your hands and arrange on a baking tray. Flatten each dough ball with a fork and put in oven for 12 minutes. Let cool down on a tray.

4. Prepare the chocolate ganache:

warm single cream in a small pan. Once very hot, pour cream on chocolate cut in pieces, then stir until you get a smooth ganache. Once the ganache is warm and thick, pour one side of each cookie in it, then sprinkle with some fleur de sel. Let totally cool down. You can store the Christmas spice, hazelnut & chocolate cookies in a bow for a few days.
https://www.inthemoodforfood.fr/en/christmas-spice-hazelnut-chocolate-cookies/
© 2019 Inthemoodforfood.fr, All rights reserved