Saturday, 07:30AM: I'm not that kind of morning persons, but I had to set-up my alarm clock to prepare those Christmas chocolate caramel thumbprint cookies.
When you have a culinary blog that you want to grow, time spent on each recipe and all involved things behind can be way much longer than people could imagine.
Being super-active since always, I've been managing pretty well the growth of my blog so far, as I have a part-time job + freelancing activity in parallel. I'm also lucky enough to learn with both new things for my personal & blog development, and in spite of all dedication & sacrifices involved, nothing is more worth than doing jobs you're passioned about. But it also constantly implies to move my ass off & find time to do all those  things behind the blog. Meaning during my free time for now, without screwing my social life.
Hence those "sacrifices" I have to do sometimes, when I have to get up a bit too early to make everything fit, or go to sleep a bit too late because of this blog post I still need to get done. But in spite of the huge amount of energy I put into it, the day when I'm gonna say no to going to brunch or meeting some friends because of this is not about to happen. So I do both.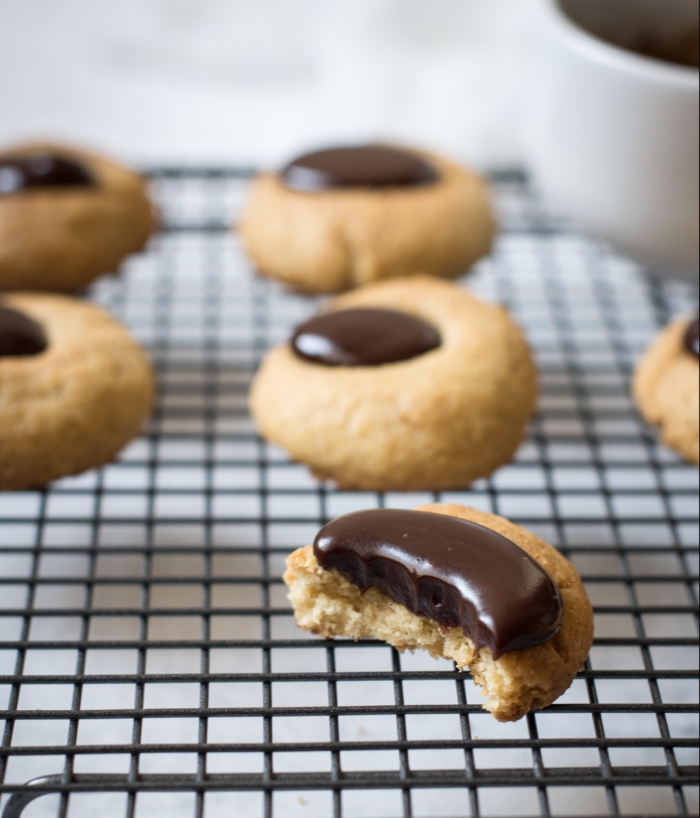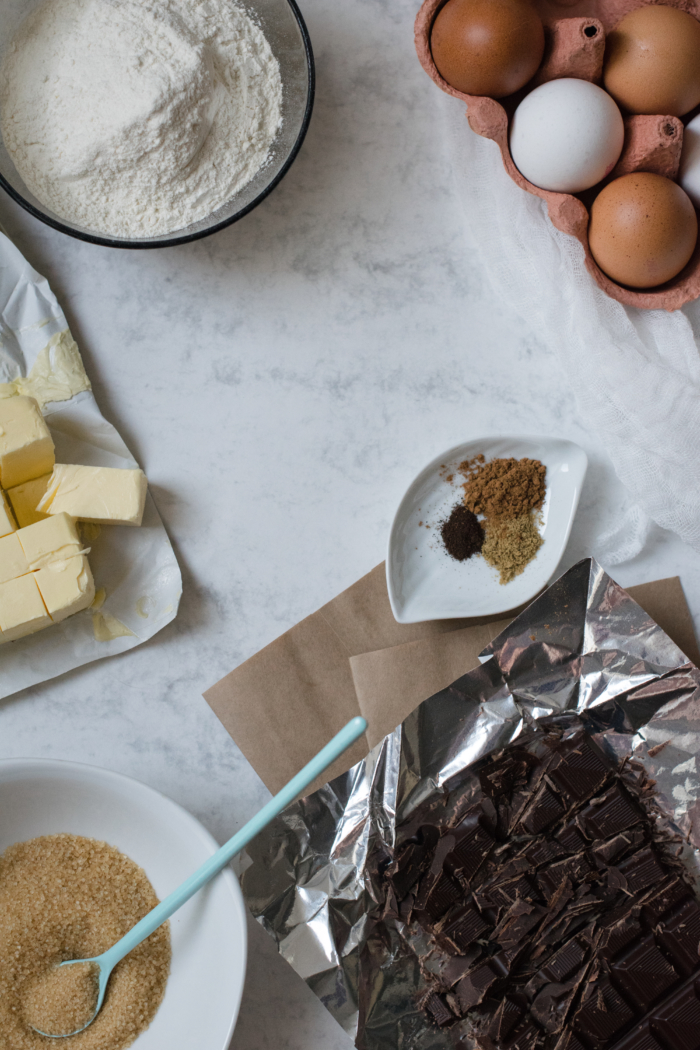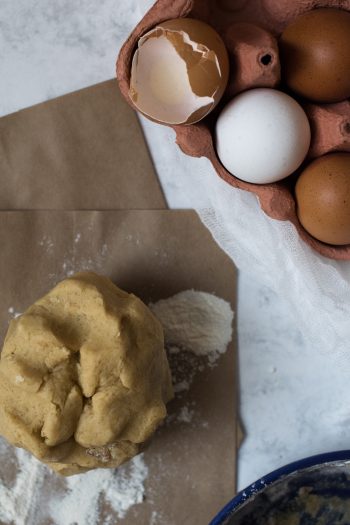 I'm living in a WG since the beginning of my Berliner life, which also implies a few logistical adaptations. My dear flatmates regularly have the joy to see me spreading my mess in the living-room or jump on the table to shoot my recipes, because being short doesn't really help – do you trust me if I tell you that the table thingy was the reason why they chose me at the beginning? -. In exchange on me being an alive mess, I'm contributing to grow their collection of awkward pictures as well as offering them extra pounds of fat every month. My only regret was to not seeing them jumping on the 2 Christmas chocolate caramel thumbprint cookies left when I sent a texto saying to finish the plate.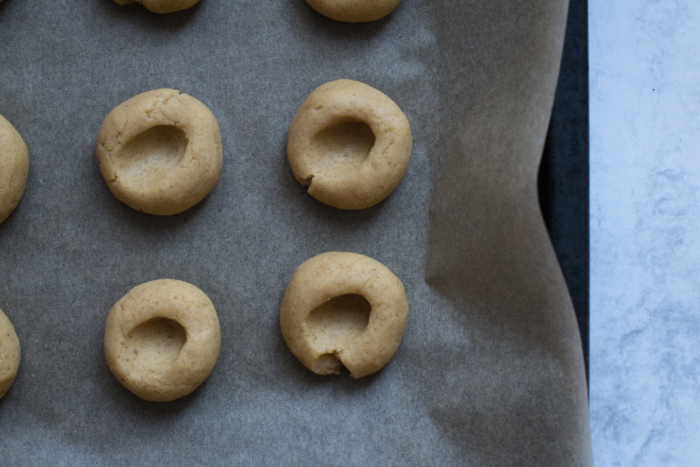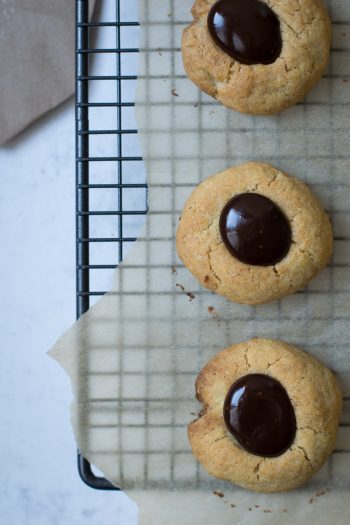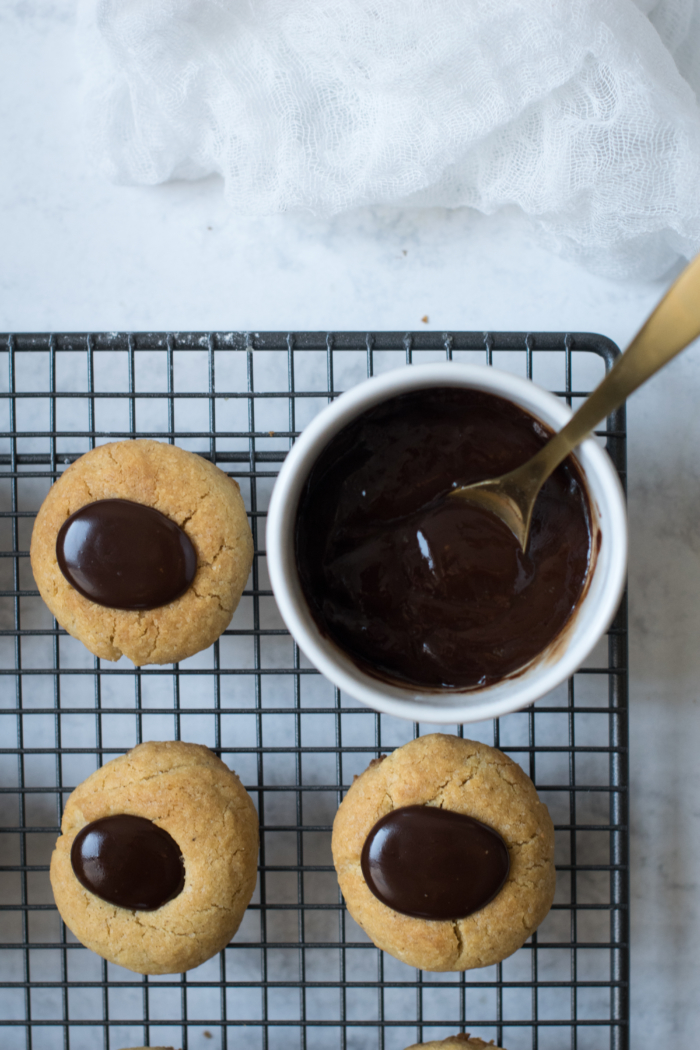 In spite of this hard wake-up made to focus on my Christmasy ideas, at least I took all the time I need to mess the kitchen up, jump on the table & internally thank myself for being to lazy to go out on Friday night. Once done, I left home and didn't have any minute left before Sunday to focus on it again.
The texture of those Christmas chocolate caramel thumbprint cookies is sandy on point & anise flavours match perfectly with chocolate caramel, which was worrying me a bit when I imagined the recipe. As mentioned in my sugar diet post, I've always wanted to keep baking & eating sweet dessert. Meaning in wiser quantities than before. Hence I didn't sweeten this recipe as much as "classic' recipes. I'm currently preparing a second Christmas cookie recipe for the end of this week, with a few thoughts about my relationship with Christmas.
In the meantime, oldy but goody, you can discover all my other Christmas recipes.
Christmas Chocolate Caramel Thumbprint Cookies
Ingredients
THUMBPRINT COOKIES

140g flour
135g soft butter
60g brown sugar
1 egg yolk
3/4 tsp cinnamon
2/3 tsp anise powder
1/2 tsp vanilla
1 pinch of salt

CHOCOLATE CARAMEL

125g sugar
50g dark chocolate (>70%)
40g butter
8cl single cream
1 drizzle of lemon juice
Instructions
1. Prepare the thumbprint cookies:

in a bowl, stir together butter and sugar with a fork. Once homogeneous texture, incorporate egg, spices, vanilla and salt. Keep stirring.

2.

Progressively add flour and knead for a few minutes. Shape a bowl and let rest for about 30 minutes.

3.

Preheat oven to 180C. Shape small balls of dough, then arrange them on a baking foil. Press your thumb in the middle of each ball, in order to make a hole for the chocolate caramel.Au centre de chaque boule, presser à l'aide du pouce pour faire un trou qui logera le caramel au chocolat. Bake for 12 minutes, then let cool down.

4. Prepare the chocolate caramel:

in a pan on low temperature, heat sugar and let caramelize. Once caramel coloured, add a drizzle of lemon juche to stop the baking process. Add single cream and stir. Turn off fire and incorporate butter while stirring, then chocolate cut in pieces. Stir the whole until you get a homogeneous texture.

5.

Using a spoon or a pastry bag, add some chocolate caramel in the center of each thumbprint cookie. You can store them in a box for a few days.
https://www.inthemoodforfood.fr/en/christmas-chocolate-caramel-thumbprint-cookies/
© 2019 Inthemoodforfood.fr, All rights reserved