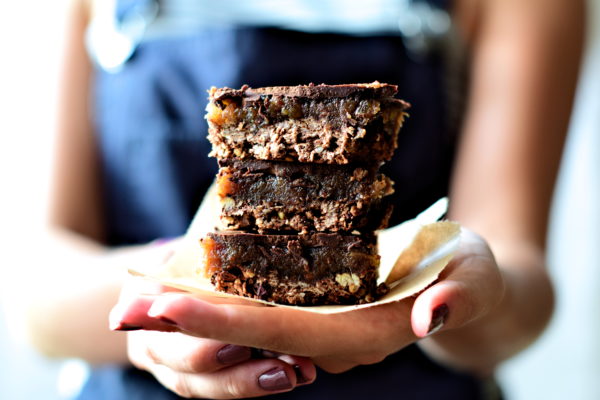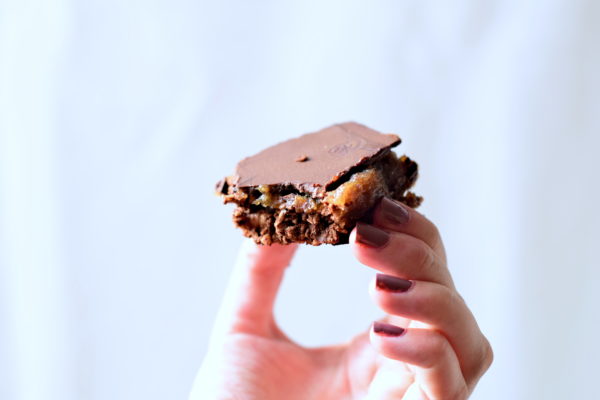 Since my last chocolate bars recipe, I'm eating sugar again but still trying to favorise natural sweeteners. All the bars we can find in shops, whether the granola bars or the chocolate ones still haven't succeeded to make me fail, same achievement about chocolate tablets – WOOHOO -. There is not any misunderstanding when you read "granola bars" I guess – do you? -, but I can already see your wondering face while reading "banana caramel". The banana is not the only ingredient used here, it's actually more appropriate to talk about a banana & date caramel, but you know, too long titles, bla bla… The date sugar is enough to turn this recipe into a very sweet treat and the finale texture once you mixed the fruits is creamy and definitely convincing. One pinch of vanilla for even more flavors, et voilà! The granola bars are made with a base almost similar than one of my homemade granola recipes, with some raw cacao in addition. The ganache coating the bars is also made with raw cacao, and for the vegans the "not any animal products" is included! ;)
Chocolate granola bars with banana & date caramel
Ingredients
FOR THE GRANOLA BARS

150g oats
50g buckwheat
One handful of pecan nuts
One handful of raw cacao nibs
5tbsp coconut oil
4tbsp peanut butter
3tbsp raw cacao powder

FOR THE BANANA & DATE CARAMEL

10 dates
2 ripe bananas
2 tbsp coconut flour
1,5 tsp vanilla

FOR THE CACAO COVER

5tbsp coconut oil
3tbsp raw cacao powder
Instructions
1. Prepare the cacao granola bars:

in a salad bowl, mix the oats, the buckwheat, the shredded pecan nuts and the raw cacao nibs together. In a small pan, heat on a low fire the coconut oil with the peanut butter and the raw cacao powder, while stirring regularly. Once the mixture is liquid and homogeneous, turn off the fire and pour the whole in a salad bow. Stir well the whole in order to coat all the dry ingredients.

2.

Preheat the oven at 200C. Cover a rectangular tart mould – for instance – with some baking paper, then pour homogeneously the mixture on it. Press well with the back of a spoon and put in the oven for about 15-20 minutes. Take off from the oven once the granola base seems bakes, then let cool down.

3. Prepare the banana & date caramel:

put the dates, the sliced bananas & the vanilla in a blender bowl. Mix the whole until getting a homogeneous dough. Add the coconut flour and stir with a fork to make the caramel mixture thicker, then pour it on the granola base. Put the whole in the freezer for a few minutes.

4. Prepare the chocolate ganache:

in a small pan on a low fire, heat the coconut oil with the raw cacao powder while stirring. Once the sauce gets homogeneous, turn off the fire and let cool down a few minutes in order to let the sauce getting thicker. Take the granola – caramel base from the fridge, then coat it with the liquid chocolate ganache.

5.

Put in the fridge for 15 minutes. Once the ganache is solid, take a well- knife and cut delicately the block in bars or squares, as you wish. The bars can be stored in the fridge for 3-4 days.
https://www.inthemoodforfood.fr/en/chocolate-granola-bars-with-banana-date-caramel/
© 2019 Inthemoodforfood.fr, All rights reserved