My old Chestnut & pumpkin velouté recipe is back! I'm finally picking between my old autumnal recipes to improve them, as much in taste as is aesthetic – crazy how photography skills are improving in 2-3 years…-. It's been also a while that I wanted to translate my old recipes into english, but you know, time & motivation… Excepting the patience needed to peel the cooked chestnuts, my chestnut & pumpkin recipe is very simple to make, and sticks to traditional flavours.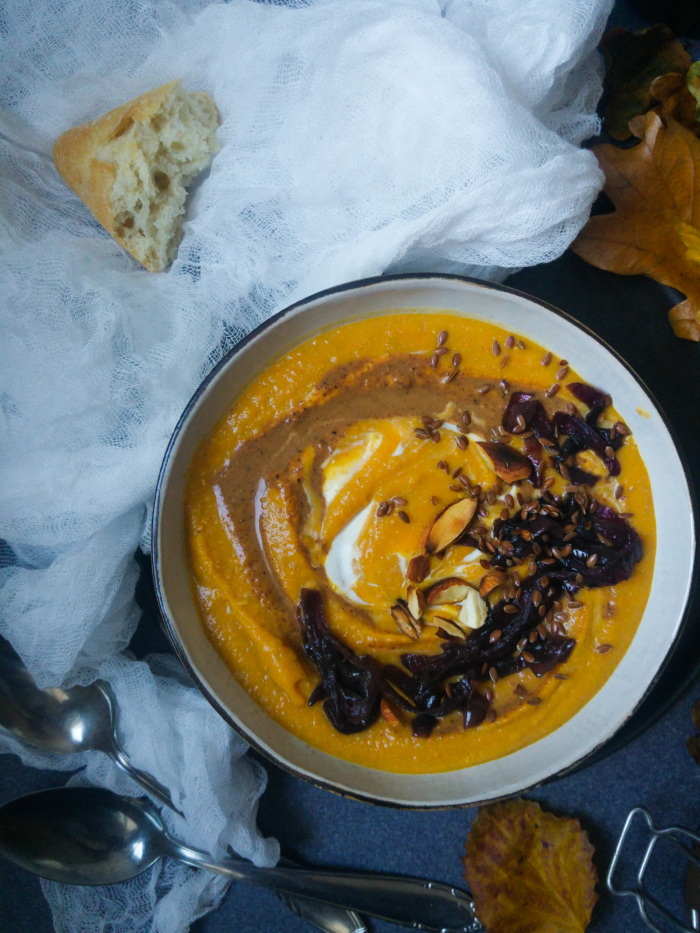 I usually prefer to use milk instead of water when I make chestnut velouté. It makes this comforting recipe even smoother – and oh how needed, after the recent bad news from our American friends…-. This chestnut & pumpkin velouté doesn't contain any spice, nor even salt or pepper, in order to keep its softness. It can also still be tolerated by people who cannot/doesn't eat spices.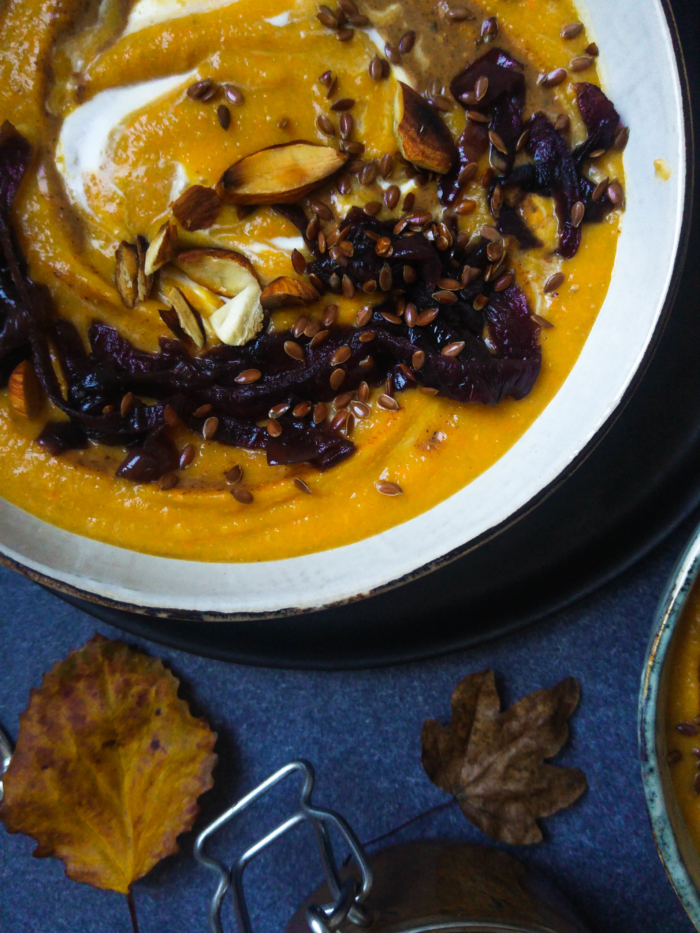 If you need even more comfort to forget this world tending to get crazy, you can still gobble a piece of my salted caramel tart with chocolate & sesame. If it still doesn't help you, well then you can just grab your vodka shots or entrench yourself in a monastery.
Chestnut & pumpkin velouté
Ingredients
800g chestnuts
400g pumpkin or Hokkaido squash
1l milk
3 tbsp cream
Instructions
1. Prepare the chestnuts:

 boil a big pan of water. With a good knife, cut a small piece of each chestnut in order for them to not explode during the baking (around the little white tail is perfect). Pour the chestnuts in the boiling water and let bake for about 10 minutes.

2.

Turn off the fire and peel the chestnuts (1st + 2nd skin) with a knife (1ère + 2nde peaux). Stock.

3.

Peel the pumpkin, then cut it in big pieces. Steam it for about 15-20 minutes. If you're using Hokkaido squash, then yo don't need to peel it before. But choose preferably an organic one.

4.

Heat the milk in a pan with the peeled chestnuts, for about 5 to 10 minutes, then turn off the fire before it starts to boil.

5.

 Add in a blender the milk & chestnuts mixture, as well as the still-warm steamed pumpkin pieces and the cream. Blend the whole until you get a homogeneous and smooth velouté. Serve warm, sprinkled with some hazelnuts & chestnuts crumbs, or some cooked onions for an even more comforting version.
https://www.inthemoodforfood.fr/en/chestnut-pumpkin-veloute/
© 2019 Inthemoodforfood.fr, All rights reserved