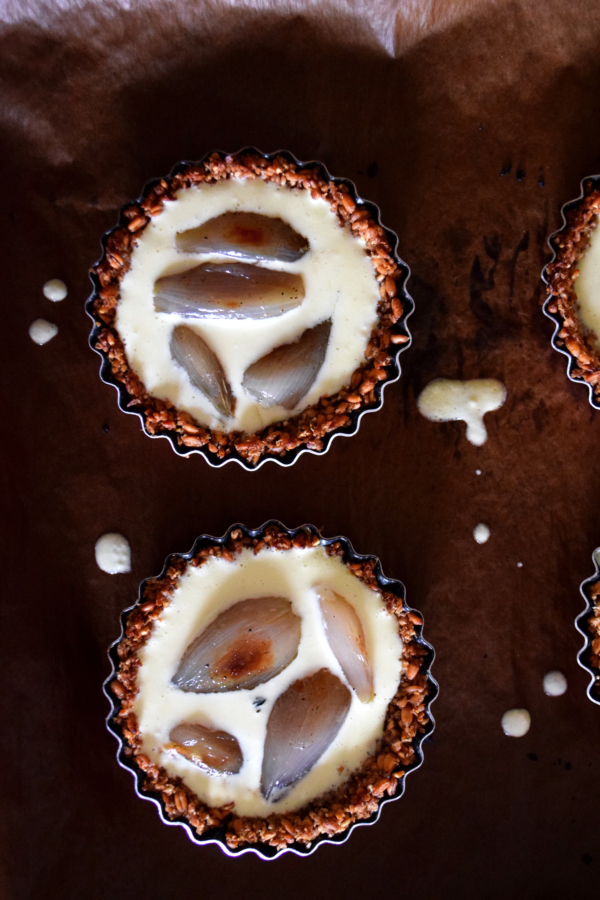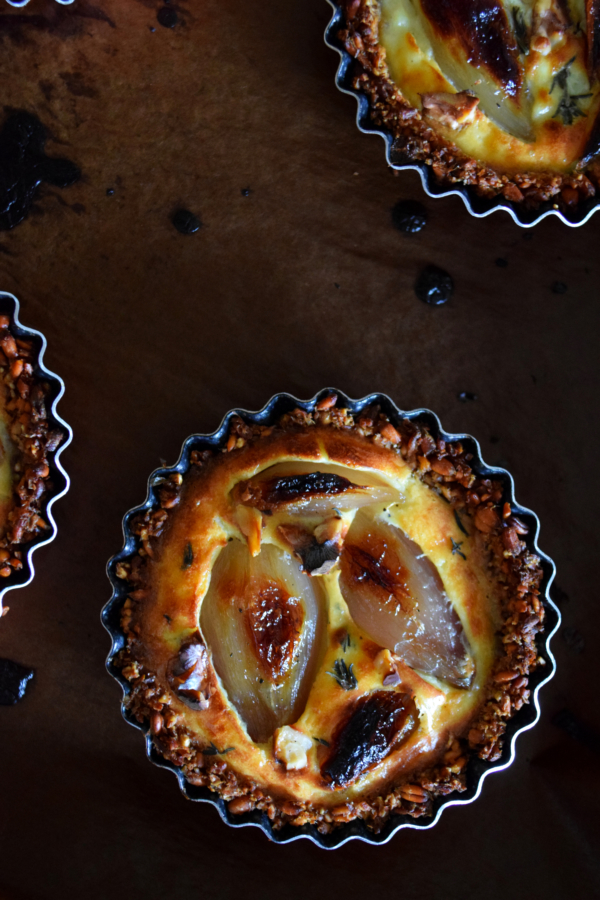 I've always had a crush on every candied food, from fruits to condiments: candied tomatoes, candied onions, candied garlic or even candied peppers, their texture and their sweetness is coming along with everything. On the other hand, less easy to fully enjoy them when you're managing to not eat sugar, as candied tomatoes contain 5 times more sugar than basic tomatoes, for instance. Fortunately, it's not necessary in this candied shallots and soft goat cheese tartlets recipe, to use sugar to candy the shallots: you only need a bit of olive oil, some patience, a few branches of thyme and a pinch of seasonings to give an incredible taste and texture.
The gluten free dough gets off the beaten tracks as it's also a flour free dough, which only contains spelt and butter. Once baked, those mini savoury tartlets are as crusty can be thanks to the spelt grains, but also incomparably meltingly soft and sweet thanks to the candied shallots. The soft goat cheese brings a fizzy touch that lift the whole, making those tartlets as a perfect example of comfort food, which stay relatively healthy and eatable without any guilt.
Candied shallots and soft goat cheese tartlets
Ingredients
200g spelt
100g soft goat cheese
A dozen of shallots
1 egg
4 tbsp liquid cream
2 tbsp soft butter
Olive oil
A few branches of thyme
A few roasted walnuts
Instructions
1.

Preheat the oven at 200C. Rince the spelt and cook it for about 40 minutes in 3 times its quantity of boiling and slightly salted water.

2.

During that time, peel the shallots then put them on a baking tray covered with an aluminium foil. Cover with a drizzle of olive oil, sprinkle some fresh thyme, salt and pepper. Mix the whole with your fingers in order to cover all the shallots. Close the aluminium foil and put in the oven for 20 to 30 minutes, until you get some candied and very tender shallots. Reserve them when they are ready.

3.

Once the spelt is baked, dry it well and add it to a blender bowl with the soft butter. Mix the whole in order to break the grains, stop before it's turning into a purée. Butter the tartlets moulds and shape 4 tartlets spelt crusts with your fingers. Put the tartlets crusts in the oven for 20 minutes at 200C.

4.

In a bowl, mix the soft goat cheese, the egg, the liquid cream together by using a fork. Season well. Pour the soaft goat cheese dough on the baked spelt crusts, put some candied shallots with a few roasted walnuts and a pinch of thyme on each of them. Put again in the oven for about 20 minutes. The soft goat cheese dough should golden a bit.

5.

Let cool down and remove the tartlets from the pans. Eat tepid or cold with a salad.
https://www.inthemoodforfood.fr/en/candied-shallots-and-soft-goat-cheese-tartlets/
© 2019 Inthemoodforfood.fr, All rights reserved