One of my beloved roots when I come back to France, but even more in the Cévennes, is to cook with local products, freshly brought from the farmer's market. Prices are generally way more interesting there, as well as the unrivaled taste of the products thanks to the sun and local distribution channels. The producers and sellers are also way more friendly than in the supermarket, too – it's starting to be a long list, right? -. When I go to the Cévennes every summer, just to make my annual detox as well as getting my sun shot of the month, sheep cheese – well, sheep tomme to be precise – and Pélardon goat cheese are usually the first ones that are going through hell. This year, I was also unable to resist to those wild blueberries, a bit too rare in my opinion – and 100 ties tastier than random blueberries, aka bleuets, that you can find in the majority of the stores -.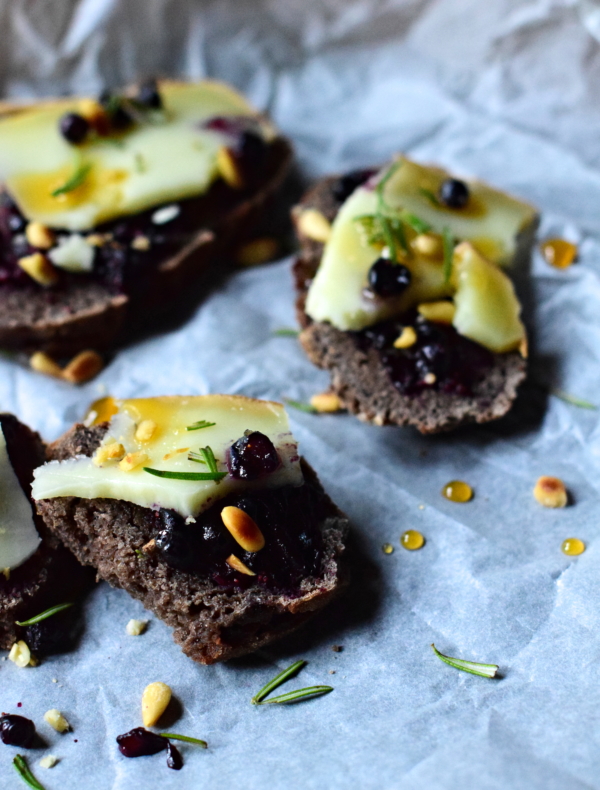 I basically had the idea to realize those buckwheat toasts with some good sourdough bread, until I find this buckwheat bread at the Uzès farmer's market, mainly made with buckwheat, but also rice and chestnut. I really love to work with those flours, particularly for their taste and lightness, and I will probably publish later a recipe of this buckwheat bread, if I succeed to get an interesting taste as well as texture. About the sheep tomme, choose one that is not too young, ideally a semi-dry one, in order to fully enjoy its taste.
Buckwheat toasts with rosemary, sheep cheese & wild blueberries
Ingredients
A few slices of buckwheat bread
Some sheep tomme / sheep cheese
2 handfuls of wild blueberries
1 small handful of pine nuts
1 tbsp flower honey
One drizzle of olive oil
A few sprigs of fresh rosemary
Instructions
1.

Put the buckwheat bread slices in the toaster and let them roast a bit. Rince the fresh rosemary, then rub the slices with them, in order to flavour them. A little bit like you would do with garlic.

2.

In a bowl, mash the wild blueberries with a fork, then spread slightly each buckwheat toast with it.

3.

Cut some fine slices of sheep tomme and arrange 2-3 pieces on each grilled toast.

4.

In a frying-pan, roast the pine nuts and sprinkle them on the toasts. Time for the final touch: add a few sprigs of fresh rosemary, a drizzle of honey, then a drizzle of olive oil. Et voilà!
https://www.inthemoodforfood.fr/en/buckwheat-toasts-with-rosemary-sheep-cheese-wild-blueberries/
© 2019 Inthemoodforfood.fr, All rights reserved