Is there anything better than a homemade autumnal burger to fight against those rainy evenings – and they are many in Berlin…-? I'm not a huge meat eater, but I never say no whilst it's served between 2 bun slices. Burgers actually represent a good part of my usual meat consumption – and no, I don't eat burgers every week, even tho' it's on my life achievements list -.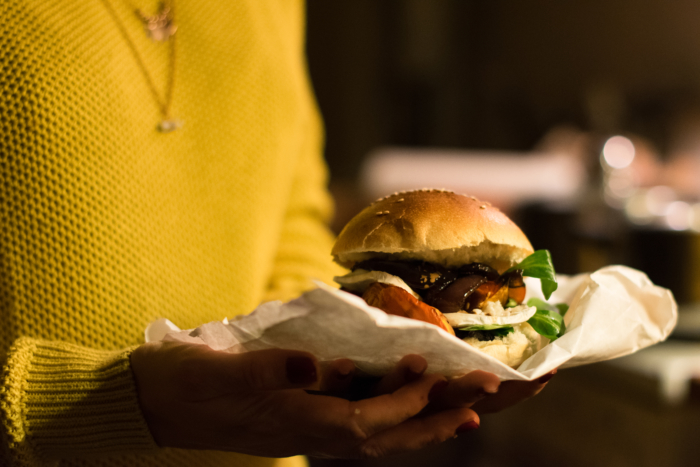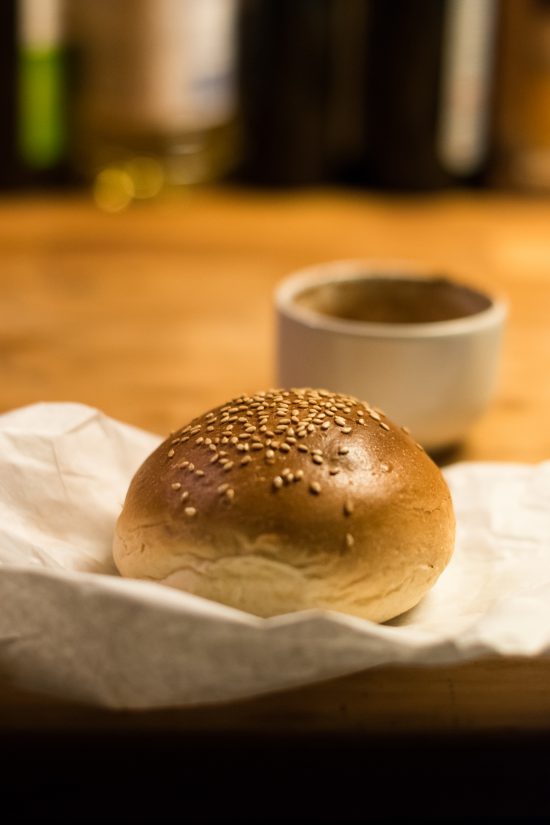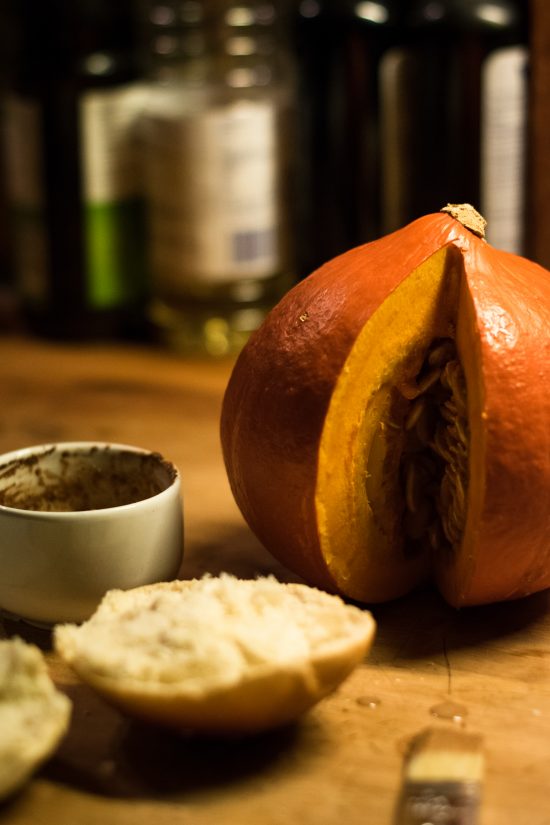 In spite of this low consumption of meat, I still can barely imagine myself ordering a vegetarian burger. When it happens, it'd better be convincing or served with a ton of melted cheese inside. For lack of meat under the hand, I still succeeded to convince myself of the opposite when I tasted my recipe of autumnal burger with roasted Hokkaido pumpkin, Calvados melted onions & almond butter.
The texture game between the ingredients as well as the yumminess brought by the Calvados melted onions – served with an extra cholesterol serving as a bonus ;) – won't make you regret the lack of meat in this vegetarian burger. You will also be full for a good while, I swear.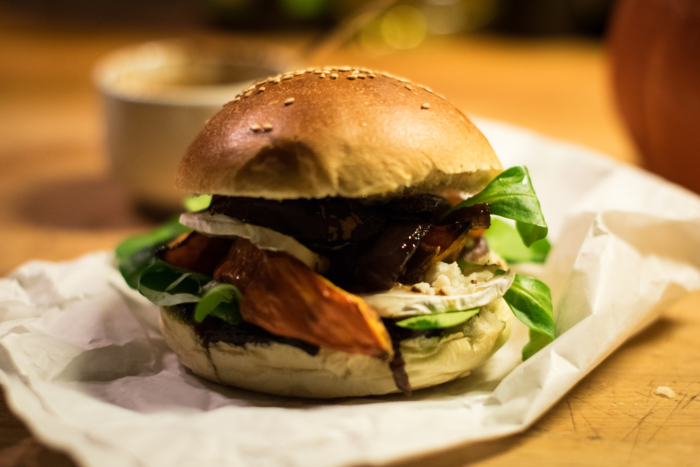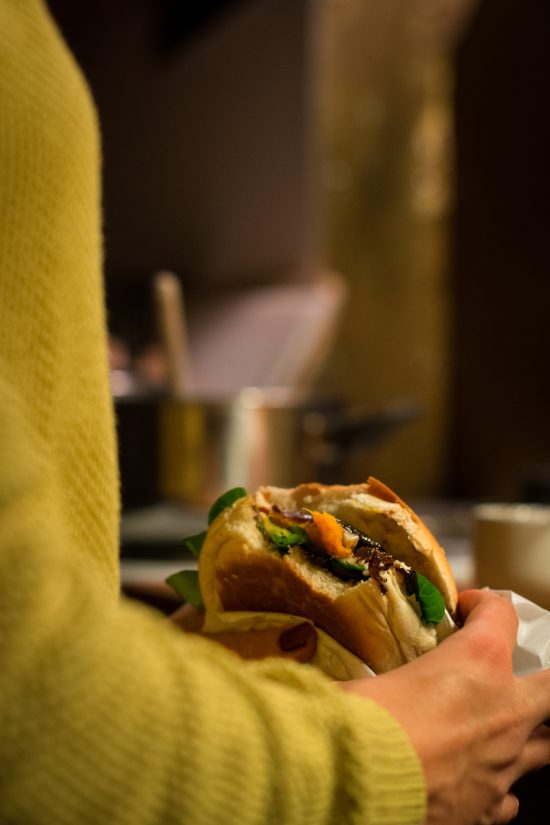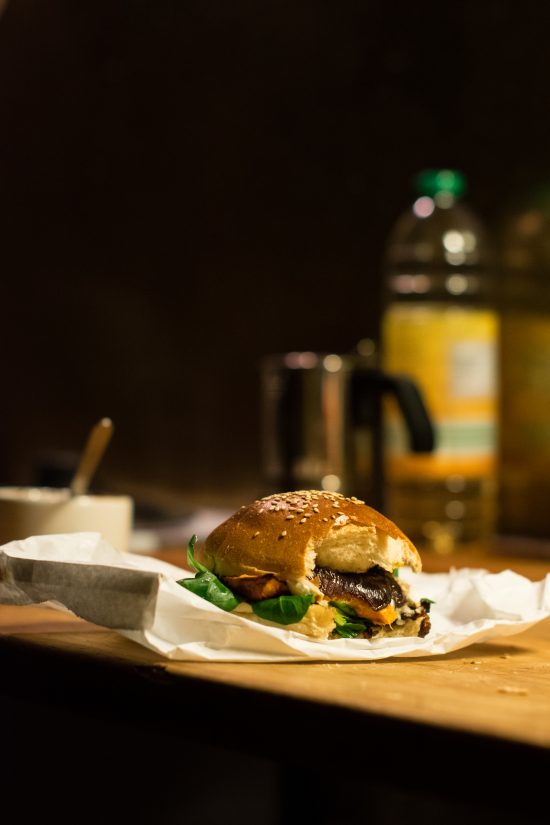 I was a bit lazy to prepare the burger buns myself, I admit. I bought mine at Bekarei, a small Bäckerei in Prenzlauer Berg, quite famous for the tasty buns!
If you go for this option as well, choose preferably some fresh buns coming from a bakery and not those sous-vide ones from the supermarket.
The almond butter is pretty easy to find in organic shops. The one I used for this autumnal recipe is homemade, and I'll post the recipe later on the blog!
You should take a look on my other autumnal recipes as well as on those Reblochon stuffed brioches, which are even more insane than this burger!
Autumnal burger with pumpkin & Calvados melted onions
Ingredients
1 burger bun
100g Hokkaido pumpkin
1tbsp olive oil
1 handful lamb's lettuce
3 slices of goat cheese bûche
1 red onion
1 Calvados shot
1 tbsp almond butter
One knob of butter
Instructions
1. Prepare the roasted Hokkaido pumpkin:

preheat the oven to 200C. Wash the hokkaido pumpkin, take 100g from it and cut it in pieces. Coat each piece of olive oil with a brush, then arrange them on an oven grid or a grid covered with a baking foil. Put in the oven for 15 to 20 minutes at 200C. Turn over the Hokkaido pumpkin slices when they are half-baked.

2. Prepare the Calvados melted onions:

melt a knob of butter in a small pan. Add the red onion cut in slices, season well & let fry for a few minutes. Let cook on a low heat for a few minutes. When the onion slices are almost bakes, add the Calvados shot to the pan & stir well. Cover again for 5 minutes, then keep warm.

3. Assemble the autumnal burger:

slice the bun in 2 parts. Spread some almond butter on the internal side of each slice. Then add one spoon of Calvados melted onions on the inferior bun, then a few leaves of lamb's lettuce. Add a few pieces of roasted Hokkaido pumpkin and some slices of goat cheese.

4.

Pour some extra almond butter on the whole. You can make the almond butter creamier by adding some water to it and stir the mixture. Add one last layer of Calvados melted onions and put the second bun slice on the whole. Serve warm.
https://www.inthemoodforfood.fr/en/autumnal-burger-pumpkin-calvados-onions/
© 2019 Inthemoodforfood.fr, All rights reserved