Oats are almost permanently standing on my shelves, and even more when winter is coming. I usually use them to make porridge or homemade granola. This baked oatmeal is a first try for me!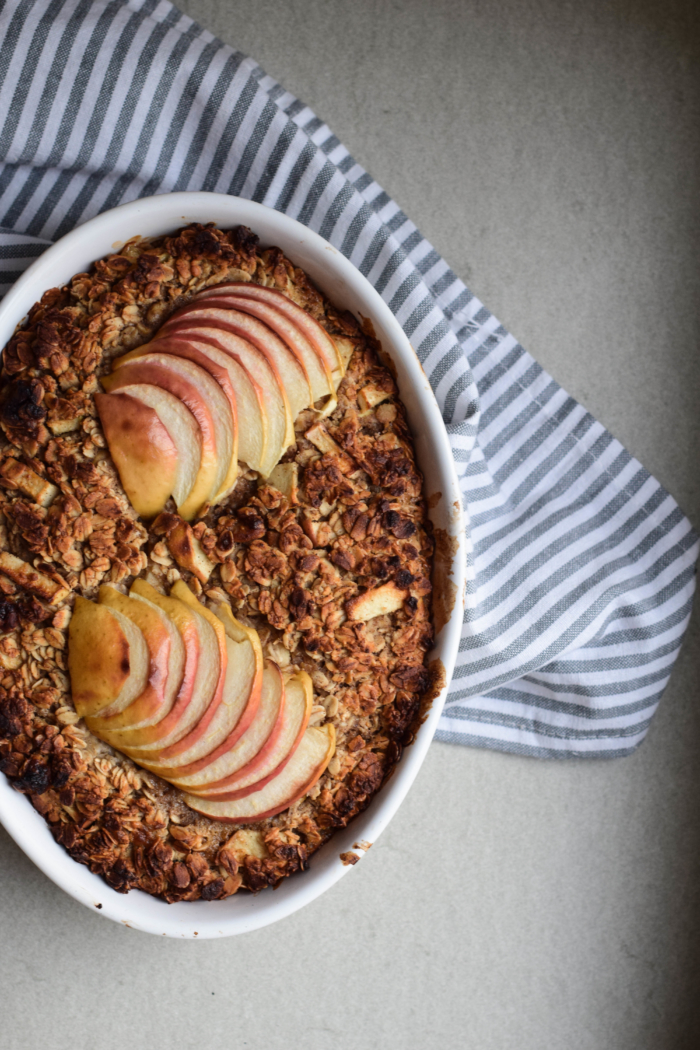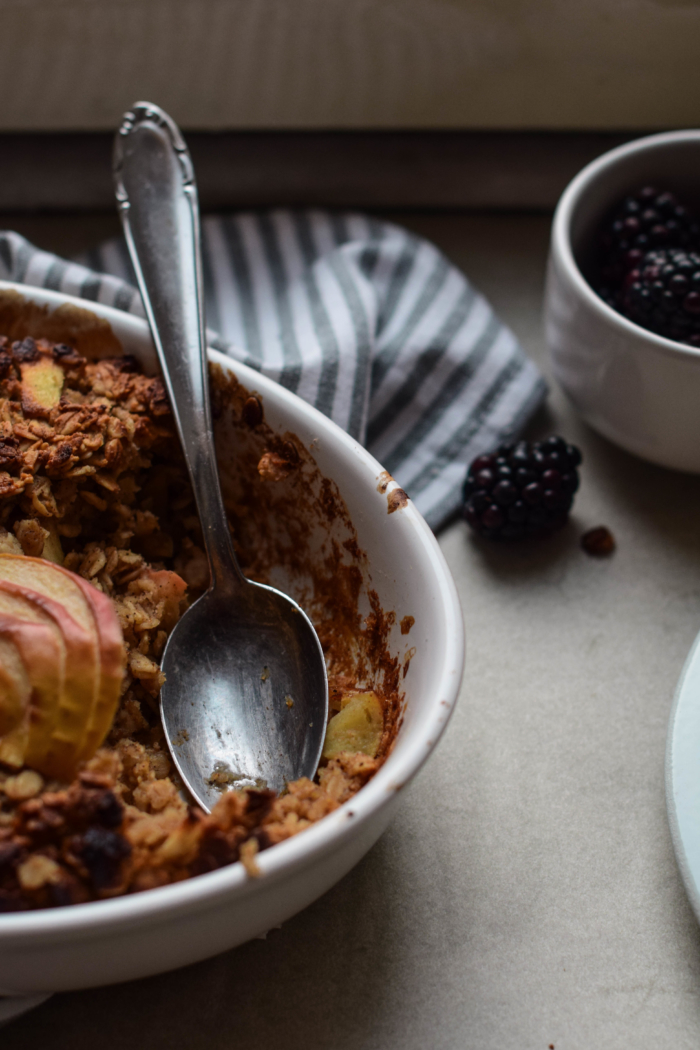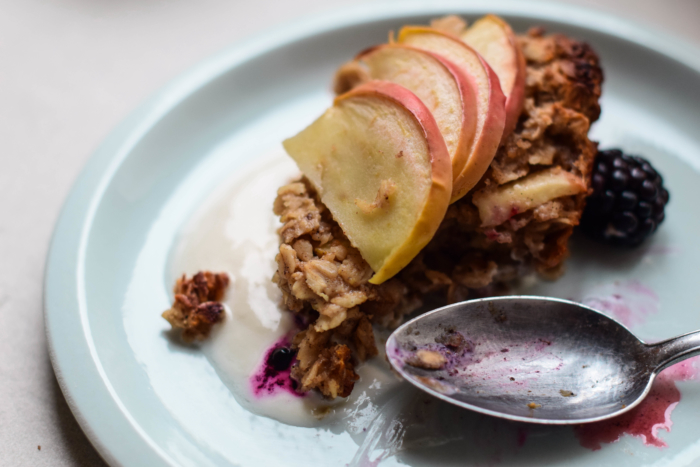 I started to eat porridge for breakfast when I was student, it's cheap and fill you for the whole morning. Is it also necessary to say that oats are also among the best cereals for sporty people? Rich in slow carbs & proteins, it contributes to decrease cholesterol rate. The high amount of fibers packed in the whole cereal also helps digestion & transit.
I love porridge so much that I also got used to eat some for dinner when I'm too lazy. And when I want to give myself a healthy treat during "no-money months". prepare a warm bowl of porridge, top with some grated dark chocolate (>85% if you want to keep it low in sugar) & a few roasted almonds, take a plaid & your favorite serie: welcome to heaven on earth when it's -5C outside ;)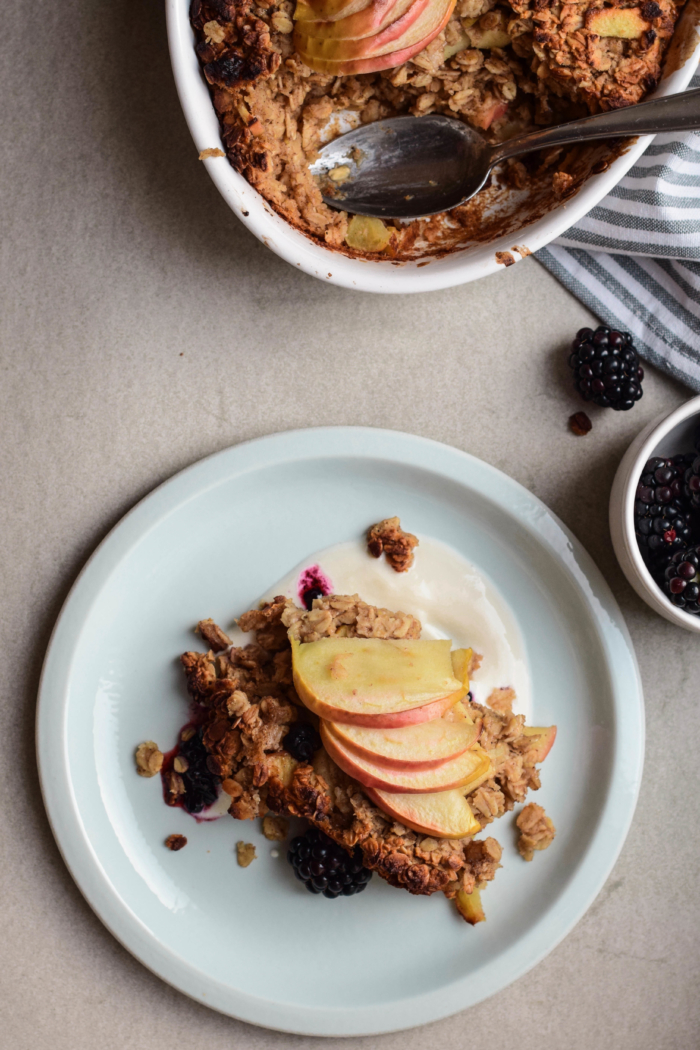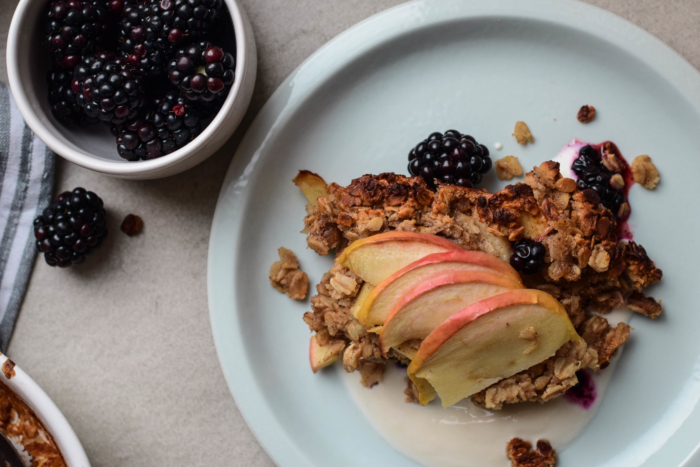 But making porridge asks a good 10-15 minutes to bake the oats & let them inflate, which is not given to anyone during weekdays. Many possibilities fortunately do exist when it comes to oatmeal, and you can still choose the overnight porridge option – which is not my favorite to be honest -, or baked oatmeal. Baked oatmeal is   made in the oven and eaten like a gratin.
I was slightly sceptical concerning this version, expecting some chewy thing without any taste interest. But I got quite tempted when I saw a baked oatmeal recipe on The Modern Proper. I started from the same oatmeal basis and turned into an apple-cinnamon association, with some peanut butter for more yummy touch as well as less sweetener & more spices for the balance. Not everybody loves baked apple, but the fruit stays pretty firm while cooked that way, and the baked apple, cinnamon & peanut butter combination usually ends up with pretty tasty results.
Apple & cinnamon baked oatmeal
Ingredients
3 cups oats
3/4 cup oat milk
1/3 cup flower honey
1 1/2 apple, organic if possible
1 egg
3 tbsp peanut butter
2 tbsp coconut oil
2 tsp cinnamon
1 tsp vanilla powder
1 tsp baking powder
1 pinch of salt
Instructions
1. Prepare the baked oatmeal dough:

beat the egg in a salad bowl. Add the spices, balking powder, salt, coconut oil, honey & peanut butter, as well as the milk. Stir well until homogeneous, then add the oats.

2.

Preheat the oven to 200C. Take the apple and the other half - organic if possible, then you can eat the skin -, wash them & cut them in thin slices. Add 2 out of 3 to the dough. Pour the whole in a mould, then add the remaining apple slices on the top.

3.

Put in the oven for about 25-30 minutes at 200C, until the top gets crunchy & golden. Serve warm or cold, with a drizzle of milk, some cream or just nothing!
https://www.inthemoodforfood.fr/en/apple-cinnamon-baked-oatmeal/
© 2019 Inthemoodforfood.fr, All rights reserved