This running routine post was stuck on my to-do list since a few months already, but as a combination of factors was involved, I kept postponing it. After the painful runner's knee I got during my marathon training, the left one started to be painful as well in December. Lesson learned from Berlin marathon, I slowed down and made a few week running break that time. On another note, all the stress accumulated since the last months + my rhythm of living sometimes a bit too exhausting + getting off the pill – I was kinda fed up about taking this bunch of sh*t everyday – had consequences on my health and I need now to make a break again, until those issues are totally gone.
Hence my expectations to run a second marathon or official races this year are pretty low. I'm also thinking about writing later a nutrition focused post about post-pill issues and hormonal imbalance. Anyway, here are many reasons to explain why I wasn't as much in the mood to write this post as I would expect.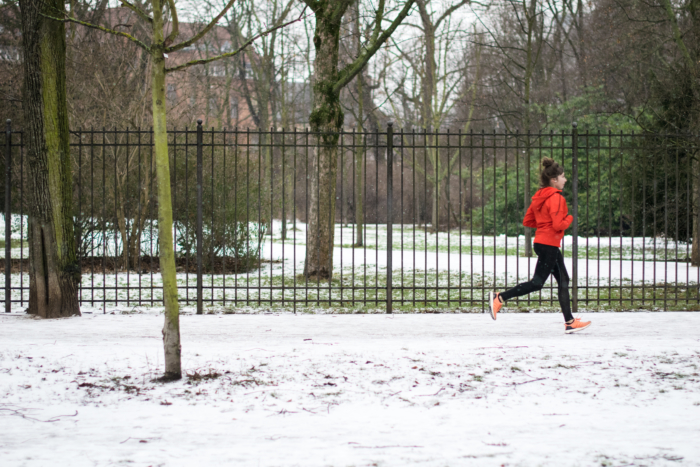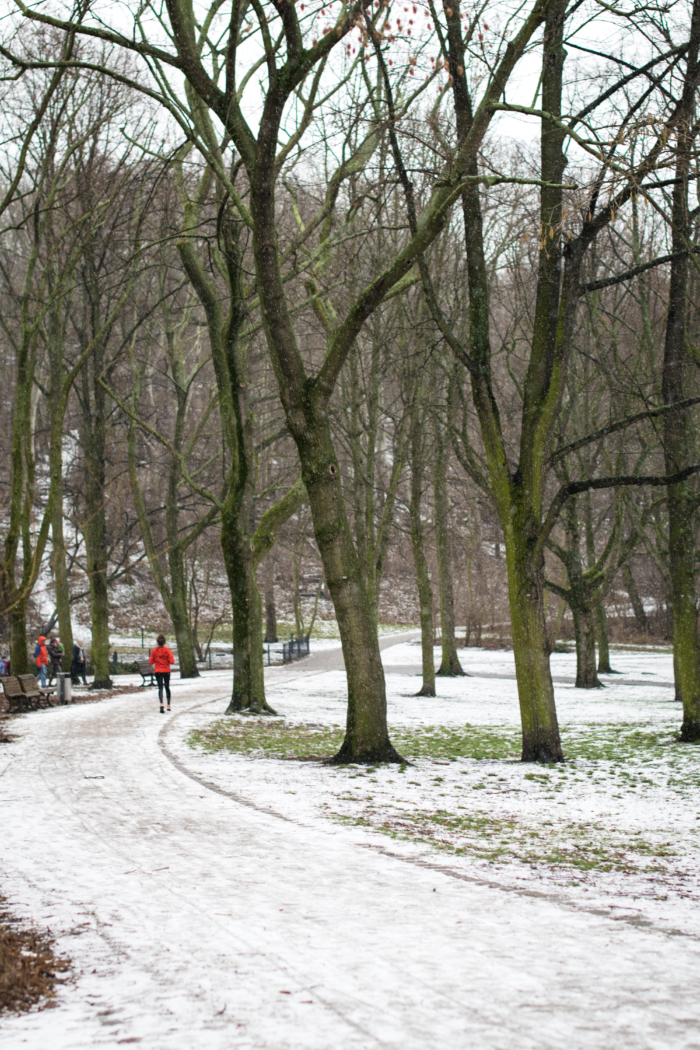 My training routine
I'm usually training 2-3 times a week. As I'm not a morning person, I prefer evening trainings. I sometimes do morning ones as well, when I have more spare time and energy, like on weekends. Evening runs are not really advised after a certain hour, as it can cause sleeping troubles for certain persons. It can also be useful for those who are sleeping like rocks, and help them to sleep even more easily after an effort. Your choice.
My « casual » trainings usually spread from 6 to 12km, depending on my free time and energy, with a pace about 4'50 » – 5'/km. I also tried to include one interval training session per week, at least until I had to calm down because of my knee. Interval training is quite recommended for people who want to improve fast and develop their cardio. It's also more aggressive and physically demanding than a classic training. I also try to regularly train on hills and stairs to keep my cardio up-to-date, even though I'm quite limited in Berlin, compared to Lyon. Here are a few places where I'm used to run for that kind of trainings: Volkspark Friedrichshain, Humboldthain or Grünewald, if you have the ability to move a bit outside Berlin.
I'm also among those persons who tend to neglect warm-ups, but I still try to a make at least a few movements, even more during winter as temperatures are colder, and risks for muscle injuries are higher. My pre-running warm-up is usually made with: a bunch of ankle rolls, front and back knee flexions, as well as a very slow pace when I start my run. Post-run stretchings are mainly made with big lunges and arabesques, while forcing a bit in order to avoid post-training sore muscles.
My eating routine
As I've already mentioned in other posts, I'm far to follow a strict eating plan fitting with my training. I eat fat, drink alcohol and sometimes smoke to calm my nerves on something else, but I still try to stay moderate and control myself. Generally speaking, I try to have a balanced diet when I'm at home, allowing to myself way more freedom when I'm outside with friends. If I must put a word on my diet, I would use « flexitarian », even though I don't like to use that kind of terms as it sometimes tends to be another hipster eating trend, rather than real convictions.
It's unusual for me to say no to a piece of meat – expecting when tripes, offal, blood sausages or some species are involved -, but I'm also able to not eat any during weeks without missing it. I mainly eat eggs, ham or seafood while I'm at home – I could eat fish and seafood everyday, unfortunately Berlin is quite limited and not so affordable on that side..-. However, I try to eat a lot of cereals and grains that are rich in vegetal proteins, as chickpeas, quinoa,… You can read my post about 5 perfect carbs for runners.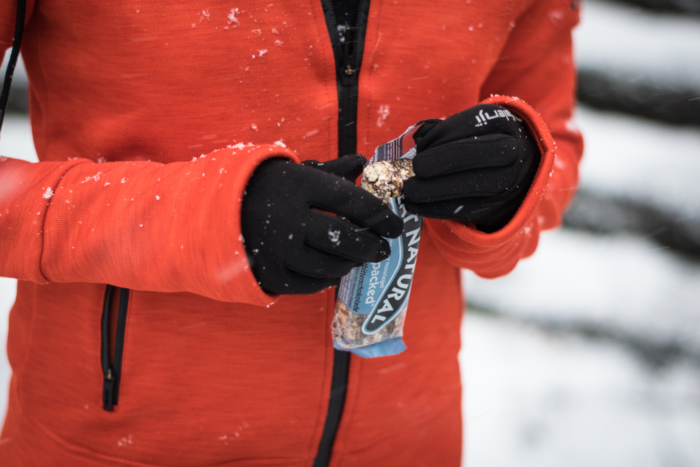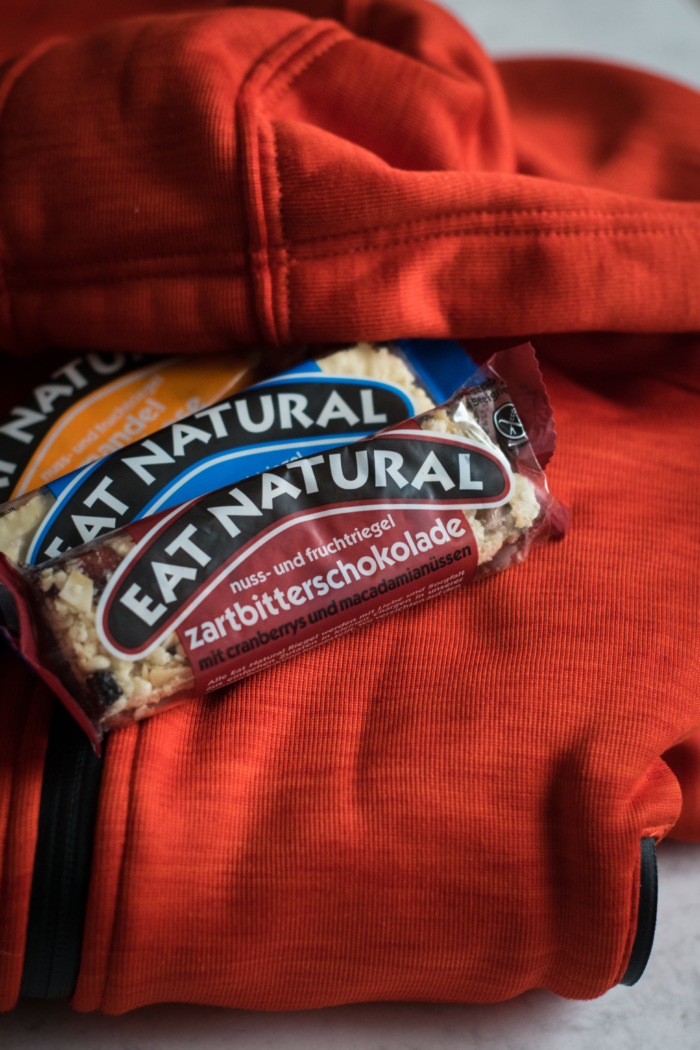 Concerning my running routine, here are the eating habits that I'm usually following:
Before:
– I try to take my meal around 3h before my training – not too spicy, neither sour. It's better to avoid too many fibers too.
– I take a marzipan bar, a cereal bar from Eat Natural or Cliff, a banana or some dry fruits if I feel hungry before to go.
– I never take any dairy milk before – your choice if you want to throw up, I experienced it.
– Some water or coconut water, but not too much.
After:
– a protein-packed snack within the 30 minutes following my session: a glass of full-fat milk, a shake, a slice of ham, some peanut butter or a chia pudding,…
– a big glass of water, at least – sparkling water is even better.
– I'm usually not hungry at all after my run, so I wait at least 30 minutes or 1h before eating a proper meal.
My running outfit
For the running shoes: I wear some Adidas Ultra Boost for my casual trainings on flat surfaces. The price is pretty high but if you're running on a regular basis, from small to long distances, I warmly recommend them. They are comfortable, with a good shock absorption and a good grip. However, they tend to get quickly uncomfortable while running under the rain or on a wet ground. For hill and trail runs, I use the Saucony Peregrine 4. Even though they are comfortable and globally satisfying, I've been slightly disappointed by the grip on slippery grounds.
For the running outfit: tights, t-shirt and lined jacket during winter; and usually shorts and t-shirt during summer. As well as proper sports bra. Whether for clothes or accessories, I like to use products from Adidas as they have a very good quality and design for most of them. For small budgets, the brand Kalenji from Decathlon have a great price-quality ratio.
For the accessories: I'm among those persons who tend to be quickly bored when running without music, so I'm always taking a phone armband with me when I run alone without any proper pocket.  I don't have any GPS watch for now, so I also use the Nike Run Club app on it. I wear Kalenji gloves and headband to cover my ears during winter.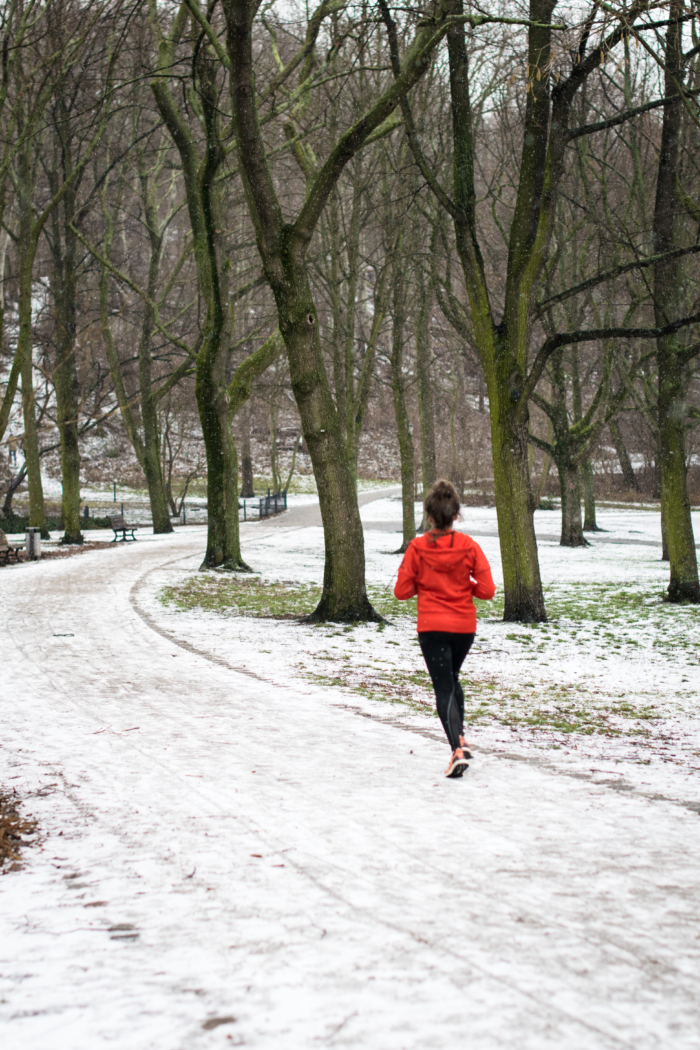 Thank you to Lifebrand DE for sponsoring this post!