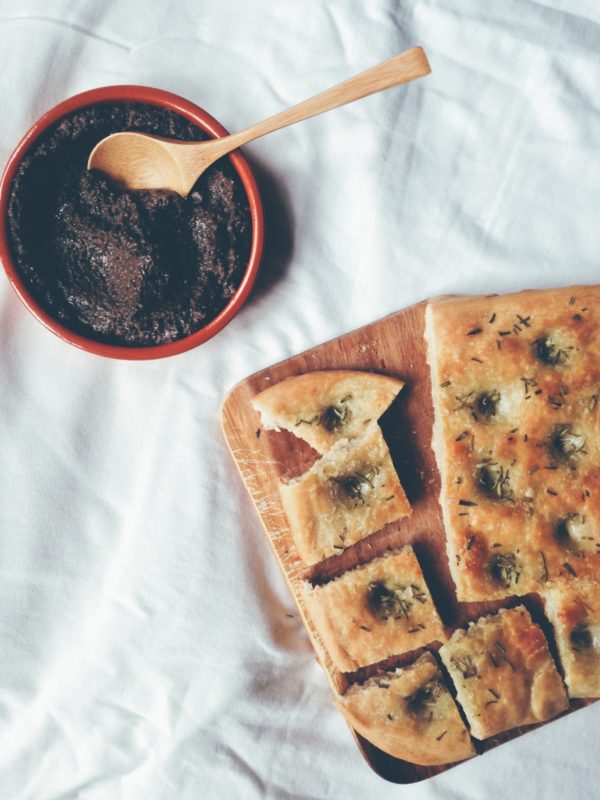 In spite of the end of summer, here are 2 Italian-Mediterranean recipes, which will maybe bring back some sun on your table: a good occasion to take some aperitive this evening!
For the novices, the Tapenade is a spread mainly made with green or black olives -as here-, anchovies, garlic and olive oil. About the focaccia, you can also add some olives or dried tomatoes to it, or anything that can make you reminding summer!
Black tapenade
(4 servings)
250g stoned black olives, 6 oil anchovies (optional), 1 garlic clove, 10cl olive oil.
1. Peel and slice thinly the garlic. Tear the anchovies.
2. Put the olives, garlic and anchovies in a blender bowl and mix the whole. Add slowly the olive oil  while mixing, until you get a homogeneous and supple texture.
3. Serve fresh.
Rosemary focaccia
(for one big focaccia)
500g flour, 2cl olive oil, 30cl warm water, 1 1/2 backing powder sachet, 8g salt.
For the topping: 3cl water, 3cl olive oil, 1 tsp salt, a few blades of rosemary.
1. Add the baking powder in the water, then incorpore the flour, the olive oil and the salt. Knead the dough until it gets supple (±5 minutes), it doesn't have to be sticky.  Make a ball with the dough and oil it a little bit, then let rest in a covered salad bowl for 10 minutes.
2. Put delicately the dough on a backing sheet, then let it rest for 10 minutes. Spread it without too much pressure and let it rest for 20 minutes again.
3. For the topping: in a bowl, mix together the 3cl water with the olive oil and the salt. It has to emulsify.
4. Push hard with your fingers on the focaccia dough, in order to make little holes. Then pour the emulsion into them until they are full of it. Then let rest a last time for 20 minutes.
5. Preheat the oven at 200C. Sprinkle some rosemary on the focaccia, then put it in the oven for 20 minutes. It has to be slightly tanned. You can serve it tepid or cold, cut in squares and covered with some tapenade.