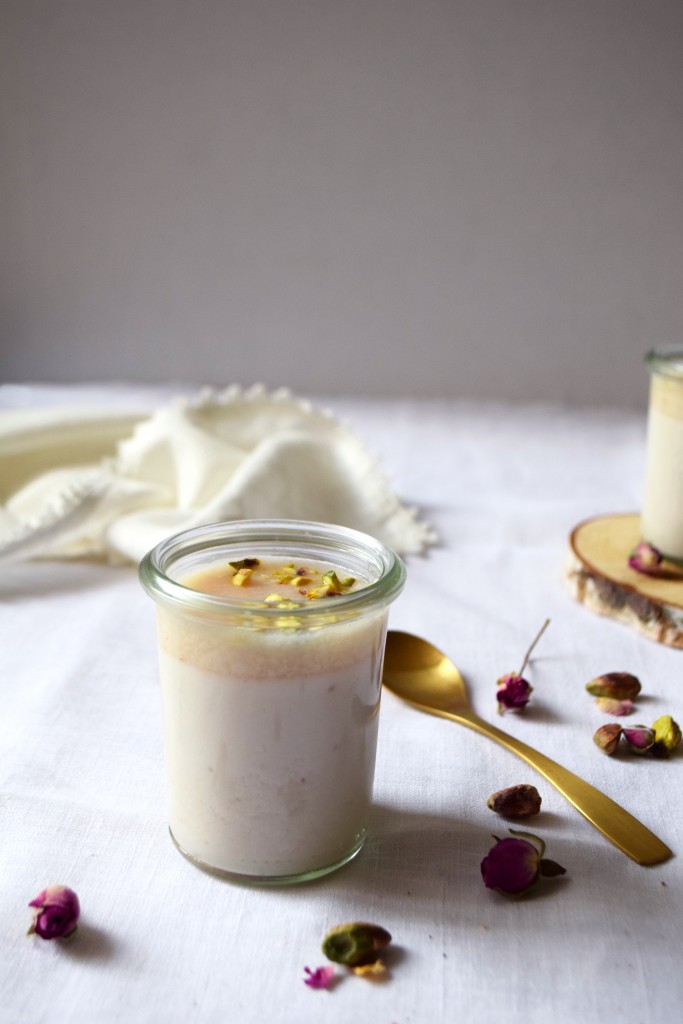 Baking panna cottas was a first attempt for me, moreover rose panna cottas, made from coconut milk. My basic idea was to create a suitable version for vegans, unfortunately the Agar-agar decided differently. I actually wanted to use it in order to replace the edible gelatin sheets, but the first attempt was a total failure – as the second one -. Just to complicate a bit more the task, I had a few difficulties to find rose aroma at supermarket, but on the other hand I randomly found some dried rose buds to use for making tea or pastry, the final result was amazing and 100% natural. Even though the rose panacottas are made with coconut milk and cream, the flower flavor is really present without being too invasive. The litchi purée is deliberately without any added sugar because I had to use canned litchis – yep yep, supermarkets were clearly not on my side this day… -, which were already sweetened. The shredded pistachios stay as well au naturel, you eventually can roast them a little bit to add a bit more flavors to the dessert.
Rose panna cottas, lychee purée & shredded pistachios
(for 4 small pots)
For the rose panna cottas: 400ml rice-coconut milk • 50g coconut cream • about 15 dried rose buds • 2tbsp agave syrup • 2 gelatin foils.
For the litchi purée: about 20 litchis • a small handful of shredded pistachios ou pistachios au naturel.
1. Prepare the rose panna cottas: stir the milk, the coconut cream and the agave syrup together. Poor the whole in a pan and incorpore the dried rose buds. Stir well and let bake on a low heat until it slightly boils. Turn off fire and let get tepid. Add the gelatin foils when the liquid is still tepid and stir well again. Once the mixture is totally homogeneous, poor it into the panacotta pots and put them in the fridge for at least 4h.
2. Prepare the litchi purée: dry the canned litchis (or peel them if you found some fresh ones), then put them in a blender and mix them until you get a very homogeneous purée. Poor equally the purée on the panacottas.
3. Sprinkle shredded pistachios – roasted if you wish – on the panna cottas, then put them back to the fridge until serving. Eat fresh.