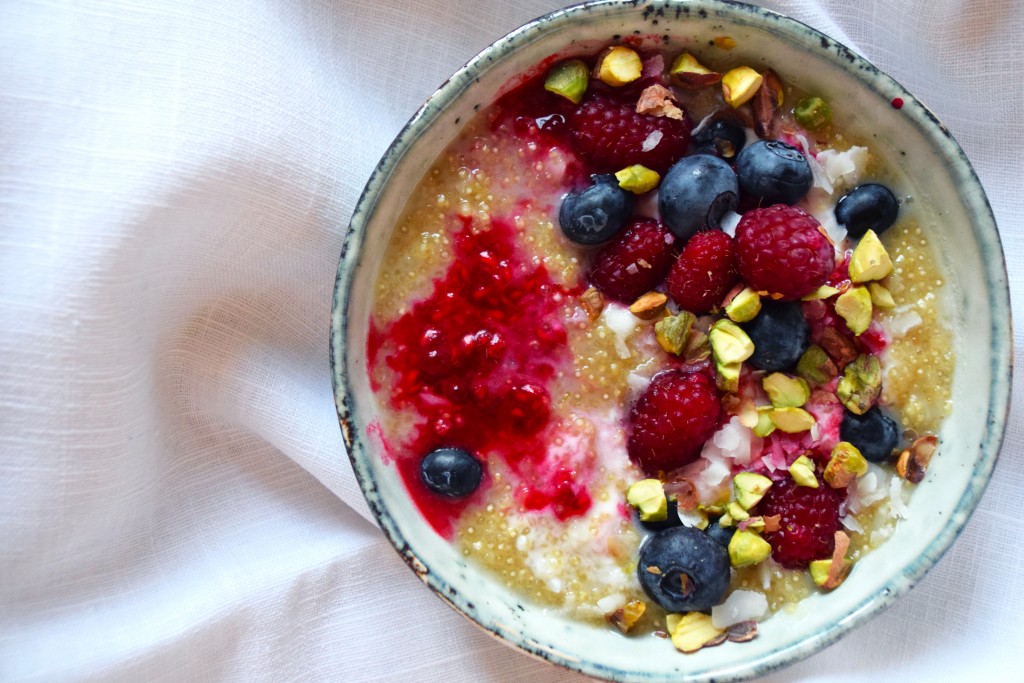 It's been a while that I haven't published any quinoa recipe, me the one who basically hated this grain however full of properties for our body. After the quinoa salad with baby spinach, pomegranate, feta & grapes that I posted last year, I wanted to try a sweet version of quinoa recipe. That time with this quinoa porridge with coconut milk, which is perfect for breakfast, even more if you want to resist until lunch by eating healthy and without having the munchies.
Concerning the quinoa cooking, I made it on the morning -well, no need to hurry it was Sunday – but for the most hurry of you, it can also be prepared on  the evening before. Then all you'll need is to warm it up a bit on the morning before to eat it – personally I have difficulties on mornings to eat cold overnight porridges that come straight from the fridge -. Topped with some berries and pistachios, this quinoa porridge with coconut milk has everything going for you: lots of proteins, magnesium, iron, phosphorus, a bunch of trace elements but also omega-3. We also should not forget about the berries and pistachios, which are rich in antioxidants and magnesium -for the pistachios-. If you still wish to stay concentrated on the healthy and original breakfast basics as the overnight porridge or the smoothie bowl, you should definitely check those 2 healthy and quick recipes for breakfast.
Quinoa porridge with coconut milk
(for one serving)
For the quinoa porridge: 60g quinoa • 20cl rice-coco milk • 20g coconut cream • 1 tbsp agave syrup • 1tbsp coconut flakes.
For the topping: a small handful of raspberries and blueberries • a small handful of pistachios • a few coconut flakes.
1. Prepare the quinoa porridge: poor in a pan the quinoa with the coconut milk and cream, the coconut flakes and the agave syrup. Warm it until it comes to boil, then cover and let bake on a low heat while stirring regularly and keeping an eye on the quinoa cooking, for about 20 minutes.
2. When the main part of the liquid is absorbed, turn off the fire and poor the porridge in a bowl. Take half of the raspberries and smash them with a fork until you get a purée, then poor this purée on the quinoa and stir slightly the whole.
3. Arrange the rest of the raspberries on the porridge, as well as the blueberries, the coconut flakes and the shredded pistachios. Enjoy it tepid.