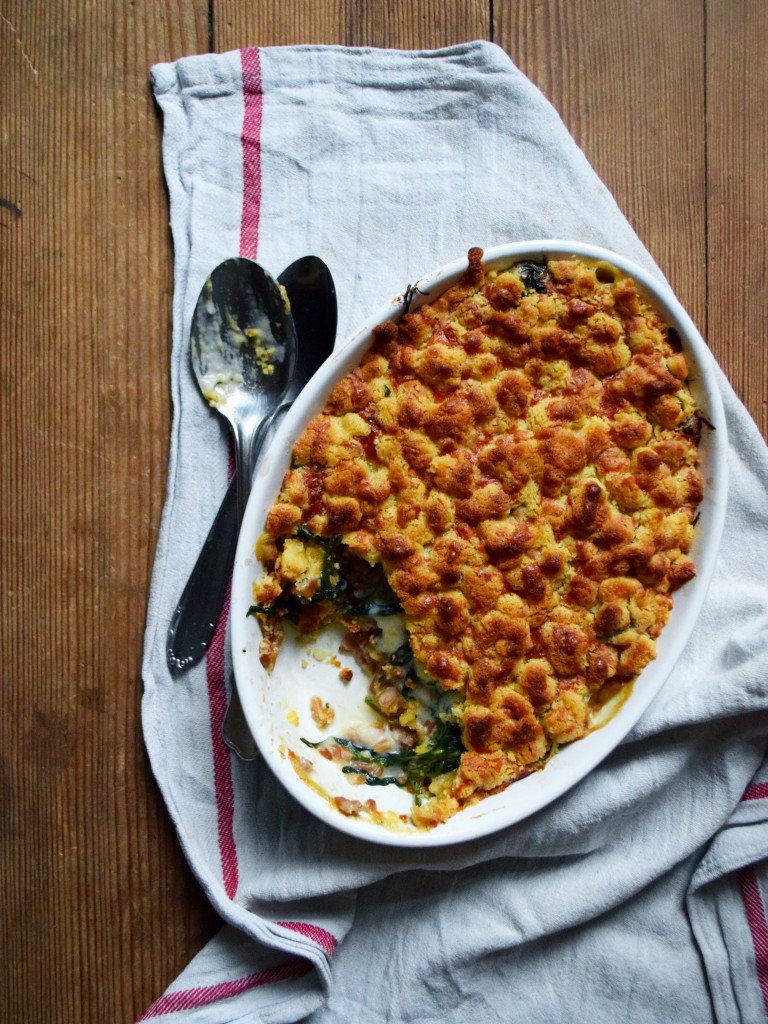 Purslane is unfortunately not very easy to find in supermarkets, which is quite sad considering its taste and nutritional properties that push it to the rank of the most nutritive plants ever. Calcium, potassium, magnesium, iron, but also omega-3 fatty acid, vitamins and antioxidants: despite its small size -small but mighty!-, this ingredient has everything going for you – and actually if I wouldn't let go too much on the Cheddar cheese, I would had put this recipe in the Health & Nutrition category-.
Once baked – no more than 10 minutes if you want to keep its nutritional properties!-, its taste reminds me a bit a mix between spinach and chard greens, with a slight peppery touch. The association with almond béchamel sauce and spelt makes this dish very sweet.
(for one gratin)
◆ 150g spelt ŸŸ◆  300g purslane ◆ 50cl almond cream ◆ 50g + 50g flour◆ 50g butter ◆ 70g cheddar cheese ◆ one garlic clove ◆ salt ◆  pepper ◆ one pinch of nutmeg ◆ a few leaves of marjoram◆ flax seeds.
1. Prepare the spelt: make boil the double of the spelt in slightly salted water, then add spelt into it. Cover the pan and let bake for approximately 20 minutes, until the water get absorbed.
2. Wash the purslane, then brown it slowly in a buttered frying-pan, for 10 minutes maximum, with the thinly sliced garlic. Season well.
3. Prepare the almond béchamel: let melt 50g of butter in a pan. Add the flour and stir it well until you get a homogeneous texture. Heat the almond cream in another pan; then add it to the flour mixture and mix the whole while trying to avoid to make lumps. Let bake on a medium heat until the béchamel gets thicker, salt and pepper, then add a pinch of nutmeg.
4. Prepare the crumble: stir the 50g flour and 50g soft butter left with your fingers, until you obtain a crumble dough. Add the shredded cheddar cheese and stir again.
5. Preheat the oven to 210C. Slightly butter the gratin mould. Add the spelt in it, the top it with baked purslane and pour the almond béchamel over the whole. Sprinkle some marjoram leaves on it, then add the crumble chunks and put it in the oven for approximately 15 minutes, until the cheese get slightly grilled.
6. Pour some flax seeds on the gratin and eat it tepid.