This last September 25th, I ran my first marathon. Even though I've been used to climb the stairs of Fourvière whilst I was studying in Lyon, Berlin is in spite of its monotonous relief the perfect track to run long distances and explode your best chronos. In other words, the german capital is the ideal place to nail 42,195km for a first marathon.
Despite its increasing popularity, I haven't decided to run a marathon distance from one day to the next. I run quite frequently since already 5 or 6 years and regularly attend to races. It was a few weeks after my first half-marathon – 3 years ago – that I actually promised to myself that I would run a marathon at least once in my life. Let's just say that at this moment, I was far to imagine myself succeeding this challenge. For some training, lack of time and also age matters, I "finally" got over this stage for my 24 years old, which is still a pretty young age for a first marathon.
The race confirmed indeed a few  things I was used to hear about the marathon: even though good training and shape are essential, many mishaps can upset everything in the space of 42k, nobody is under cover. I experienced this annoying situation during mine when I started to get the Iliotibial band syndrome after only 5k – let's call it runner's knee-. Usually used to be a chrono freak as well during my training as during races, this first marathon was for me the very first race during which I wasn't fighting against others but only against myself. I also got there a good lesson of humility by ending the 42k in 4h49 instead of the initial 3h50 I was aiming.
Despite this mishap, the experience remained unique and enriching on every board. Sharing it here was important to me and I'm gonna tell you more about this first marathon, in training and in nutrition.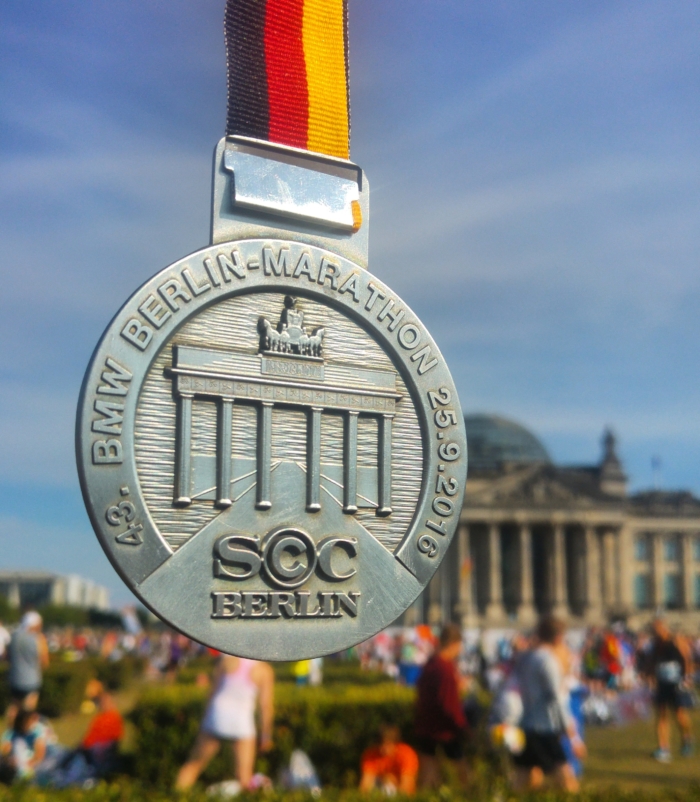 My training
Even though I'm much more talented in middle-distance or long-distance than sprint, staying motivated to train on distances above 15k is sometimes a hassle. Lack of time, tiredness or boredom – yes yes -: I will always have a good excuse to avoid long runs, which was annoying for my marathon training. Add the fact that I'm not a morning person at all – AT ALL -, that restricts even more my possibilities. I usually try to do my long runs with my running team – well, when I succeed to pull out early enough from my bed -, which motivates me much more. Otherwise, I always take my earphones with me when I run alone, even for 5k.
For the reasons previously mentioned, I was really slow to start my marathon training. After a break of a few weeks due to lack of time & energy, I finally started my preparation 2 months before the race. I was usually running between 6 & 12k every 4-5 days. Sometimes, I was inserting some interval trainings on a running track – my 2nd enemy after sprint… -. I started specific marathon sessions by the beginning of August with a first 34k long run(6'/km), then a second one of 32k (5'35″/km), 3 weeks before the marathon.
Marathon trainings was rather long-distance runs in my mind. I started to feel the runner's knee during my 2nd long one, then it reappeared earlier & earlier during my next short-runs. Because of this, excepting the fact they helped me to regulate my speed along the 42k, I guess I could just have done without those long trainings & keep going with "normal" ones.  It would had been a way to avoid to force on my tendons as well as to minimise the shocks for my body – which were also a discovery for me, at least during trainings -.
My race
Talking about the frustrating point, my race would have been probably perfect without this runner's knee: sunny weather, regular pace – at least until the pain starts -, no blisters, neither digestion nor hypoglycaemia problems. I started on a pace of 5'40″/km with the goal to finish the race in 3h50/4h. The pain started from k5 or 6. Even though it wasn't so intense at the moment, I knew that the race would be much harder to manage. The pain started to be really sharp from k15, and this during the 20 next ones, to finally expend on the whole tendon to the femur.
It's pretty hard to describe what is the hardest part to handle at this moment, rather physical or mental. My pace inevitably collapsed, taking my hopes of good chrono with; the only one remaining was to succeed to continue until the finish line. I managed to continue to run without stopping or walking, I knew I wouldn't be able to continue if I would have done so. The last kilometers were slightly less difficult, thanks to the finish line getting closer, the cheers from my running team, and the pain that I was almost not caring about anymore.
My after-race
Quite unexpectedly, I almost didn't have any sore muscles on the following days. However, my knee got totally swollen and impossible to flex for the 5 next days. After some ice and a doctor appointment the next day, I took anti-inflammatories and avoided flexions for the following week. A break has been advised for at least 3-4 weeks and I still haven't restarted the training. As patience is not my best skill and also because I don't like to sponsor the BVG – Berliners who pay transports will know what I mean.. -, I jumped again on my bike after 8 days and content myself with that for now. Hopefully I might restart running slowly from next week, if everything is alright.
What I learned from it
Beyond my knee adventures that gave me a hard time, my first marathon was still a good experience. One of the things that impressed me the most is the diversity of all those runners I crossed along those 42k. While realising the difficulty of this race for someone in good condition, I have a high admiration for the runners being 3 times my age, or for the ones who don't have optimal conditions to run such a long distance.
About my next marathon, which would be hopefully the New York marathon in November 2017, I think about opting for a slightly more intensive training (in frequency), but spread on a longer period. I might not do too long trainings that time, which probably privileged the apparition of my knee problem during the last trainings. I also have the nasty habit of neglecting warm-ups and stretchings before and after my trainings, which probably doesn't help to prevent that kind of incidents.
If you liked this post about my first marathon preparation, the second part about my alimentation before, during and after the race is coming next Thursday on the blog ;)