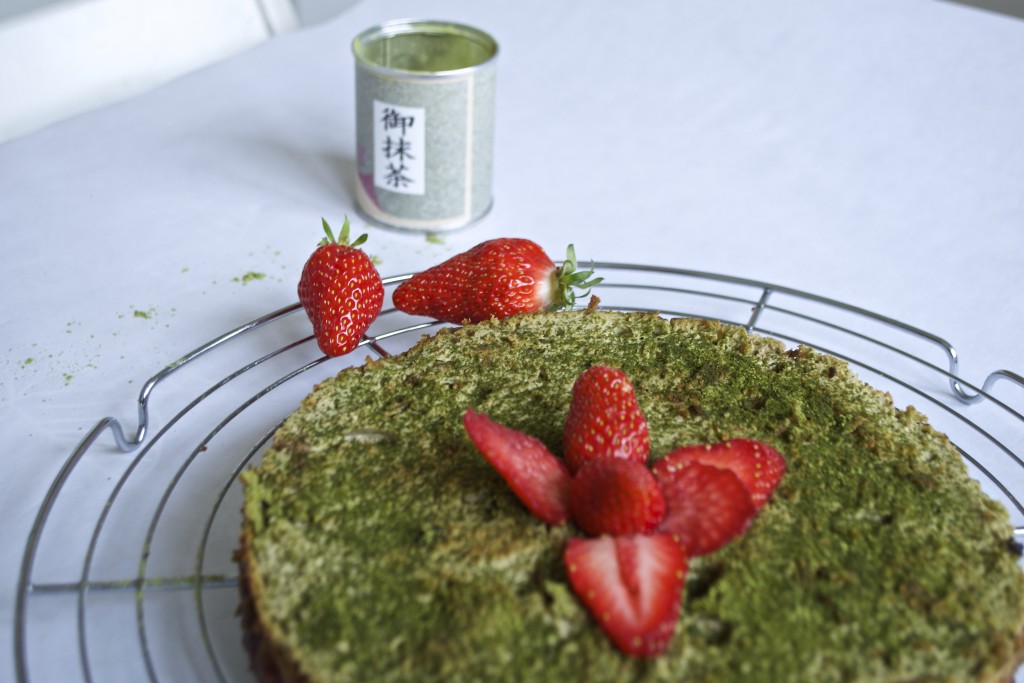 Here is my recipe for this fresh and colorful matcha tea cheesecake with Gariguette strawberries, which is perfect for those sunny days. First attempt for me to cook with Matcha tea and its subtle taste, which fits great with the Gariguettes flavor. Basically I wanted to use some chestnut biscuits for the crust; I used finally some cereal shortbreads because of the lack of those biscuits in my supermarket. About the quantities, a single egg would probably be enough considering those proportions of cream-cheese, but it depends on your preferences; I love when a cheesecake really melts in the mouth and I was a bit disappointed about this point, but maybe that's also because of my new oven, which I don't master yet perfectly – behind this sentence, you can guess that the Matcha decorative topping on my cheesecake was actually an excellent camouflage for  the too long time spent in my oven ;)
In spite of these little fails, my cheesecake has been – fortunately – quickly gobbled up!
Another tasty recipe with matcha tea is available here: Matcha & Azuki puffed brioche
(for a small cheesecake from 18 to 20cm in diameter)
For the cheesecake: 300g creamcheese, 2 eggs, 50g sugar, 2tsp matcha tea, one dozen of tasty strawberries, one pinch of salt.
For the biscuit: 140g cereal shortbreads, 50g melted butter.
1. For the biscuit: mix finely the cereal shortbreads. Add the melted butter and mix the whole until you obtain a homogeneous texture. Then take a pastry circle (from 18 to 20 cm in diameter) on a oven plate covered with some baking paper. Fill the bottom of the circle with the biscuit mixture by compressing it well with the back of a spoon.
2. Preheat the oven over 150C. In a bowl, stir the cremates and the sugar together, until the dough becomes slack. Add the matcha tea, then the eggs one by one. Mix the whole until it gets homogeneous.
3. Wash and remove the stalks from strawberries, then cut them in thin slices (around 5mm-thick). Arrange them regularly on the biscuit crust, then pour the Matcha-creamcheese mixture above.
4. Put in the oven at 150C, for 45 minutes. Then turn-off the oven and let rest the cheesecake for 30 minutes more. For the decoration, you can sprinkle slightly your cheesecake with matcha tea and top it with some fresh strawberries. Eat the cheesecake at room temperature.