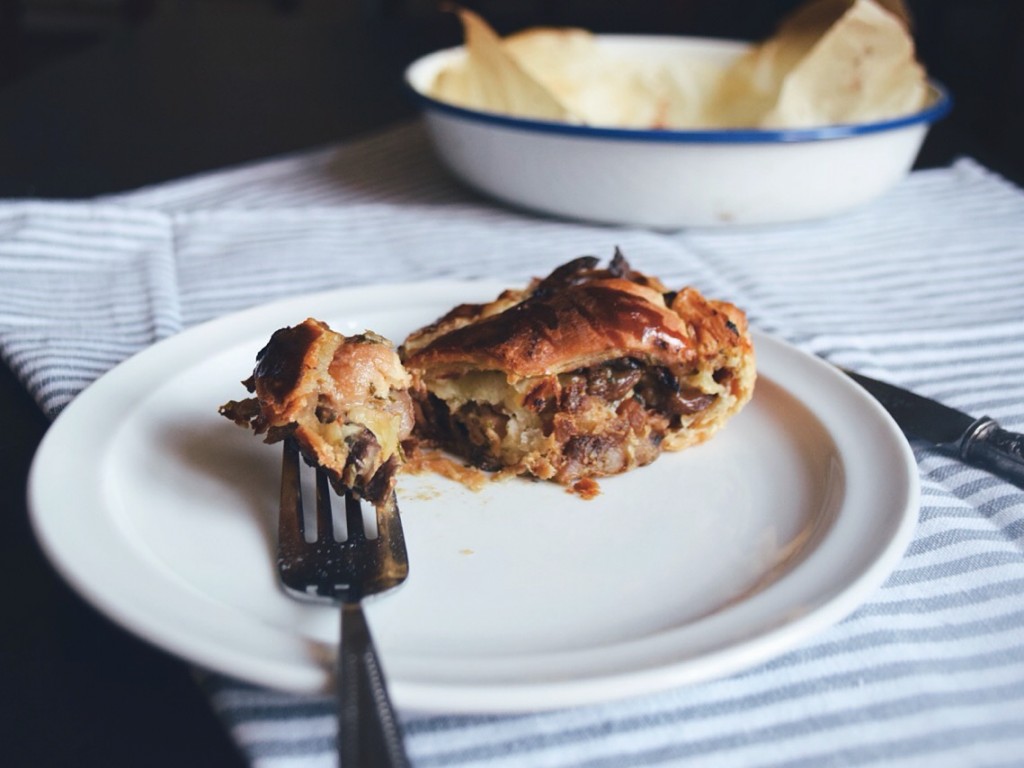 Between days that are tending to be shorter -too much in Berlin- and winter slowly coming, we sometimes only want to lay with a plaid and an easy magazine,  accompanied with some food that warm your body and your heart – the first inspiration that came in my mind for this sentence was more about "a perfect fatty dish", but that sounded a bit less poetic -. My gastronomic side, which is a bit chauvinistic, would also suggest a glass of Bordeaux wine.
Whatever, nothing better than a filling pie made with chicken, mushrooms and of course cheese, preferably a bit strong to give some vigor to this pie. Season the whole with a few herbs, garlic and onion, and tell me about it! For a sweet touch to your feast, the pumpkin bundt cake with its salted caramel sauce is in da place ;)
Forest pie
(for one pie)
3 big chicken thighs ◆ ŸŸ1 puff pastry + 1/2 ◆ 300g brown mushrooms ◆ 60g Auvergne blue cheese◆ 2 onions ◆ 1 garlic clove ◆ 20cl single cream ◆ a few branches of parsley ◆ 2 tbsp oil + 2tbsp◆ one knob of butter ◆ salt ◆ pepper ◆ 1 egg yolk ◆ a drizzle of milk. 
1. Line a pie mould with the first puff pastry, then put it in the fridge for a while. Cut onions and garlic in really thin cubes. In a frying pan, let them frying in the knob of butter and the oil, then turn the fire down and let it cook a few minutes, while stirring regularly.
2. Slice thinly the brown mushrooms and add them in the frying pan, then cover the pan and let it cook on a slow fire. In a big pan, brown the chicken thighs with the 2 tablespoons of oil left, than turn the fire down and continue the baking for a few minutes, until they get almost backed (I stop the baking when they are still a bit pink inside). Take off the skin from the thighs and shell them (the thighs) in little pieces.
3. Add the chicken pieces to the mushroom filling, salt and pepper as much as you wish, then let cook without any cover until the chicken pieces are all baked. Incorpore the single cream and the minced parsley, cover the pan again, and let it reduce. Turn off the fire once the liquid cream got thicker (± 10-15 minutes). Add the Auvergne blue cheese in small pieces in the warm filling and stir the whole together.
4. Preheat the oven over 200C. Take the lined mould from the fridge. Prepare the top of the pie: take the half of puff pastry left and cut from 6 to 8 strips into it (their length might be approximately 1cm longer than the diameter of the pie). Make a checked pattern (3×3 or 4×4) by braiding them.
5. Pour the chicken-mushroom filling into the lined mould, then dispose delicately the checked pattern on the top. Be careful to pull in the extremities of the strips between the pie border and the filling, while sticking them with the first layer of puff pastry. Beat the egg yolk with a drizzle of milk, then spread the mixture on the puff pastry strips with a cooking brush.
6. Put in the oven at 200C for 30 minutes, then eat the tepid pie dressed with some salad.