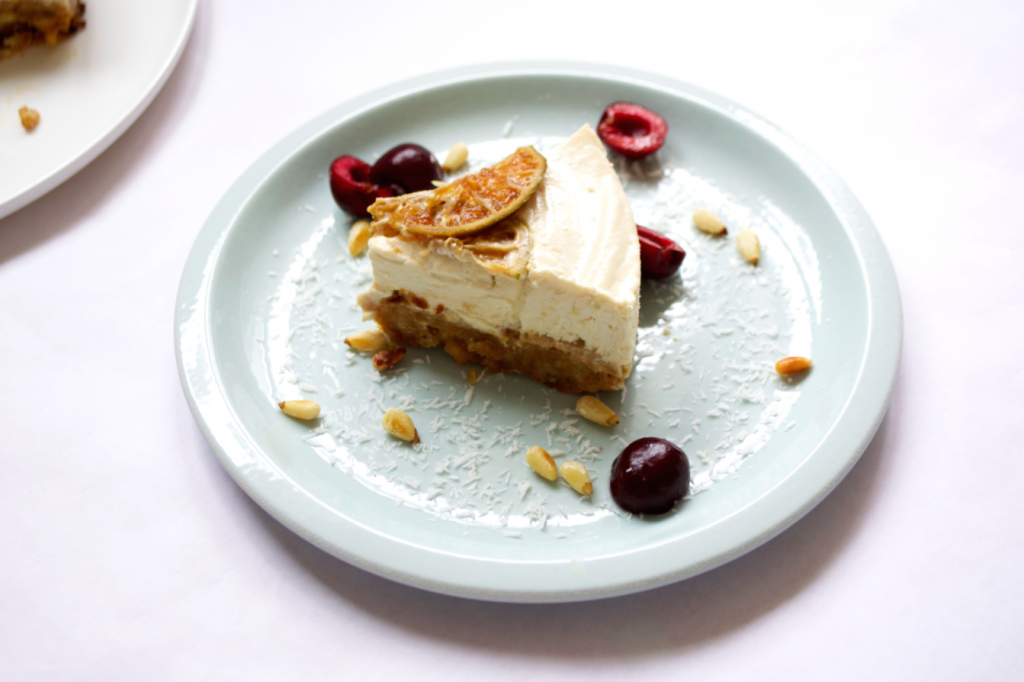 I'm enjoying my last days in the sunny South while publishing this recipe of my last homemade cheesecake. For those who are already back to the office, its exotic flavors of coconut and lime will maybe give you back the feeling to be in holidays ;)
This one has been baked very quickly – only 20 minutes – to be meltingly soft while having some firmness.
(for one cheesecake)
For the crust: 200g coconut biscuits, 100g butter.
For the cheesecake filling: 300g cream cheese, 2 "petits Suisses" yogurts (Quark is fine as well), 100ml coconut cream, 1 egg, zest and juice of one lime, 50g coconut sugar.
For the topping: 1 lime, 2tbsp coconut sugar, 20cl water.
1. Preheat the oven over 180C. Crumble the coconut biscuits in a blender bowl, then add the butter, which has been previously melted. Mix the whole until you get a homogeneous dough. Put a pastry circle (±18cm of diameter) on an oven shelf, covered with some baking paper. Poor the dough into it, then press it well with the back of a spoon. Put it in the oven for 15 minutes, then keep the crust at room temperature.
2. In a salad bowl, stir the cream cheese, the "petits Suisses" yogurts, the coconut sugar and the coconut cream together. Add the egg and the zest + juice of lime, then stir well. The texture has to be very creamy without being liquid.
3. Lower the oven temperature to 150c and put a bowl of water on the oven shelf. Poor the cheesecake filling on the dough, then put it in the oven for 20 minutes. Once finished, let the cheesecake cooling down.
4. For the topping: cut the washed lime in very thin slices. In a small pan, bring to the boil the water with the coconut sugar, then add the lime slices. Let it cook ±15 minutes until the slices get tender, then dry them a bit on a paper towel.
5. Once the cheesecake at room temperature, remove it carefully from the mold, then arrange the lime slices on it. Put the cheesecake in the fridge for a few hours, but serve it at room temperature if you want it to be meltingly soft.