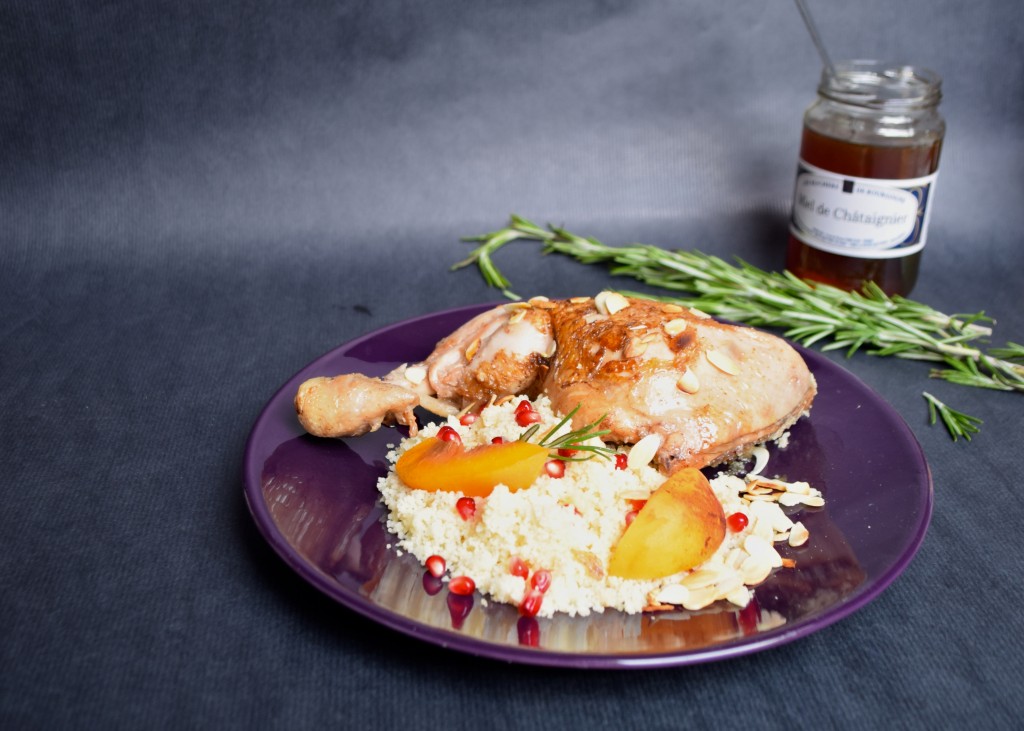 I got a partnership with the Boucheries André food-shop chain, which is established in Lyon area. By this way, I enjoyed this opportunity and I cooked a chicken tajine with honey and rosemary. These butcher's shops grew up since their creation, so I had the possibility to buy almost all my ingredients there, and some extras (seems that this chocolate spread was on the wrong shelf at the wrong moment…). Nothing bad to tell concerning the products, all the ones I bought had a good quality with reasonable prices. Bad luck concerning the pomegranate that was really sour, but it was probably due to the season.
Chicken tajine with honey and rosemary
(serves 5)
5 big chicken legs, 4 pavia peaches, 3 rosemary branches, 1 pomegranate, 40g butter, 2 tsp cinnamon, ½ tsp pepper, ½ tsp nioras chili,  1 minced onion, 0,5l hen stock, 4tbsp honey, flaked almonds, 400g couscous.
1. Dissolve the butter in a big pan. Add the chicken legs and let them cook for a few minutes on a medium heat until they are almost baked.
2. After a while, add the minced onion et stir all the ingredients carefully. Lower the fire then add the hen stock in the pan. Salt slightly. Add the cinnamon, the chili and the pepper and leave to simmer during 5 minutes. The pan has to be covered.
3. Clean the peaches and cut them in small quarters. Add them to the chicken, then add the rosemary branches. Coat the stew with the honey, then cover the pan and leave to simmer again for 10 minutes. Stir the stew regularly.
4. Meanwhile, prepare the couscous : put 400g couscous in a pan and add 400ml boiling water. Cover the pan and let the couscous swelling for a few minutes. In a frying pan, roast the flaked almonds.
5. Then, place on every plate a few spoons of couscous, one chicken leg. Add a few peaches and coat with the juice. Sprinkle with fresh pomegranate grains and roasted almond. Serve hot.