Among all my recent healthy recipes, this fat dripping post might almost look misplaced in the blog. But let's be honest: my self-control scale usually turns around 0% when it comes to resist to a podgy-tasty burger. And let's be thankful, they also contribute to 80% of my monthly consumption of meat, as we say in French, a leopard cannot change its spots… As I gobbled so many burgers since my arrival in Berlin – do you feel those thigh Jeans..? -, a dedicated post about them was starting to be a must. Even though Germany is the country of Currywurst and sausages of all kinds, it's not really tough to answer the question "where to eat burgers in Berlin" as they are everywhere, and no need to count all the good addresses. Obviously, blog posts talking about the topic shower down from everywhere , that's why I chose to share with you my 5 favorite burgers instead of simply talking about the burger spots. In my opinion, a good spot doesn't make only perfect products. And for those who have doubts about it, yes I clearly remember all the burgers I ate :)
The Reuben, Mogg and Melzer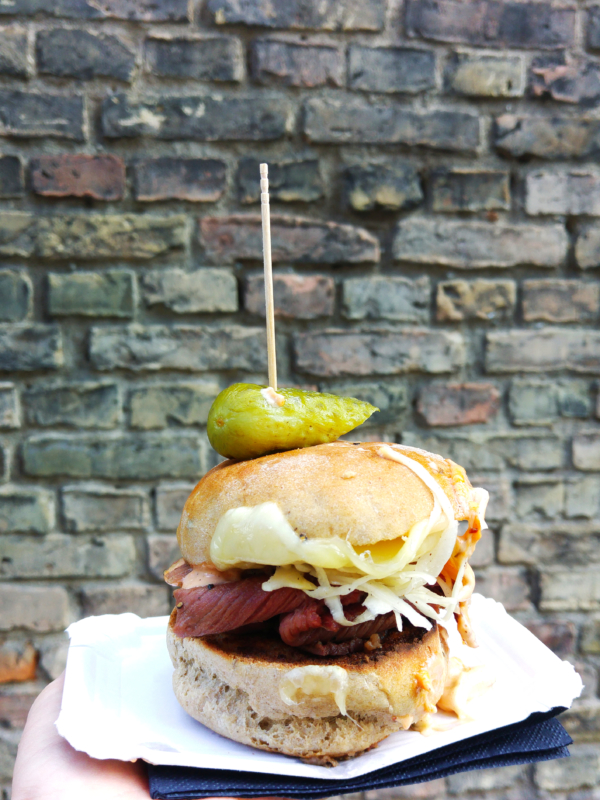 The Reuben from Mogg and Melzer was on my bucket list since months, and if you are a Pastrami lover you'll definitely love it too. It's actually a sandwich when served in the restaurant, but you can find the burger when Mogg is taking part in some markets or festivals – personally I prefer the burger version -. I thought that I knew how real Pastrami tastes, but I quickly changed my mind once I tried this one. The thick and deliciously smoked slices are coming along with some sauerkraut, Russian sauce and melty Swiss cheese. Besides an authentic taste, the Reuben is perfectly sized and the bun very soft. Half-way between a sandwich and a burger, it gets off the beaten tracks and that's quite enjoyable. This version costs about 7,5€, meanwhile the sandwich is much bigger and affordable for 14,5€ in the restaurant.
Price: €€€
"The one and only", Bun Bao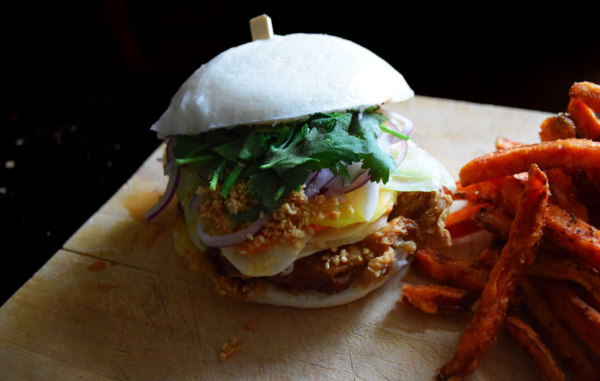 On an emotional note, "The one and only" is one of the first burgers I tried when I arrived in the German capitale. The kind of burger you eat in desperation on your sofa, while thinking that you'll spend your whole life as a fresh and desperately unemployed graduate – which means: the perfect excuse to swallow a lil' portion of cholesterol -. In the Bao burgers family, The one and only from Bun bao is massive, and I would advise you to eat it while starving to fully enjoy its awesomeness – except if you have a never-ending stomach as I..-. Being strongly addicted to pulled pork, I chose this one for the belly belly inside. The meat is very tender and the dressing perfectly appropriate: onions, carrot, pickled radish, coriander & roasted peanuts are a winning mix, and in spite of the impressive size of our podgy friend, I could almost forget that I'm eating junk food – maybe one of the reasons why they say "finest asian burgers"?-. For a cost of 6,7€, you definitely get your money's worth, and with sweet potatoe fries it's even better.
Since this day I got a job, however I still eat as many burgers as before. 
Price: €€€
"The Elvis favorite dream", An einem Sonntag im August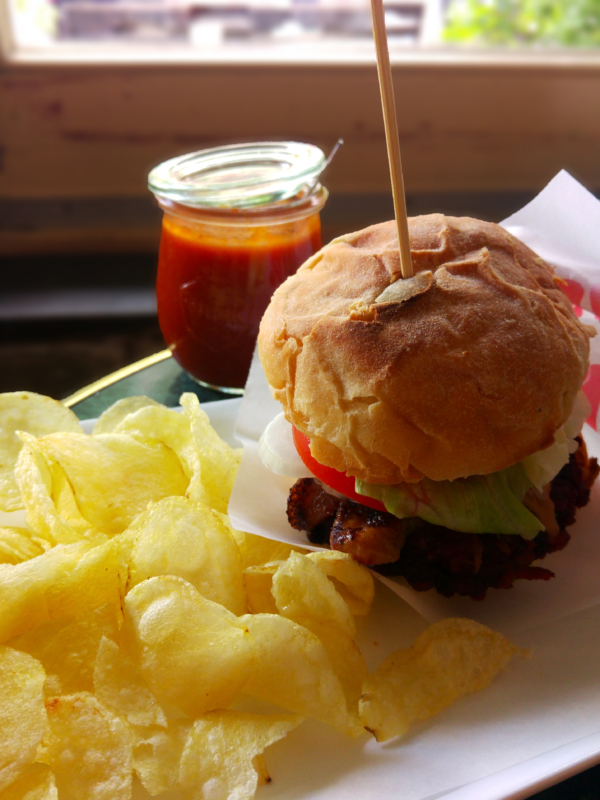 Directly or indirectly, I've always hated beetroots. People who succeed to make me eat some deserve an award. Then when I saw for the first time the burger menu proposed by An einem Sonntag im August, my heart didn't start to beat wildly, in spite of all the tasty associations written on it. But well, that was until my eyes stay stucked on the "fried banana & peanut butter" mention, both combined in the same bun – ka-chiiing!-. Nothing more needed to convince me, one burger mixing those 2 winning elements is enough. The peanut butter doesn't take over the other ingredients, there is just the right amount to feel it. Same for the banana that could sound weird at the first sight, when combined with raw veggies and beetroot patties-. The bun is very soft, and the whole is served with homemade crisps and tomato sauce, for the fair price of 5,5€.
Price: €€€
The Cheezyburger, Pacifico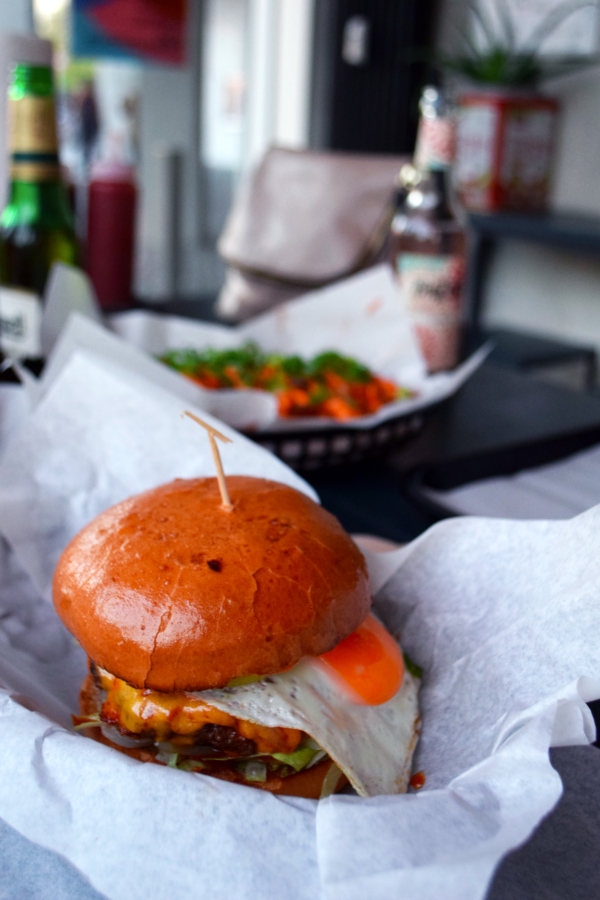 Even though the location of the restaurant is very discreet – Moritzplatz, straight next to Modulor – not any risk that you forget it once you'll have tried one of the burgers. Most of the dishes from Pacifico are Korean and revisited with some Californian flavors; mostly bowls for the wisest people, and tasty burgers for the other ones. As its acolyte from Bun bao, the cheezyburger from Pacifico is quite massive and the chances are high for you to roll out of the restaurant – because you neither, you won't resist to take this extra portion of fries topped with kimchi, bulgogi beef, and "gojujang" mayo…-. Don't expect neither to keep your dignity while eating this burger: the cheezyburger is composed by beef, cheddar – super melty -, salad, kimchi, goodie mayo and… a fried egg. The  probability for you to spread egg yolk everywhere on your face isn't excluded. Beyond the logistical aspects, the cheezyburger's bun is meltingly soft and is composed by quality ingredients that make a perfect association. It's definitely worth an egg yolk face-painting then, and a come-back to try the other burgers! This one costs 6,5€, which definitely get your money's worth.
Price: €€€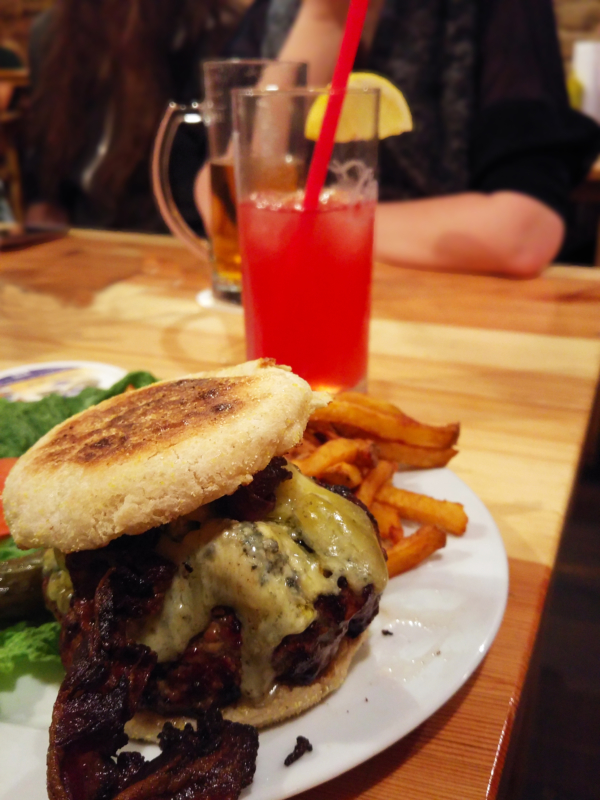 Last but not least, The Bird has nothing to prove anymore as many sources rank it among the top 10 burgers in Germany. Booking is highly recommended if you want to eat there, but the burgers there are damn tasty. There you can eat your burger in a soft muffin bun instead of the classic one, which is slightly less fulfilling. The Dr Zian burger is made with premium German beef, Stilton cheese, and heavenly melty cheese, in all simplicity. The meat is tasty and very tender, the cheese very melty. The price (13€) is a bit expensive though, which includes fries and salad, but you can eventually turn a blind eye to that for a few minutes of gustatory pleasure.
Price: €€€